[Game] Smash Bandits Racing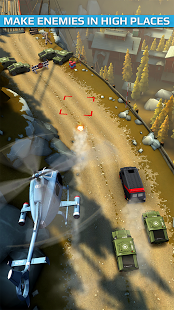 Named as one of TouchArcade's Top 10 Games of the year 2013.
From the makers of Smash Cops – crash through America in the craziest road race to hit the Google Play Store.
Power up to faster cars, get the edge with getaway gadgets and outrun the cops as you speed to the state line.
SMASH EVERYTHING
Well, almost. Whichever route you take through an ever-changing world of dirt tracks and dusty logging towns you can crash and bash your way through smashable scenery in the most intense display of destruction you have ever seen.
UPGRADE & OUTRUN
Make sure you're always ahead of the game (and the cops) with cool car upgrades. Start with a puny compact and make it awesome with extra speed, handling and strength. And when you start earning big, you might just get your hands on the fastest road car on the planet, the stunning Hennessey Venom GT.
SMASH THE LEADERBOARD
What crazy road race would be complete without a TV chopper hovering overhead? The further you get and the more you smash, the bigger the TV ratings and the more cash you earn. Play against your Facebook and Google+ friends to see who can become the most famous Bandit on network TV.
BOOST YOUR CHANCES
Before you head off you get to choose something to help you along the way. Stinger-proof tires, the 'Stunner' car taser and even a tank are available to give you the edge over the relentless Sheriff McBride and his deputies.
CRUISE CONTROLS
Innovative one-finger control makes it super easy to drive, drift & spin your car, and unleash those helpful gadgets – no matter where you're playing.
TAKE A BANDIT CHALLENGE
The Smash Bandits race organisers don't think that simply out-running the cops is a big enough problem, so they've put together over 100 challenges where you can test your driving skills to the limit.
Also take look at our list
Smash Bandits Racing user reviews :
It's a great game with a really good concept. The only problem is that there tend to be a lot of bugs. For example, the river dash seems to be bugged where you take damage for no reason and you are unable to smash anything. Another big is that when you get close to one of the checkpoints, it randomly teleports to a different location which is very frustrating. The last noticable bug is that sometimes it doesn't save your progress especially when it comes to challenges, the races, and money.
I couldn't handle the tutorial. No time to actually get a feel for what was instructed before another useless "good job!" screen interrupts your flow. When you get back to the next step in the tutorial your car is suddenly facing the wrong direction because the game is still registering your last touch. And with the controls being so wonky, it ends up being super frustrating less than 2 minutes into learning the game.
This was always one of my favorite mobile games,but I wanna report a problem I found:in one of the tier 2 races the whole screen would randomly turn green and I can't see where I'm going, and the finish line doesn't exist for me. I pass it, yet the game thinks I still didn't finish. I tried redowloading and it worked, but then in tier 3 the same problem occurred. Now I'm stuck on this race and can't do anything to win. Please fix this
Beautiful UI and gameplay The game is simple to play, easy to get used to, uses an intuitive, nice looking user interface, and is nicely polished overall. I love that the developer used such an easy, out of the way control scheme for portrait racing. The biggest issue I have, though (and why only three stars), is that I've lost some of my progress a few times so I cannot keep a second tier car or some upgrades. It acts as if the auto save isn't saving frequently enough.
Hutch Games
Thanks Ross. Yeah, there seems to be a bug with the cloud save which resets progress sometimes. Apologies for this, we are looking into it.
Smash Bandits Racing game is very fun but the in app purchases are ridiculous. $12 to be able to take my wanted level down 50 times???? (You get half the rewards if you don't). That's a massive ripoff.
GREAT!! Any game that has Detroit Rock City in it gets 3 stars alone. But this game is very cool. Nicely detailed as well. Exciting & challenging.
Latest Update :
Bug fixes and support for 64-bit devices.
Contact developer :
Email
Video :
Download Smash Bandits Racing from Play Store
Leave your feedback regarding Smash Bandits Racing
Get more android apps/games/updates
Subscribe to our mailing list and get new android apps / games and updates to your email inbox.
Thank you for subscribing.
Something went wrong.