[Game] Sol705
 archer pi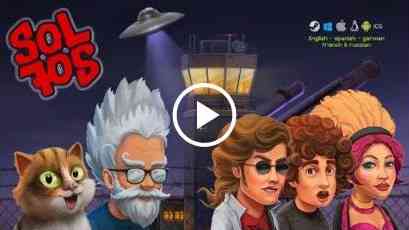 Join this hilarious point and click free graphic adventure lead by a group of blockhead friends looking to break out from school and spend all their free time at their own secret paranormal research club: Sol705 !
This winter's holiday is the last chance to save hometown from total bore – doom!
Escape from Father Carlito's school prison and be part of this mysterious club starving for clues to find the truth behind this outrageous town conspiracy.
Uncover UFO sighting cases and the infamous relationships among aliens and your fellow citizens of Laguna Tucana…
But more important, help the boys to conquest the toughest and exciting peril of them all: ¡flirting with the girls of the local soccer team and get a dreaming date!
Full english version performed by extra talented voice actors!
Psychedelic and progressive pop rock classic soundtrack!
An unmatched atmosphere full of rpg quests, hidden object and compulsive thinking!
2D HD Cartoon style sprite graphics with amazing realistic hand made backgrounds.
English, spanish, french, german, portuguese, russian and italian subtitles!
Super funny puzzles and amazing hidden stuff to collect and use: old tape recorders, narco leptic yoyos, remastered vinyls, non tolerated literature, x ray glasses, angry moles, time continuum chocolate candy and much more!
Totally free, add free 1st episode in the saga!
Join Meeno, Lena, Bobina, Gabriel, Alicia and Tony in this wacky tale of vengeance, fellowship and crashing relationships!
Sol705 user reviews :
It really is a fun game! I've been searching for games that are not boring and I've found this! It has an addictive gameplay! The conversations are fun. The graphics will give you nostalgia! However, there is a very little problem, there are some typographical errors. BUT it is still understandable. Sometimes the typographical errors might not be seen unless you read the sentence with magnifying glass. Just kidding. Hope to play the full version!I'm waiting for it and hope it is free. God bless
Land Patricio

Hello Eun, I'd like to say thank you for your comments! I'm aware there's son problems with the texts, but they are already fixed on the full and new (longer!) and complete version of the game soon to be released!!! So I hope you'll enjoy it, it has lots of new characters, puzzles, situations, music, jokes and more! TNX! www.sol705.com
That was good and felt like u playing some good old-school games with 8-bit graphics. I kinda like the story and humor but wish it has more depth into it. Basically it is nice if you like point and click games that u can play offline.
Land Patricio

Thank you so much!!! Please keep in mind that this was a short demo that I made during my free time and the good news is a new complete and full version is ready to be released in the following days! So more adventure, characters, music and fun to enjoy for sure! Visit www.sol705.com for more info soon! All the best!
Very nice gameplay, smooth graphics uwu only missing is the part 2 of this amazing game ;A; But try adding hints to the game for the other players can solve it ;3
Land Patricio

Hello and thank you so much! Next version will be soon available! If you hold your finger on the screen during few moments hints will appear have a nice day Jersaayy much appreciated!
Super sad it over. This was such a wonderful game. Excited to play the full version. I love the characters, plot, music, and art. 5/5.
Land Patricio

Wow!!! Thank you so much Heena!!! It's such a nice feeling that you love it! I'm finishing the longer version, with more fun, characters, new songs and puzzles, I hope you will like it too! Stay in touch, visit www.sol705.com Thanks!!!
Well, a new flavor of game with a lot of new concepts! Just love it. Eagerly waiting for the 2nd part. Lots of love.
Land Patricio

Thank you so much Adri for playing my adventure!! I'm really happy you liked it! The new version with a lot more of content, characters, songs and situations are almost ready to be released, stay tuned fellow Tucana citizen!
Contact developer :
Video :
Download Sol705 from Play Store
Leave your feedback regarding Sol705
Get more android apps/games/updates
Subscribe to our mailing list and get new android apps / games and updates to your email inbox.
Thank you for subscribing.
Something went wrong.