[Game] South Park Phone Destroyer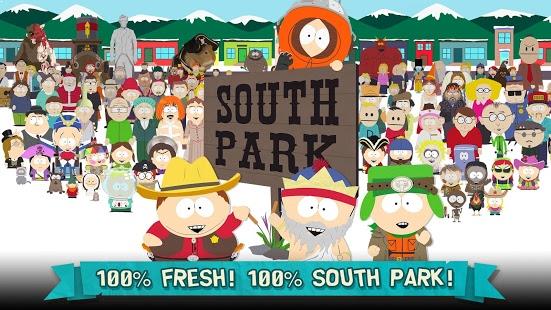 South Park Phone Destroyer : All those countless hours spent on your phone have been preparing you for this moment.
Fulfill your destiny and become… THE ULTIMATE PHONE DESTROYER!
From South Park Digital Studios comes a real-time battle game like nothing you've ever experienced before! Take on Cartman, Kenny, Stan and Kyle in all out mobile mayhem!
South Park: Phone DestroyerTM brings you iconic South Park characters, action packed real-time strategy, exploding PvP battles, trademark South Park humor and collectible cards in a perfect mix that's spicier than Cartman's chili con carne.
Assemble the ultimate team of cowboys, wizards, cyborgs and more and get ready to crush your opponent!
FEATURES
A whole new South Park experience with new and twisted versions of iconic characters like Stan of Many Moons, Cyborg Kenny, Ninjew Kyle, Grand Wizard Cartman… and many more!
Beat down opponents in real-time PVP battles.
Experience a hilarious single player story written in collaboration with South Park Digital Studios.
Collect and upgrade over 80 unique cards featuring all-new, beautifully rendered designs.
Join a team and boost your decks by sharing cards with your teammates.
Customize your hero to be the baddest looking kid on the block.
Witness Randy cross-dressing in new and exciting outfits.
Kill Kenny.
South Park Phone Destroyer user reviews :
I just love the game because you can make your avatar and also talk with the characters. I recomand it if you are a south park fan
Cool game if you are into South Park but has bugs. In pvp if their server fails and you get disconnected then you are defeated and lose points. You lose way more points when you lose than you gain when you win. The game allows for cheaters and is not fun in that way. Matchmaking sucks as you get matched up with players of a much higher level. The game is a bit of a waste because it disconnects you from the server during pvp and makes you lose the game and lose points. Also latest card is bugged
Ubisoft Entertainment

Hello! I'm sorry to hear you feel dissatisfied with the game, and that you have not enjoyed your latest experiences. Rest assured that we will pass this feedback onto the team.
Too much pay to win. After 2 and something years of playing it I uninstalled it. It just becomes impossible to progress if you don't throw money at it. You hit a pay wall where your progress is stalled and other lower lever players beat you with higher level cards with which you just can't compete with. A lot of smurfs too. You need more than 1000 cards of the same type to max them out, not to mention thousand of resources to level them. Too bad, the game has potential.
Ubisoft Entertainment

Hi! We are sorry to hear you did not enjoy some aspects of the game, we will forward it to our development team. Thanks for taking the time to share your thoughts!
Game had potential, however the devs are probably the most incapable people in regard to game balance or game state, and that can be considered a compliment in regards to how bad actually it is. Most of the updates and changes are objectively bad with one or two changes that are actually good.
Ubisoft Entertainment

Hi, we are sorry to hear you did not enjoy the game. Thanks for taking the time to share your thoughts. I will make sure to pass this feedback onto the team!
I like the game, it's fun, pretty simple to understand and I like the phone based interaction because it feels a little more like you're immersed in the game. However there are some things I don't like. PvP is not optional, but required to advance which I hate honestly, I get paired up with players up to 5 levels ahead of me so there is not really a PvP balance that I can see. I will keep playing and see how well it works, so far it's pretty good and fun to take up your time
Decided to try it out, it's a really fun card game. Kinda has the same play style as Clash Royale. But instead of castles you defend your character. More story based, the only problem is they force you to do PvP to progress further to the next chapter, but you only have to play one game. Has the South Park humor as always and is a fun game to play.
Latest Update :
Canadian Ministry of Mobile Gaming has approved yet another update:
Improvements to game audio
Improved Player & Team stats tracking
Technical stability updates and bugfixes
Contact developer :
Video :
Download South Park Phone Destroyer from Play Store
Leave your feedback regarding South Park Phone Destroyer
Get more android apps/games/updates
Subscribe to our mailing list and get new android apps / games and updates to your email inbox.
Thank you for subscribing.
Something went wrong.