[App] SwatchMatic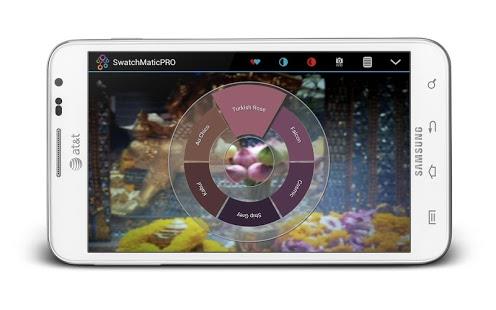 Thank you for your enthusiastic use of SwatchMatic.
It will remain here for download, but new features will not regularly be added.
For those, I encourage you to try SHÄDZ, the successor app to SwatchMatic. It can do most anything SwatchMatic can do, and more!
Satisfy your inner designer.
People all around the world, including editors at Tested, c|net, and MakeUseOf, love SwatchMatic, and you will too.
It's a free, fun, new way to capture, combine and share the colors you need for your website, startup logo, or kitchen makeover.
See a color you like, grab it. Whenever. Wherever.
Your Android's lens becomes a Terminator eye that can tell you the name of any color you point at.
Harmonize effortlessly.
In realtime, SwatchMatic shows you colors that nicely match the one you're sampling. There's no need to take a photo and wait for the result.
Find analogs, complements, or triads, even the dominant colors in the scene. Once you're happy with the combo, just touch to save it as a palette. Your swatch book is always with you.
Are you a tweaker? Tweak colors all you like. Right on your Android.
Easy sliders let you subtly edit the individual colors in the palette. You don't have to stick to the color "rules," but you can if you want to. You decide.
Dress robots in your colors and share them with the world.
Palettes shouldn't be the bland things you see in paint stores. They should be fun. They should feature robots. Share images of lovable robots wearing your colors, alongside all the values needed to recreate them anywhere.
Shoot colors straight into Photoshop and Illustrator (in the pro version).
SwatchMaticPRO let's you export your palettes as Adobe Swatch Exchange files direct to most Adobe applications. It takes just seconds get your colors into an Adobe swatch pane.
Robots are fun, swatch files too, but sometimes plain text will do.
Export out all your color names and values (in RGB, HSV, HEX, and even RAL Classic notation) as plain text for reuse anywhere — in other applications, at the paint store, the printing bureau, wherever.
FEATURES
Augmented reality style UI lets you build color palettes in real time, on top of whatever you're viewing through your Android.
Fun names are instantly assigned to your colors and palettes in English, Spanish, French, Polish, German, Dutch, Italian, Japanese or Chinese.
New retro-future style robots! Free to try. (Original robots are still included and free to use. Change between styles via preferences.)
Instant sharing of colors as text or images to Facebook, Twitter, or any social media app you have installed on your Android.
Fast export to Adobe applications (In the pro version only. Read how it works here: https://www.appbaan.com/swatchmatic/user-guide-1/sharing_palettes_with_adobe_products/ ).
Works with Android versions 2.2 and above.
Detailed preferences to make your palettes look beautiful on any Android.
And robots! Did we mention the robots?
SwatchMatic user reviews:
Excellent app, WB adjustment needs improvement Great idea for an app, really well designed. The only drawback is that if your lighting is far from standard, the captured colour can look quite different. There is a White balance feature, but the given presets almost never get it right. A colour temperature bar would make this app PERFECT.
love this app. as a freelance web designer, I use it every day.
Man this up is cool but the names of the colors are made up which ruins everything!!
Always dreamed of an app that gave me rgb values for real world colors in an easy way!
Contact developer :
Video :
Download SwatchMatic from Play Store
Leave your feedback regarding SwatchMatic
Get more android apps/games/updates
Subscribe to our mailing list and get new android apps / games and updates to your email inbox.
Thank you for subscribing.
Something went wrong.