[Game] Tales of Erin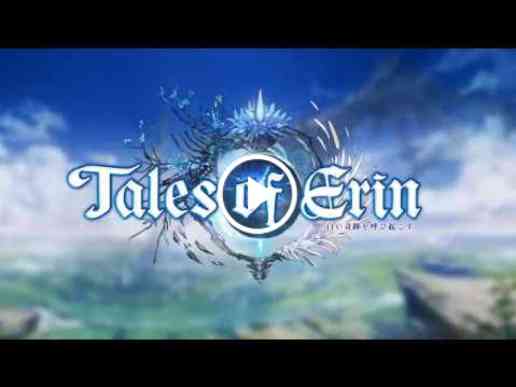 Tales of Erin is original Japanese orthodox story-focused mobile RPG of action, drama, tactics and fantasy, set in a cold war between God and the human world.
With a plethora of high quality content – from intense 3D Divinity animations to stunning anime-styled cut scenes as well as superb music and voice acting, players are able to summon over 80 heroes, master the arcane power of Divinity and alter the fate of the world.
STUNNING & INTENSE BATTLE GRAPHICS
Experience the next evolution of mobile graphics, battles, and storytelling! Fight battles customized for touch screens and on-the-go play with awe-inspiring HD graphics.
ULTIMATE SKILLS! AWE-INSPIRING 3D ANIMATIONS!
Tales of Erin features an original Divinity battle system, which will change your gaming experience. Aisha, the guardian of Erin, will transform, fall with stunning 3D animations and assist players in fighting as Zealous Blade (Fighter), Green Creator (Healer), Runed Lance (Controller) and Luminous Nightingale (Slayer).
STRATEGIC PARTY FORMATION
Summon 5 types of legendary heroes: Dark, wind, light, fire and water, apply the order of type restriction and release matching skills in perfect timing to defeat powerful enemies and bosses. You'll need to think hard about the advantages and disadvantages of each Hero's skills and weapon. Lead your army with easy touch-and-drag controls.
EPIC STORY TOLD IN ONE MILLION WORDS
Unlock exciting story stages performed by well-known Japanese voice actors! Be transported to the world of Erin by gorgeous 3D animation and awesome music! Clear event story stages and you'll earn Orbs, which are used for summoning Heroes.
New story chapters are added frequently, so don't miss out!
MORE THAN 80 UNIQUE HEROES
Summon characters by famous illustrator from across the Erin world. Each of heroes has their own background story and unique skills. Develop your Heroes' skills and weapons, and take them to new heights.
AN ILLUSTRIOUS CAST OF VOICE ACTIORS
Enjoy the magnificent performance brought by A-list Japanese voice actors such as Uchida Maaya, Koshimizu Ami, Tachibana Shinnosuke and Noto Mamiko!
DEEP CHARACTER PROGRESSION
Cultivate your heroes by leveling up their skills and enhancing their weapons to strengthen their performance in battle! There are many ways to strengthen your allies: leveling, skills, weapons and more. Take your characters to greater and greater heights as you battle for victory.
PLAY WITH AND AGAINST FRIENDS
Enjoy real-time multiplayer battles with your friends and guildmates!
Join forces and defeat powerful bosses!
Official Facebook: www.facebook.com/TalesofErin/
Official Instagram: www.instagram.com/talesoferin.game/
Customer Service: talesoferin_cs[at]efun.com
You may also like
Tales of Erin user reviews :
Pretty solid game. The story's interesting and it does a pretty good job of making you question what'll come next. Some parts are a bit cliche though, but that's nothing to frown upon. The combat system feels pretty smooth and it runs good on my phone. Haven't experienced any issues so far. Edit: Just realized the game is basically dead, not having been updated since 2019. Not to say it isn't fun, but it's kinda disappointing.
I am looking foward to the development of this game. It's really not bad, the concept is good, the story is not very boring and watchable, the battle system is good, the arts are good too, i think this game has so much potential if developed right and getting improvements. Beside it needs improvements, it's still very enjoyable and i am going to play for the time being. Hope the Devs get the deserved love, but don't make us rate the game based on gifts, right? XD
Ima straight forward why i gave 3 star. This game is often to freeze without reason and its needing me to restart the game very often even when im in dungeon, can you fix this its quite annoying even tho i have none connection problem and can u improve your graphic as well your character movements lil bit stiff (overall gameplay is good i love the story )
Been playing for about 6 months now and still not bored with it. The characters are gorgeously illustrated and graphics are great. Gameplay is smooth and easy to follow with deep customization and team building. Always new updates to further personalize ur units and strategy. For all the reviews claiming there's a problem with crashing or hanging, I recommend getting a better phone as I've never had any problems at all. Or clear some space so u have the ram to play it. It is a high graphics game
no comment can really describe this gem of a mobile game. l've been playing rpg games like a maniac for years. so when i say "this game is outstanding", i am not exaggerating! i got like 17 rpg games installed on my devices and i keep them cz there is something about each one of them that really like. but this game is like having almost all the great things of those games wrapped in one package. i am not going to describe the story, gameplay and heroes cz I don't want to ruin the surprise for you guys. try it for yourself. Great thanks to Efun.
Great game. Fair gacha rates. Fun gameplay. Easily a 5-star rating if not for the two massive sins that the game makes. 1) The current event is bugged and won't give anybody their God's wisdom fruit for leveling Utega to LVL 10. Please fix this or compensate us for the bug 2) Either make it possible to completely mute the game or make your app not interrupt my music. Even with music and SFX turned off, using Aisha or summoning anything will still play sounds that pause my music. Fix those two things and you'll get your 5/5 from me because the core gameplay definitely deserves it.
Latest Update :
1. Fix some bugs.
2. Add language: Chinese.
3. Fix crash problems.
Contact developer :
Video :
Download Tales of Erin from Play Store
Leave your feedback regarding Tales of Erin
Get more android apps/games/updates
Subscribe to our mailing list and get new android apps / games and updates to your email inbox.
Thank you for subscribing.
Something went wrong.