[Game] The King Of Ocean – Ship Battle and Trade War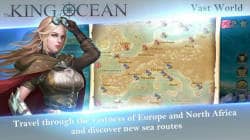 1. Game background based on massive and in-depth historical research
The periods of Renaissance and Enlightenment resulted in the Freedom of Thought that created a thirst for all things new in the European Continent of the Middle Ages, which propelled the process of civilization exploration. At the same time, the accumulation of wealth led to a prosperous commerce trade, while technological advances allowed Europeans to traverse further and faster into unknown territories. With this, the people who have never ventured beyond the European Continent ushered in an all-new Age of Sail.
To revive the full splendor of the Age of Exploration, we consulted large volumes of related historical materials and went to great lengths to ensure that all aspects of the game, from graphics to the choice of words, remain faithful to the norms of the era. The architectural styles and trade specialties of the various regions – Mediterranean, Asian and Latin American accurately reflect the respective histories and the inclusion of long-renowned sea captains and explorers is set to bring players an immersive gaming experience.
2. Unique trading system in which players' behavior influences the trading prices
In the real world, commodity prices are mainly determined by cost as well as supply and demand. In most trading games, however, commodity trading prices are almost always constant, which is completely unrealistic. We strive to create a highly realistic trading system that brings realism to players.
In King of Oceans, the trading prices largely depend on players' trading behaviors – centralizing the trading of certain goods may cause prices to fall drastically in the city. Powerful players may even dictate the price fluctuation of the commodities. The rapid and constant changes bring extreme excitement about the unknown to every deal.
3. Realistic and familiar trade specialties
All cities in King of Oceans are chosen from famed ports in the North, Baltic and Mediterranean seas during the Age of Exploration. Every city has its own specialty produce bearing strong regional characteristics. The supply and demand of the goods determine the price difference, and players have to grasp the timing of these price differences to secure an invincible trading position.
4. Be the ultimate victor in our cross-server naval battles!
King of Oceans supports data exchange among multiple servers, thus enabling players across different servers to either form allies or opposing camps fighting on the same battlefield and together quell the ocean rebellion. The one who stands last shall be our overall champion and win the admiration of all other players!
Contact Us
Should you have any questions or suggestions, please feel free to leave feedback on our official FB page:  www.facebook.com/The-King-Of-Ocean-363419481184754
You may also like
The King Of Ocean user reviews :
Uncharted Waters was a top 5 game of mine when I was younger. This is the best a modern pvp adaptation could be. Keeps the fleet building, trading heart with a somewhat limited piracy element. Getting repeatedly attacked is annoying but not harmful. Sharp graphics, interface is full but easy to use. English translation needs a lot of work but it hasn't bothered me since the game is so intuitive.
This game is fun but it seems like this version is severely neglected.There are no new things except for a slow rollout of the additional area. We aren't offered any codes to redeem for free things, even occasionally. We have to pay insane prices for gold, if we want VIP points. This Western version looks nothing like the pictures above. It is designed to take money from honest players that don't suspect anything. The game is a complete money grab compared to the Chinese version that they run.
Its a fun time-killer, but totally pay to play. You will not get very far before hitting a paywall. Not worth it.
Once you decide how your ships will be built, the game just exspodes on the possibilitys that you can choose. Way to go guys. Havent liked a game this much in awhile!
Good so far, could accelerate game play a bit more for free beforenleaning on the paying portion of the game.
Fun and challenging. The PvP is minimal for those that want to focus on developing your trade strategy vs getting pounded on by higher ranked players
Great game, easy to play. Have fun sailing around and trading commodities.
Fantastic game. Really like the uncharted waters feel. One suggestion, can you put what time zone the game operates on inside the game?
So far the game has been a great way for me to pass time Time just so happens to fly whenever I open this game
Fun game, good rotation of daily and server events.
Contact developer :
Download The King Of Ocean from Play Store
Leave your feedback regarding The King Of Ocean
Get more android apps/games/updates
Subscribe to our mailing list and get new android apps / games and updates to your email inbox.
Thank you for subscribing.
Something went wrong.