[Game] Time Jump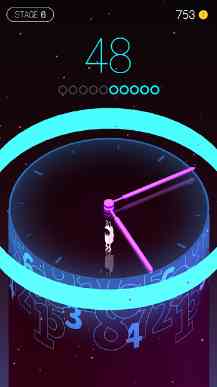 Time Jump : Tap to jump over the clock hands.
Tap and hold to slow down the time.
Collect various jumpers.
Jump as many clock hands as possible.
Time Jump user reviews :
5 star definetly. Though theres a glitch if you jump while transitioning stages you become invisible and can't die. Please fix that. Other than that, its a fantasticly designed game with an exellect frame rate. Fantastic and very decent gameplay. I love your games!
This game is awesome! I think the developer should add multiplayer version where players can compete with each other, and it should be 4 players on the platform. If it becomes multiplayer games, it be like that show called Wipeout where one of the games is to jump and avoid from falling
Absolutely entertaining and when I let my friend play it they say it was hard and frustrating at first but once you get the mechanics its very fun to play. Guys you can just turn off your WiFi since its an offline game.If you don't want ads. Which supports the great devs.
The whole concept and game is stupid, you're a creature jumping over the hands of clocks, my character becomes invisible, which I can see is not supposed to be possible due to the pictures of the game.
Game is addictive, however, the ads in this game are awful. It asks when you die, if you want to watch an ad. If you say yes, you watch an ad. If you say no, YOU WATCH AN AD. Dont download
it has add yes i got one like 1 minite long one time u could not cluck away but the rest u can click away not to mention most important the game is fun!!! sometimes u have the option of seeing a short add and get points. .most free games have adds .
I've been wanting to play this game because the graphics caught my eyes. Tried the app and it appears that this game is broken. So yeah, game is still playable but you just have to imagine that your character is still in the game and didn't just dissapeared. The game also crashes a lot. I was actually looking forward to playing this game
This is game is very challenging.The graphics are good and dont be confused that sometimes your character is suddenly invisible.It is because sometimes it makes your character invincible,but there is a limit for being invincible and it can only last for a short time.For the first time playing,yes its kind of confusing ,but when you start getting used to it , you can already understand the game and the controls. Thank you for making this wonderful game (owo)
Jumping is very off time and hitboxes are or too cruel or too generous for stable gameplay. The music was good. P.S. don't delay us with the revive option, we'll use it on our own time.
Wow!!! I absolutely love this game!! The graphics are awesome, the music is great and it has just the right amount of difficulty to keep you wanting more! I'm very impressed with this game and I really hope that you can continue to make more like it. Definitely 5 stars all the way!!
I love this game im so addicted to it to bc i always wanted a game that passes up my time and its the right game for me so thx for the people that made this and other people that want to get it go ahead bc it awesome
Contact developer :
Download Time Jump from Play Store
Leave your feedback regarding Time Jump
Get more android apps/games/updates
Subscribe to our mailing list and get new android apps / games and updates to your email inbox.
Thank you for subscribing.
Something went wrong.