[App] Timecap – Habit tracker & Motivation
 jw library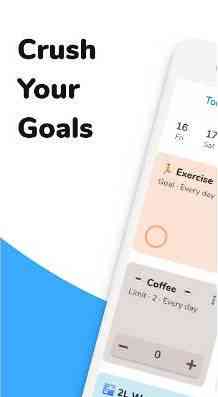 Timecap is a free and simple daily habit tracker that motivates you to organize your life, reach your goals, and improve your routine.
Use Timecap to build new habits or limit bad ones. Its powerful and easy-to-use interface allows you to build your own habit list, task list, checklist, or to-do list.
Change the way you organize yourself with this most complete productivity app. No distractions, no Ads, just you and your goals you are going to crash. Download now and make a real difference to your productivity.
WHAT MAKES TIMECAP HABIT TRACKER UNIQUE?
Timecap allows you to use multiple habit tracking options all in one app, such as:
Time tracker – set the timer for anything you want to time track.
Check off activities – quick and easy way to mark things done.
Quantity counter  – count how many times you do any specific activity.
At Timcap we strive to build a clean, straight to the point and organized interface, so it does exactly what you want with minimal efforts.  With this habit tracker, you can easily get things done with its user-friendly and intuitive navigation.
HOW DOES IT WORK?
Create a habit list or to-do list . Track your activities . Measure and Analyze   Adjust your routine
It is that simple! And Timecap is there to boost your motivation and guide you through this process so you stay productive without feeling overwhelmed. Beautifully designed statistics will keep you motived every single day and easy scheduling will optimize your productivity.
TIMECAP CAN HELP YOU TO
Build good habits, such as:
Morning routine
Reading
Fitness
Meditation
Drinking water
Cleaning
Flossing regularly
…and anything else that can make you more healthy or productive.
Limit bad habits, such as:
Smoking
Drinking alcohol
Social media usage
Gaming
Watching TV
.. and anything else that stops you from achieving your goals.
Organize your to-do list or task list
Timecaps intuitive design allows you to check off activities or items with ease.
TIMECAP FEATURES
All features in this productivity tracker are carefully considered to make a habit-changing process as simple and motivating as possible.
Fully customizable
Your lists are unique, with customizable features like emoji in lists, formatting options, colorful themes, dark mode, and more. You can create recurring tasks, goals, and limits for any period you want (daily, weekly, monthly, yearly, or certain days of the week).
Powerful reminders and notifications
Useful reminders when coming just short to reach your goals and powerful notifications when you reach your limit. Never miss what's important to you.
Useful Widgets
Get easy access to your habits and tasks by adding a widget to your home screen.
Insightful reports
You can measure your performance and goals in a calendar view, analyze your success percentage, or follow your streaks with a streak counter. Timecap motivates you to keep the streak going and
Data synchronization and backup
Timecap syncs to all your iOS and Android devices, so you can tackle all your tasks and to do's on the go. In case you decide to change your device, enable data backup, and your good to go.
Timecap habit tracker is a fabulous companion on the go for your daily habit related activities and to do's. You can easily increase your motivation and improve your habits of health, morning habits, work routines… you name it. Timecap is there to help you to increase the productivity of your routine and build a powerful and lasting change. Work on your personal goals and build a routine that works for you.
Have productive habits!
If you really want to access the full features of the app, but can't afford them, send me an email, we can figure something out.
Timecap user reviews :
I love the interface. Other apps often feel a bit difficult. But I learned everything in just about two minutes. Very intuitive and nice, and all on all just pretty in a relaxed way, it doesn't take away from the purpose which is a must for someone easily distracted, like me. It has everything needed and looks great. I adore it and really think I'll be using it lots. Thanks for a great app!
Great app, exactly what I needed. Came from a Reddit recommendation, and ended up thoroughly appreciating every feature. One suggestion about goals would be to add an option for weekly/monthly frequency instead of picking specific days of the week. Like, if I choose weightlifting as a goal, it would make it easier to listen to my body. Honestly, a very well-developed app
Clean interface, user friendly, helps you do what you want to accomplish. Updated review: this app is now part of my daily life. I know what I need to do and I love the way you can set the reminders for yourself, the way you set up your goals etc. This app works even when you don't want to. It's my favorite way to gently tell myself to "stop the BS" and get to work.
Contact developer :
Download Timecap from Play Store
Leave your feedback regarding Timecap
Get more android apps/games/updates
Subscribe to our mailing list and get new android apps / games and updates to your email inbox.
Thank you for subscribing.
Something went wrong.