[Game] TrackRacing Online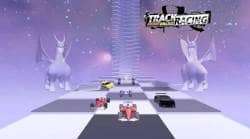 Perform dynamic, high-speed aerial stunts in an intense driving experience powered by a brand-new physics engine!
Features:
45 cars + 8 hidden cars
Many new systems
Split screen (2 players), single player, Multiplayer(race,CTF,DM,Pursuit)
Rewinds – you can rewind your time
520,000+ tracks made by users
Level editor, car painter (PC only)
No purchases, No Ads, game is free!
Official Game site:  tmrace.net/tm/web2/kong.html
Discord:  discordapp.gg/tjEPRZ3
Please support project development, by voting 5
TrackRacing Online user reviews :
This game, to be honest, is actually really good. The only problem is the buttons are too small on splitscreen and also the reset button doesn't work without resetting EVERYONE on splitscreen. Please fix!!!
BrutalStrike

Thanks for your report problem, you can press background to rewind and settings->restart to restart race. And the R key we will remove at next version
Trackmania clone with a lot of bad bits. the concept is great but can help think Nadeo would be less than proud of the additional content that just seems the make the game buggy and a distance from its original design. id say to the devs… go back to TMS/TMU and refresh you reason for creating this game
Good game still play trackmania only problem i have is i cant login or register keep getting failed to parse error. Otherwise its a great game a little awkward with the controls and the physics could be a bit better but otherwise i enjoy it.
love this game! i had it back in 2018 but i thought it got deleted. the buttons are a little small in splitscreen mode though.
Nice concept, but really buggy, land bugs, loop bugs, thought TMNF was buggy, but that runs like a dream if you compare it to this game Graphics could be improved and smoothness too
I love this game, I used to play it in 2012 and those were the times when I played it on my Laptop. Good memories aswell, I still remember my Name and Password, which is good! I can play it on my Computer but I would rather play it on the phone because I see this has alot of Downloads and I wish the best for you Trackracing Online Creators, thank you for making my life better and I enjoy pursuits the most in this game!
Thank god it's actually works with mobile because it's not in the browser. it's only for mobile!! Thank you. The NPAPI is not supported on unity web player. dosent work on browser
Game is ruined the old version was very good where u have weapons on your car and kill each other and zombies but now its ruined. And its very laggy.
I remembered when i played in kongrate me and my brother were creating tracks, split screen an play togeather i loved these game
very grainy textures, awful game experience — not worth playing
Add controller support if there isn't any please
dude were is the older version of track racing online pursuit that game
Best for trackmani players
It is the first time I am playing this game
The game looks good. But it freeze on loading screen.
Cool game.
Contact developer :
Leave your feedback regarding TrackRacing Online
Get more android apps/games/updates
Subscribe to our mailing list and get new android apps / games and updates to your email inbox.
Thank you for subscribing.
Something went wrong.