[Game] Turbo Shot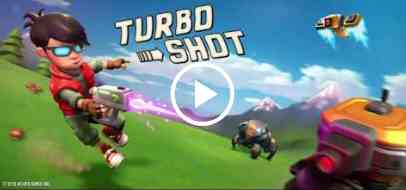 Turbo Shot is easy to learn and fun to master!
Use one side fo the screen to move and the other side to shoot! Avoid enemy attacks while destroying each enemy to progress.
Turbo Shot will feature an ever increasing set of worlds and levels that will keep the player progressing for years. Levels consist of a series of dozens of combat areas where the player must clear out all enemies before progressing to the next area. Level areas become increasingly difficult until the player is faced with the Level's unique and formidable Boss!
Powerups
As the challenges being faced within a level increase players will defeat enemies, collect XP and rank up. Each rank up will give them the opportunity to pick between three powerups increasing a variety of attributes and abilities, building on each other until the player dies and must restart. Not all powerups will be available from the first time the player plays the game. Players will have to unlock new powerups via loot boxes, achievements and missions which will then be added to the pool of available powerups.
Weapons and Armor
While the above mentioned Powerup's effects will only last in the scope of one attempt at beating a level, the player will be able to use the game's Lab Menu to buy and upgrade persistent base character stats via new weapons and armor. These persistent stat boosts will include max health, coin drop rate, base damage, etc.
Secondary Weapons and Assists
In addition to the basic shooting attack players will be able to unlock devastating secondary special attacks. Such attacks may include a volley of rockets or a long reaching flame thrower, etc. There will be many secondary attacks to unlock and upgrade which will then be available for the player to equip via the Powerups selection.
Similarly the player will be able to unlock friendly NPCs that can help fight along their side. Such NPCs would include drones or fellow soldiers. These would also be unlockable
User Reviews :
this game has grown so much in the time that I started playing it, I can't believe it has exceeded my expectations beyond my own believe in how game should be, This is the best game that I helped with testing the only thing that needs to be done is to be connected to play games with play a game achievements
Lots of fun, intuitive controls, a couple of bugs to work out. I got stuck in a room because a weighted cube on a door button respawned into the room with me. I'd also appreciate it if the controls were closer to the edge of my screen because I had to extend my thumbs quite a bit to reach them Overall I actually had a lot of fun playing this game, and there was no issue with ads interfering!
Wizard Games Incorporated

Thanks so much for the feedback and the review! Please feel free to send us any screenshots or bug reports @ feedback[at]wizardgames.ca. With regards to the on screen controls – You can actually start the drag from anywhere on the screen and it will treat that as the joystick origin position so you don't have to reach your thumbs quite so far.
Good, but could be much better! Think item collection and upgrade system.
Probably be better if it would let me finish the first stage. Keeps closing out!
Wizard Games Incorporated

Thanks for your feedback. We're sorry to hear that the game does not work properly. You could try to clear the cache, restart the device and ensure that enough memory is available. We hope one of these works for you. If not, please contact us at feedback[at]wizardgames.ca.
This game is a lot in of fun. Some of the levels are a little tricky. I was stuck on level 5 until I learned how to throw items. Cannot wait for further levels. Keep up the good work.
Wizard Games Incorporated

Thanks very much for the kind review! Can't wait to share more content with you in the coming updates!
Really like the story mode and being able to go back to replay special missions. Can't wait for the next chapter!
I've changed it to 5 stars as the game was working after all. My character had no gun because of the mode it was on at the time. Brilliant game very entertaining
Wizard Games Incorporated

Oh awesome! Glad to hear! Please feel free to reach out at any time here, at support@wizardgames.ca or any of our social media channels! Thanks for playing!
A bit hard to get used to the controls and I miss the archero style autoshoot/aim but the most annoying are the unskippable dialogs
Awesome graphics and storyline. Easy to pick up. Love the boosters. Great game, really well done!
Wizard Games Incorporated

Thank you very much for your 5-star review!!!
Really fun experience! I love the story and I have to say, those little Blerphs are really cute can't wait for future updates!
Loving this game. It's hard enough that I don't get bored and I love it's look. It also isn't ad heavy.
Wizard Games Incorporated

Thank you very much for your 5-star review!!!
Good game with pvp and story modes, looking forward to more maps and story season 2
Please fix level 5 as its impossible to complete (bug – platform wont move).
Wizard Games Incorporated

Hey James, Could you possibly send a screenshot of the part of the level where the platform isn't working to support[at]wizardgames.ca? It would help out a lot. Rest assured we'll get it figured out and fixed. Thanks!
Turbo Shot developer :
Video :
Download Turbo Shot from Play Store
Leave your feedback regarding Turbo Shot
Get more android apps/games/updates
Subscribe to our mailing list and get new android apps / games and updates to your email inbox.
Thank you for subscribing.
Something went wrong.