[Game] Ty Beanie Blast
 creative destruction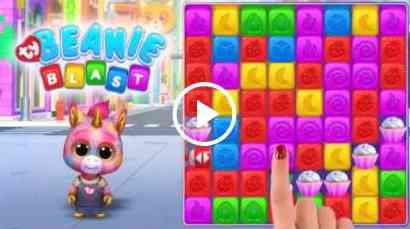 Ty Beanie Blast is the official mobile game where you can collect all your favorite BEANIE BOOS and BEANIE BABIES, and play challenging puzzle levels with them.
Ever wonder what happened to the Ty Beanie Babies from the 1990's? Well, here's your chance to find out! Join Fantasia and her crazy fun Beanie Boo friends in this new FREE color blast matching game.
PLAY hundreds of challenging puzzle levels with new ones every two weeks.
COLLECT and get to know your favorite characters who create boosters to help you solve challenging puzzles.
EXPLORE the exciting world of Boo City and help follow the hilarious story of Fantasia on her journey across different lands in search of the missing Beanie Babies.
WIN rewards in new events every day.
JOIN your friends to form clubs & send and receive lives to keep playing!
THE STORY (AS TOLD BY OUR NARRATOR, FANTASIA):
"STOP! In the naaame of looove…" Oh! Sorry, that's embarrassing but I love the "Boopremes." See what I did there? It's a pun. The name of the group is actually the Supremes. Anyway, my name is Fantasia and I'm a REALLY popular Ty Unicorn BEANIE BOO (not that I have a big head or anything.. Well, physically, I kind of do, and my eyes, yeah, those are big, too.) Anyway, my agent said I need to tell you about this game and how our worlds are very relatable (accept we're adorable furry animals with attitude ).
Me and my best friends Slush, Kiki and Coconut (other super rad Beanie Boos of course) just graduated university and we had no idea what to do in life. I mean, who does? Sooo, with a coffee truck that my adopted mother Owlette gave me as a graduation gift, and the crippling anxiety of adulthood, we decided to go on a journey in search of the Beanie Babies from the 1990's… Right?! Whatever happened to them? Are they still alive? Where do they live? Ugh, so many questions!
This is how it works. After you beat super fun and addicting puzzle blast levels, you get a Ty Token which you can use to unlock more Boos. Collect and get to know your favorite Boos who help you beat levels, join clubs with your friends, win free stuff (including physical PLUSH), keep playing levels, keep following our story and blah blah blah, you get the point. Okay, have fun! Oh and by the way, I'm breaking through the fourth wall so you and I can continue this conversation
Now where was I? Oh yeah..
"Before you breaaak my hearrrrt…" I'm such a good singer.
WHAT YOU GET:
CASUAL GAMEPLAY
Really, really really easy to play, but it eventually gets challenging, trust us.
NEW GAME MODES
Just when you think you have mastered a new type of puzzle…BLAST! A new game objective and mildly infuriating obstacles pop up, but you got this!
NEW EVENTS EVERYDAY
Still want more? There is always something new, boo. Challenges, Tournaments, it just keeps on going!
PLAY ANYWHERE
Easily sync the game between devices and access full game features when connected to the internet. Boom goes the dynamite!
Ty Beanie Blast user reviews :
This is a very nice Game that i downloaded tonight and started playing, the ty characters are really cute and the graphics are good, it gets addictive very quickly but the reason i have given this Game four stars instead of five stars is because there is no Facebook Connection Button, it would be nice to be able to share completed levels to encourage my other friends to play this brilliant Game, i will give this Game five stars when a Facebook Connection Button and a share button is added.
Kung Fu Factory

Hello! Thanks for your review. We appreciate your feedback on your enjoyment of the game and we'll bring your suggestions to the team. If you have any further feedback or any questions reach out to our support team either in game via Settings, Help menus or via Helpshift at kffgames.helpshift.com/a/beanie-blast/
Love this game is there a way to go back to previous levels to get 3 stars on level we only got one or two stars or to get a beanie.
It is a fun game, but I haven't received daily rewards, except the first three days and I have been playing for over a week. Every time I go to the daily rewards screen, it shows 3 days still.
Kung Fu Factory

Hello! Thanks for your review. We apologize for the trouble you're experiencing with our game. For assistance in troubleshooting this issue, please reach out to our support team via Helpshift at kffgames.helpshift.com/a/beanie-blast/
Contact developer :
Video :
Download Ty Beanie Blast from Play Store
Leave your feedback regarding Ty Beanie Blast
Get more android apps/games/updates
Subscribe to our mailing list and get new android apps / games and updates to your email inbox.
Thank you for subscribing.
Something went wrong.