[App] Upcomer Esports – Match Schedule, News, & Community
 wwe app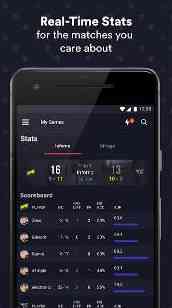 Never Miss Anything Esports Again!
Follow all your favorite teams, players, and tournaments in the most comprehensive esports app on the planet! If you're a fan, check out our coverage of the biggest events in esports like the LCS, Overwatch League, Call of Duty World League, CS:GO Majors, and more.
Features:
Match Schedules
Reminders & Notifications
Community Discussions
Tournament Brackets & Standings
VODs & Highlights
Real-Time Match Stats
Fantasy Prediction League
Breaking News & In-Depth Interviews
We cover 13 of the world's most popular esports:
Overwatch (OW)
League of Legends (LoL)
Counter-strike: Global Offensive (CS:GO)
Dota 2
Fortnite
PUBG
Call of Duty (CoD)
Hearthstone
SMITE
Heroes of the Storm (HoTS)
StarCraft 2 (SC2)
Super Smash Bros
World of Warcraft (WoW)
Got any feedback or do you want to get in touch with us? Email us at hello[at]upcomer.com
Upcomer Esports user reviews :
I've been using this app for about a year. I like the interactivity it provides to users with global prediction rankings. But I loved the ability to see post-game stats, which has not worked for a couple months. Post-game never loads.
The best app to follow esports. Can be slow to navigate and sometimes you have to force close to get it to respond. The Upcomer team still deserves 5 stars for listening to the users and removing the premium pay wall/subscription. The content just isn't there for it.
Super buggy, I can only do the most basic functions before the app crashes. Other than that, it's really good! UI is great and it's always up to date. Fixing the bugs this would be 5 star
Was happy with it until I started receiving notifications for matches of teams I don't follow. Annoying. Uninstalling.
Love it. I wish you'd add link to youtube stream as well. That would be really helpful
Sometimes i don't get notifications and some games don't show up actually . And will be happy if valorant is also added here
It is the best app for live updates of E-Sports. You can even select your favourite teams and watch their matches. And also you can get the details if you missed the match.
This is a grate platform for Esports. I didn't have any problems whit it.
Matches and trending section not updating. App crashes often. An informative and good app when it works Edit: app is crashing after opening and doesn't work at all.
It's a nice app.. The navigation can be difficult at times.. but over all a good app to follow eSports.. been using it for a while now..
Twitch links don't work and I have to find the matches myself but wsid from that I can keep track of everything that is happening
Amazing app. Fulfills all my League of Legends esports needs.
Splendid app! Exactly what I was searching for to fully involve myself into eSports.
Extremely easy to use, and very useful
That's good idea I m your old user but I didn't like subscription idea but it's free again thanks
Realllllly confused why Rainbow 6 Siege isn't on the list, your crazy
It was good, but after i signed up it became a nightmare, not showing anything, literally anything except news, i put my favorite games and teams again and re signed in Then i reopen the app to find it reset…
Awesome app for staying up-to-date on whatever e-sports you like
Great app, good community functions
It's good for it's purpose, but there are a few things I wish they included like: real time game data (if there's a game between Astralis and FaZe, I wanna see who's winning, by how much, and the player stats, maybe even a feed similar to hltv but that's pretty hard I imagine.); I'd also like if you could change your vote before a game, I've mistapped many times on the team I didn't want to vote for
It may be a little hard to navigate, and find exactly what is wanted, and it should be possible to scroll through a page of upcoming games, and predict the outcome without having to press into every game separatly, other than that I think it is absolutely great, will be even better when more people join the app
Upcomer Inc.

We've just released version 3.0 that fixes several bugs and app crashes. After checking out the new version could you update your review to reflect the newest version?
Really great app for keeping up with the events and watching them with great resolution. Interface is really simple and good, but I had some issues when watching live streams from twitch, streams were not able to load on the app and had to go directly to Twitch. Hope you can fix it. Everything else, really good!
Contact developer :
Download Upcomer Esports from Play Store
Leave your feedback regarding Upcomer Esports
Get more android apps/games/updates
Subscribe to our mailing list and get new android apps / games and updates to your email inbox.
Thank you for subscribing.
Something went wrong.