[Game] Utopia Origin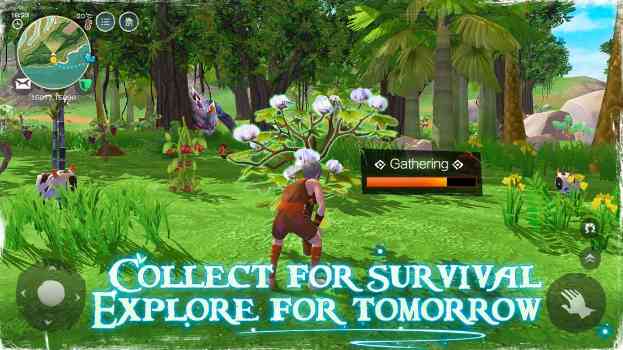 When I woke up, I found that I was no longer stay in the familiar room, a world as beautiful as heaven greeted my eyes.
Where am I?
Welcome to the Utopia land, the land of Beia, a voice said. I am your guide, Xiaxia.
Looking up, a flying sprite was talking to us.
You are the first adventurer to be recruited. Take this manual and start your adventures!
No one could have imagined that mine adventure legends was about to begin.
 If You don't Build the House Well, You'll be Caught
Xiaxia Tips ①: There will be a little demon and skeleton soldier at night, and it is very dangerous if don't have your own campfire and house!
Let's build our house today! There's wood and stone everywhere. Come on!
No one ever did chopping, mining or carpentry, but it was as if we have been given the magic by the land, and everyone learned to master all sorts of skills. Wood and stone were transported to the worktable, crafted into boards and bricks, and a two-story building slowly formed with the sweat from everyone.
As night fell, a mysterious mist filled the air. As Xiaxia said, a group of small demons with green flames appeared in the mist, but the fire in front of their homes made them dare not go further. But survival is only the first step, more adventures are waiting for us! Hope we can build a big clan some day!
The World is so Big, I Want to Explore it with You!
Xiaxia Tips ②: You can ride a dragon in this world, but first, tame a pony!
After the home was built, everyone can't wait to explore the world. In order to bring the wild horses back to clan, let's prepare horse feed first. There was a faint smell of carrot and wheat balls baked with a soft fire, and several horses came to us, rubbed our hands and ate happily. Lightly on the back of the horse, let the sun shine on the shoulders, we planned to go to explore the wilderness tomorrow! Can't wait to ride a dragon in the future!
The Best Sights in Beia is that We Fight Side by Side!
Xiaxia tips ③: Treasure often accompanied by danger!
Mount and weapon are ready, and nothing can stop us from exploring.
It is said that in the islands, forests, deserts and snow-capped mountains, the treasure left by the creator gods is now guarded by monsters, dragons and Evils.
For about half a day north, a ruin was visible, and a troop of skeletons wandered through the wreckage, with a golden chest in the middle. The clash began, the seemingly vulnerable skeletons were so powerful unexpectedly. Finally we beat them, after opening the treasure chest, a gem appeared with its soft light, as if healing our wounds.
Play in Your Way!
I have climbed the most remote ruins, sailed to the most romantic heart island, even cut off the teeth of the dragon, but I still need more friends, do things we enjoy together, do you want to come together?
Contact Us
Official Facebook: www.facebook.com/utopiaorigin
Official YouTube: www.youtube.com/channel/UCu0aYQp6QDgLT19yZ72uHdQ
Official Reddit: www.reddit.com/r/UtopiaOrigin
Customer Service Email: utopia[at]herogame.com
Utopia Origin user reviews :
Easily way over my expectations. I would've 4 starred this because I have no one to play with, but then again I thought why should I take a star off if I am the lonely guy with no friends? So 5 stars, cheers.
Everything is awesome Except for the fact I bought a package online that promised an elk, I did not receive what I purchased so far, Very upsetting, I would love to give you five stars but not if you are going to just waste people's money and not try to fix the problem. My problem was fixed within half an hour thank you!
I have a lot of suggestions, and I hope you, devs, read this. The fist time I played it I felt bored because there's nothing to do(the same thing I felt in Minecraft).Maybe add more missions that give some rewards and a clear and easy to understand tutorial, like where to craft, why do I need a workbench, something like that. Second, improve the world. Add caves maybe or dungeons.(Btw, I really don't know if there's already a cave and dungeons in the game). And make them visible on the map
It's a very good game, I like how you can do a lot of things, have a lot of freedom and get limited amount of words to write, cause then you avoid having to read a big chunk of words. The only thing I don't like is how you can't tame a snow king wolf, I try to stun it but it can't be stunned, and therefore I end up killing the wolf. Please fix it. But overall the game is great.
You can also like :
best free shooting games for android
Contact developer :
Video :
Download Utopia Origin from Play Store
Leave your feedback regarding Utopia Origin
Get more android apps/games/updates
Subscribe to our mailing list and get new android apps / games and updates to your email inbox.
Thank you for subscribing.
Something went wrong.