[Game] WAKFU the Brotherhood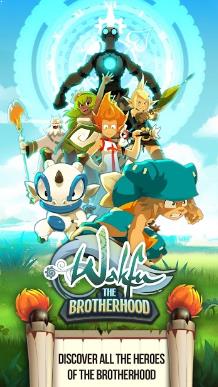 Join Yugo and his friends from the WAKFU® animated series in an adventure like no other!
Embody the heroes of the Brotherhood of the Tofu and team up with your most trusted allies to defeat the waves of metal critters sent by Nox, the evil time master intent on absorbing Wakfu power from all living things.
Beat Nox and his robotic army, and stop his ruthless and deadly pursuit of life force and energy!
In an original story set during the events of the first season of the Netflix® show, bash, dash, smash, and perform ultimate combos to defeat the evil time master!
What's been done cannot be undone!
Also see our list
WAKFU user reviews :
I adore Wakfu and spent around an hour playing this. After I reached level 15, I couldn't progress any further.. So either I beat the game in one go or the app isn't registering that my device connected to the internet. Because it looks there should be a boss level but I can't get it to unlock. I really would love it if there were more levels and maybe a sidestory that didn't already cover what happens in season 1 of Wakfu? Otherwise I really love this game, thank you Ankama for making Wakfu.
It was exceptional, Wakfu is my favorite animated series, but the game is a little too short, consisting of only 15 levels and with almost the same gameplay (excluding character interventions), so updating it to be more variate gameplay speaking and adding more levels and season 2 and 3 (maybe 4?) would be excellent. Other than that, the game and the series itself are totally amazing. Thank you, Ankama Studio
Alright. So when I first pulled this up I was really excited because I was crazy for Wakfu at the time. When I played it, It was nice but… I think it would be nice If the character's faces changed expressions, and also it needs an actual ending. Every level is extremely repetitive. I found myself rage quitting, but laughing when my friend did. Nice game but I got it done in a day total, and didn't get much from playing. Nice job, but needs a bit more.
I don't know why this is so highly rated, and while I would have loved to say I gave it a shot, within the first 3 minutes of gameplay I've had the game Freeze once and fail to load the next stage twice. For anyone hoping this will give them an experience similar to that of Wakfu the rpg, this is more like a Fruit Ninja clone, complete with "bombs". The gameplay already became repetitive only after making it past the few stages in that I did. I love Wakfu and Krosmaster, but this is a let down.
I actually really enjoy the gameplay of the game, but the game keeps freezing when I try to move on the the next level. The only way I can proceed is if I close the game and reload it. I really hope that gets fixed cause I really want to keep playing. IF IT DOES ILL GIVE IT A 5 STAR RATING JUST FOR READING MY CRITICISM!!
I absolutely love this game, I am a big fan of wakfu, but you might want to add more levels, there are 3 seasons (soon to be 4 this April) and you only have the first 1, if you make more levels, I will share this at least 8 times and make sure everyone who installs this gives it 5 stars, please reply if you did
Really just an ad for the PC game Wakfu. This game isn't challenging at all, just 15 levels of the same thing then the final boss with entirely different mechanics. I expected better of Ankama.
I think that this game is amazing.Iv been looking for a game like this for a long time because I really love the wakfu anime!
I love this game, but you should add more stage
Man… Just like everything else Ankama makes, you can really see the love that went into this. Even if it's just a mobile game. I will continue to check out everything they come out with and support them as long as they keep the flame alive!
Add more levels and do a story mode and more villains from season 2 especially season 3 villain of orubo needs to be in there it would make the game so AWESOME! And can u please do a story mode and btw the game is a little to challenging playing as Adamai is SUPER hard. Well thats all can u read my review and do these things and make the game better.
I love it and cant wait for season 4 if it ever comes out
Contact developer :
Video :
Leave your feedback regarding WAKFU
Get more android apps/games/updates
Subscribe to our mailing list and get new android apps / games and updates to your email inbox.
Thank you for subscribing.
Something went wrong.