[Game] War of Empire Conquest – 3v3 Arena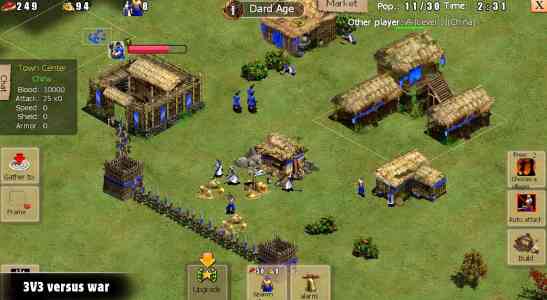 War of Empire Conquest (WOE) is a RTS mobile game. This game is a real-time competitive(PVP) one. One player creates a match game and other players join the match game to fight against each other. All types of units and buildings can be manually controlled, granting players high degree of freedom.
Main Elements:
WOE simulates 18 powerful Empires (or civilizations) in the medieval ages (including China, Japan, Persia, Teutonic, Mongolian, Gothic, Maya, etc.)
Each Empire has 8 types of regular units and 1 type of unique unit. The regular units are the same in every Empire. While each Empire has its unique unit. There's Riders in Mongolia, War Elephants in Persia, Conquistadors in Spain, etc.
The regular units include:
1. Swordsman: a very common unit.
2. Pikeman: vulnerable to arrows but restraining the Cavalry.
3. Archers: Vulnerable to the Cavalry, but restrain the Pikemen.
4. Light Cavalry: Fast movement, high mobility and special unit for harassing enemies.
5. Aries: Exclusively used in attacking buildings.
…
Buildings: Tower, Turret, Castle,blacksmith shop etc.
1. Tower: Mainly used for attack. After having 5 farmers stationed in the Watch Tower, the Tower can shoot 6 arrows at a time.
2. Turret: mainly used to destroy buildings
…
In the game each Empire has its both advantages and disadvantages. Players can go to the game to see the detailed introduction of each Empire. Here is a brief introduction:
1. Huns: It's no need to build a house, saving a lot of time. The Cavalry costs 20% less resources and the Cavalry can be upgraded to the Ranger.
2. Teutonic: The warrior is very powerful. Like the Spartan warrior in history, But they move slowly.
Highlights:
The core of the gameplay: After starting a match game, try to do the following things at the same time:
1. Develop Economy: Keep producing as more farmers as possible and collecting resources (Note: TC, Tower, etc. can be used as temporary shelters for the farmers).
2. Harassing Enemies: In the beginning, players can train a small number of units to harass the enemy's farmers, and accumulate advantages.
3. Destroy Enemies.
Especially, it's necessary for players to cooperate with allies to form a legion for defeating enemy troops with a force inferior in number and to protect the allies' units with low HP and high damage.
In addition, players should pay special attention to unit restraint and teamwork:
Players should learn each unit's values. Here are some examples:
1. The Pikeman restrains the Cavalry
2. The Cavalry restraints the Archer
3. The Archer restraints the Pikeman
4. The Slave (ride a camel) restrains the Cavalry
5. The Koryo Carriage restraints all the other ranged units
Game Modes:
There're two kinds of resources: Food and Gold. As the game progresses, the TC can be gradually upgraded from the dark ages to the feudal era, the castle era, and the emperor era (the purpose of the era upgrade is to unlock more technologies). After the era upgrade, more types of buildings and units will be unlocked.
The whole gameplay is more complicated and requires players' serious study. To simplify, the game is divided into 4 modes (the most common ones are the common mode the emperor mode):
1. Normal Mode: The resources are relatively small. It is necessary to give priority to development. At the early stage, players can dispatch a small number of troops to harass their enemies. This mode is complicated to play, but it's the most interesting one.
2. Imperial deathmath Mode: Players enter the emperor era directly, with a lot of resources at the beginning of each match. Players can launch fierce battles directly.
Main Features:
This game has been run for 4 years in China. After dozens of upgrades, it is now the 1.8.n version. The main functions realized are:
1. Player VS CPU
2. Network Play
3. Spectators
4. Replay
5. Making Map
6. Legion
7. Friends
8. Chats
War of Empire Conquest user reviews :
This game is more interesting, but all players need to get gems easily by watching ads and participate in events . And make sure update this game as 5 vs 5 and easy to unlock country's . And update many events asual to won many prizes like , unlocking a country, getting gems etc …. thanks i am going to delete this game after updating i will continue this game.
Better than age of empires. More simple. I want to buy this game the google translated version of the website in english does not reveal how to buy in english. Segments of asiatic language operate the buying process. Please instruct how to have the paid version. Only if buying means that i will not have to pay more than once.
AoE was an all time favorite so I love what your trying to do, but I'm hoping it improves all around. May I suggest more landscape textures (like water to open up for naval units), elevation perhaps, better UI, and idk if its my phone or the game but it does crash after 5-10 min of gameplay. Either way it's great and I hope I can give 5 star's one day.
This is the best game, and my most favorite game similar to AOE, Everything is really perfect in it. M enjoying this game a lot, and i think I can't leave this game throughout my life, Really Amazing..
OMG, i was waiting for a worthy AoE-like game, and this is it! The game is just AWESOME!! Almost all buildings, units, logic, etc. There is even a built-in support system where you can learn more about everything in the game! Wow, just WOW! So cool! But i'm wondering, is there a PVE fights or just only PVP?
I've been playing this kind of game in the computer since young and I love it but here on cp,the map is too small you can't even have fun when there…either they lose or you lose…please do something about it and also those villagers can't hunt animals or go fishing there are'nt even things for water…I like it and will change this to 5 star the time you fixed it,thx.
This game is really awesome idk why it has the rating it has it really good. This game has lots of potential developers if you see this I encourage you to keep updating and making this game greater than what it is already.
This is a great game. I love the idea because I used to play age of empire and mythology on PC when I was younger now that they finally made it mobile i want to see more be made of this game i think this game would be amazing with more updates new troops and upgrades. It'd be an even better game in the future if they keep working on it
Last Update :
Fixed an inaccurate click on some Pads
Contact developer :
Download War of Empire Conquest from Play Store
Leave your feedback regarding War of Empire Conquest
Sponsored Links
If you like our content you can help us with a share or Subscribe but if you want to go even wilder Buy Us a Coffee (you have our crypto wallets below. Thank You!
Bitcoin
Ethereum
Tether
Tether
Cardano
Xrp
Polkadot
Binance coin
Stellar
Dogecoin
Tron
Elrond
Vechain
Digibyte
Polygon matic
Donate Bitcoin(BTC) to this address
Scan the QR code or copy the address below into your wallet to send some Bitcoin(BTC
Donate Ethereum(ETH) to this address
Scan the QR code or copy the address below into your wallet to send some Ethereum(ETH
Donate Tether(USDT) to this address
Scan the QR code or copy the address below into your wallet to send some Tether(USDT
Donate Tether(USDT) to this address
Scan the QR code or copy the address below into your wallet to send some Tether(USDT
Donate Cardano(ADA) to this address
Scan the QR code or copy the address below into your wallet to send some Cardano(ADA
Donate Xrp(XRP) to this address
Scan the QR code or copy the address below into your wallet to send some Xrp(XRP
Donate Polkadot(DOT) to this address
Scan the QR code or copy the address below into your wallet to send some Polkadot(DOT
Donate Binance coin(BNB) to this address
Scan the QR code or copy the address below into your wallet to send some Binance coin(BNB
Donate Stellar(XLM) to this address
Scan the QR code or copy the address below into your wallet to send some Stellar(XLM
Donate Dogecoin(DOGE) to this address
Scan the QR code or copy the address below into your wallet to send some Dogecoin(DOGE
Donate Tron(TRX) to this address
Scan the QR code or copy the address below into your wallet to send some Tron(TRX
Donate Elrond(EGLD) to this address
Scan the QR code or copy the address below into your wallet to send some Elrond(EGLD
Donate Vechain(VET) to this address
Scan the QR code or copy the address below into your wallet to send some Vechain(VET
Donate Digibyte(DGB) to this address
Scan the QR code or copy the address below into your wallet to send some Digibyte(DGB
Donate Polygon matic(MATIC) to this address
Scan the QR code or copy the address below into your wallet to send some Polygon matic(MATIC