[App] Weather ACE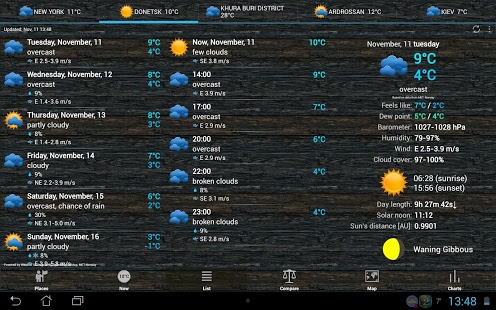 Weather ACE receive weather data from several sources, automatically select the best weather source (based on calculated accuracy of available sources) and it also allows you to compare available weather forecasts from all available weather sources.
Feature list:
Up to 16 days of daily weather forecast, up to 10 days for hourly (per hour or per 3 hours).
Accurate weather forecasting by using generated forecast accuracy statistics.
Phone and tablet optimized.
Localizations for English, French, German, Portuguese, Spanish, Italian, Polish, Ukrainian, Russian, Arabic and Simplified Chinese.
Provides information about of temperature, feels like, precipitation, wind, dew point, barometer, humidity, cloud cover and lot of other information including data from environmental sensors from your device.
Contains multiple views for weather information, daily, hourly and extended weather information. Possibility to compare weather information from different weather data sources.
Weather maps (currently ~10 different layers).
7 different customizable weather charts,
Detailed and customizable weather alerts and current weather notification.
Home screen widgets, 10+ different widgets. Common widget (resizable), stack widget (stack widget required android 3.0+) and transparent 2×2 (resizable vertically) widget with lot of customization options. 2×2 transparent widget have widget constructor, that you can use for to create your our widget look from predefined content blocks. Possibility to set number of daily/hourly elements on 4×1 widget.
Customizable lock screen widget.
Multiple locations supported (millions). Auto-Follow location (GPS).
Sun (sunrise, sunset, day length and more) and Moon (moon phases, current illumination and more) information. Most precise algorithms used for calculations.
Lot of options for customization (most of colors, fonts, icon themes, units of measure etc). All three feels-like types of temperatures supported. Color customization for widgets.
Possibility to use any image as application background. Also possible to use you home screen live wallpapers as application background.
Detailed data update options.
Application use as low as possible your phone/tablet battery.
Internal application help
Tasker support with my Weather ACE Tasker plugin app
Ready to use for peoples who have impaired vision
The free application include AdMob advertisements with blocked most of sensitive ads. You can remove ads for a small fee. Refund policy for version 1.8.0+ 1 month, you will need to provide order id, date and possible some other info. Refund policy can be changed for next versions.
Weather forecasts usually made by using of weather forecasts models. Different weather forecast sources use different forecasts models. For to let you know which weather source is better for your location (or any world wide place), application gather forecast statistics by comparing current weather with that was predicted. Check internal application help for more details. All application widgets and views provides best (by statistics) data.
The application currently use three world-wide and one USA-only weather sources of data + 2 more sources that reuired a free keys (will be more in next versions).
Weather ACE application homepage still in construction, but can be used for to check news.
Weather ACE user reviews :
I used this app for its satellite map rain facility. It no longer works properly, with large squares not showing any data. Zooming in and out gives inconsistencies. Unfortunate as this was one of the best weather apps out there. Still doesn't work properly after the most recent update 3rd October. May as well remove the rain radar satellite image facility
May 14, 2015

Working on the new map, hope it will be available in a month or so.
Beautiful, but required d improvement. What is the idea in adding Compass in it
Very Nice app. Easy to read for low vision people like me after I switched the theme to dark. Radar map could use some work. Contrast needed there. Otherwise great app!!!
May 7, 2015

Thank you for the feedback and the review, Robert! About the map: please check Menu->View options for the map (there are different view options for different views). There you could change the background map from (4 maps available) and also you could change the layer opacity. It should help with the contrast.
Leave your feedback regarding Weather ACE
Get more android apps/games/updates
Subscribe to our mailing list and get new android apps / games and updates to your email inbox.
Thank you for subscribing.
Something went wrong.