[Game] West of Glory
 free android apps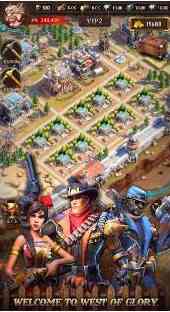 Imagine a world, where the lawless ARE the law.
As the result of a crazy experiment gone wrong, these once flourishing lands are plunged into utter chaos. In this dangerous world, vicious outlaws, heartless rebels and menacing cyborgs wander the vast, open plains. Inhabitants of once-peaceful towns are powerless against these new threats. They are in dire need of leadership and help, and they look to you for guidance. As a sheriff, you are the protector of a small Western-style town. Rejuvenate and protect this broken town, command your fierce army against invading threats and collaborate with other sheriffs in giant multiplayer battles!
This is your chance to take the reins and become the sheriff the Wild West will never forget!
UNIQUE FEATURES
Conquer: Sweep across the Western plains!
Recruit Western gunmen, Indian warriors and even legendary heroes to join your army. March out to take out wandering bandits in PVE battles, collect precious resources from neighboring yards, take on rebels who hide away in the desert, or enjoy the thrill of real-time PVP by waging war on other towns!
Defend: It's all about strategy!
Explore the many defense combinations provided by the four different types of defense towers. Place each type of tower on tower foundations of your choice to eliminate the enemy before they reach your town. With each enemy killed, you will be granted extra resources which will open the door to even more possibilities!
Construct: Build your dream town!
Unlock fascinating new features as you level up, and upgrade your buildings to access new lands and new functions. With over 20 different items you can place on the town map, you can design the town any way you like with just a simple tap of your fingers. Then, reap the benefits of your labor and let the town feed your army and strengthen your towers!
Collaborate: United we stand!
Join an alliance. Rally your fellow sheriffs in the fight to gain control over the Mechanical Castle left behind by the Mad Scientist and claim the hoards that lie inside. You can use your power to help your allies grow, or take part in elite wars and elite adventures. Not thrilling enough? Challenge the power of rivalling alliances in real-time multiplayer warfare to become the ultimate victor, the true master of the Wild West!
West of Glory user reviews :
This game is well structured and has an array of different ways to advance. I like the side quests which encourage progress and provide decent rewards. Although players who pay will advance more quickly, there is ample opportunity for free to play governers to grow and provide worthwhile support in alliances. Overall, a very good real time game which is growing in popularity.
One if the best strategy/city-building game. Definitely had the fun it. This game has the capability to make you come back for more. The games interesting features and exciting gameplay would glue you for hours. In addition to that, well animated and constructed characters is absolutely impressive.
This is an awesome way to keep boring days away! Addictive game and so much you can do! There is always something to advance or hunt. I play free and it still keeps me busy! I do plan on spending some money to tweak my city and alliance. But it isn't something you must do. You can easily get ahead for free. Just work at it. Make some friends and have some fun! Highly recommend this game for sure!!!
At first i thought the game had potential. But like the vast majority of games in this genre it became evident that to get anywhere in the game you must spend real money. Not enough rewards to help upgrade your buildings or to shield your town from attack. The pace is slow and monotonous. The story line is okay if you like sci fi westerns. I prefer authentic gaming with authtentic themes myself This game is not for everyone.
Amazing app. An endless goal. Thats the type of games I like, and this game is the best of them all. An endless goal towards a game with development or mostly about it are the best games in my opinion. This game is the best, i recommend it for all ages. It may look violent but trust me, its just a bit of fun when you actually play it.
This game is so addictive!! The level up progress is so good when you join an ally and they help you to reduce your time! So many amazing options that wont let you be bored! This is the first day Ive installed this app and Ive played it about 12 hours just in the first day!
Contact developer :
Download West of Glory from Play Store
Leave your feedback regarding West of Glory
Get more android apps/games/updates
Subscribe to our mailing list and get new android apps / games and updates to your email inbox.
Thank you for subscribing.
Something went wrong.