[Game] Winter Survival – after the last zombie war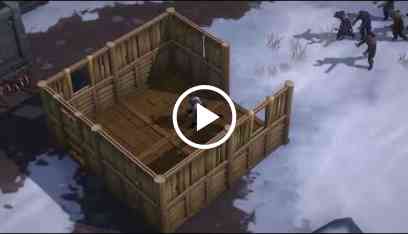 Winter Survival : Winter is a medieval apocalyptic survival game.
Here, the Great Wall has fallen and winter has arrived. A group of unknown White Walkers almost destroyed all human beings. And luckily, you are one of the survivors.
You must fight aganist severe cold weather, hunger, traps and murderous zombies, as well as all possible natural disasters. Of course, you need to assemble other human beings and build your clan to resist deadly attack from millions… tens of millions… White Walker Corps. The blizzard has arrived, and torches, tents and clothing are all necessary to keep warm.
Please keep in mind, your backpack capacity is rather limited. Please bring necessary goods with you when traveling. Don't die outside your camp, or that will be a painful lesson.
Considering that you are responsible for fighting off the White Walkers and reviving the human race, I think I must tell you that in a world shrouded in ice and darkness, magic and dragons are the last salvation.
Good luck, my survivors!
Features:
The perfect combination of survival and magic;
A clue-based survival, hand-brain-burning type game;
No modern technology, only cold weapons, bringing your battles full of thrilling;
Latest clan gameplay, build the strongest camp, to resist the attack of the zombies;
Expand and reinforce your camp and build the most powerful "human rebels";
Each character has its fixed basic attributes: life, hunger, thirst, body temperature, energy;
Some foods can restore hunger but their body temperature may drop rapidly because of it;
Please note the game plot tips, complete the survival task;
The existence of the Dragon is the strongest weapon to win this battle for survival;
Winter worldview background, but with beautiful views of four seasons;
Primitive social survival instinct – hunting, it's the main way for you to get food;
Random maps, random boss to give you a stimulating survival experience anytime, anywhere.
Upcoming:
Chat system, making it no longer a lonely survival game;
Clan system, speeding up resource output;
Legion duel remains to be seen soon;
New maps, new boss and more fresh fun plays waiting to discovered;
Increase new skills such as the main character's gift/talent;
Add additional new items such as Bombs.
A winter full of unknown and danger. A lonely adventure of the end. Is this going to be the revival of mankind or a destruction of it? Come and use your courage and wisdom to break the limits of survival, to bring infinite hope to the future of mankind.
Finally, please note: winter has come, remember to keep warm! The temperature drop will also kill~
Any problem, please free free to let us know:
Facebook: www.facebook.com/wintersurvival.en/
Customer Service Email: winter[at]coolwin.co
Discord:discord.gg/q9jE8c
Winter Survival user reviews :
I loved this game till I died and lost all my equipment and saw the high requirements to build a bag to hold my items, and the high amount of time required, then the high prices to simply purchase said items. And now I see why the items are hard and or something time consuming to create. No thanks, I know a pay to win / money hungry game when I see one. Cool game, but I'm not going to be a stepping stone for the get rich quick crew
4/5 I've enjoyed the game alot so far. But other than the graphics its till like most other survival games out there. If you really want to stand out more make it more community based. Co-OP play, group housing etc. That what all players will want. A game to play with friends this isnt the 90's solo play is a dying Genre. Other than that love this game so far!
I like the survival part, combat is a bit of a problem I can't hit target but they can hit me and a red notice up in right hand corner says ping N/A, happens quite a lot . More meat off deer would be nice only get one piece off each animal no matter the size of animal , but after the New update wondering why it now takes 3x the wood just to cook one piece if meat
Contact developer :
Video :
Download Winter Survival from Play Store
Leave your feedback regarding Winter Survival
Get more android apps/games/updates
Subscribe to our mailing list and get new android apps / games and updates to your email inbox.
Thank you for subscribing.
Something went wrong.