[App] WorkFlowy – Notes, Lists, Outlines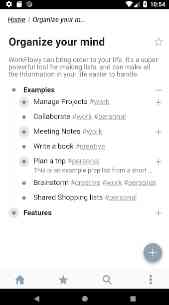 WorkFlowy is the world's best tool for taking notes and making lists.
Simple to use, but incredibly powerful, WorkFlowy can help you manage all the information in your life.
SLATE MAGAZINE  writes …
This app is the easiest, best-designed, and most-flexible note-taker I've ever come across, and it solves many of the problems I've had with other software … It has become my go-to place for storing and keeping track of everything—not just to-dos and grocery lists, but my ideas for articles, all the notes I gather while reporting, all the tasks I need to do for those articles, and even all of the stuff I'm gathering for a book I'm working on.
FEATURES
Infinitely nested lists
Zoom in on any sub-list
Tag and filter list items
Beautiful interface on your computer
Full offline functionality
Automatic syncing between your phone, tablet and computer
Collaborate with others
Add notes to any list item
Simply tap to edit
Quick expand and collapse lists
Mark items as complete
Full text search
Much, much more
WorkFlowy is like a notepad with super powers. Learn how to use it, you'll thank us later.
You may also like
WorkFlowy user reviews :
It is amazing! Simple to use, allows the most important of functionalities. Wonderful!
This should be used by anyone who wants a more organized life. This is the best organizer of all I've tried. I love it.
Sweet app but they won't leave you alone about upgrading it. Every 5-10 minutes there's a pop-up. You hit "downgrade" but regardless it pops back up. Workflowy developers, please change/get rid of the popup about upgrading it's increadibly unneeded and really ruins using your lovely app.
This app is everything and more of what I thought it would. The simplicity deceives it profound use cases. I've used to organize my work, ideas and teams. Works for note taking too of course. Imagination and ingenuity of the user is the limit.
To-do lists are naturally nested! Such a simple idea, but has revolutionized the way I take notes. Really needs a widget though, it is crucial to be able to see a node and its children on one of your home screens.
This app is my favorite app. I had programmed something similar to this in Excel/VBA, but this is WAY better and syncs flawlessly between mobile and desktop on both Mac and PC. I would love it to also encrypt the data locally though.
Using it to order my thoughts. Extremely useful. Everything can be solved with proper categorizing, systematiziation and architecture. This app will definitely help you with that.
Really nice Programm. 5 stars will be possible if the horizontal mode works bug free and it would also be nice if there would be less space (on top and bottom) left black in normal mode.
Flexible way to organize information that adapts to my needs.
Best app to write and organize your thought. I wrote everything here and you can access the content from everywhere. Syncing is one of the best feature. Also you can easily export the content to him pages, copy the contents to Gmail easily. Loved the app. Go for it. It's worth trying. Team have put lots of effort in this.
Great App exactly what I needed! Few area of improvements that can just make every one forced to use the pro features – Give a Widget support like Google keep ,scrollable option to add or edit – One can use Pending tasks node and if one is able to set reminders or alarms on individual tasks and whole node – Bring Google Cal support to set alarms and events for planning day with Day Plan node. – Goal Setting node can have some templates – Long term goals – Short term goals Looking forward !!
I really enjoy the flexibility of workflowy and the way it is easy to incorporate to do list style planning with more detailed notes on tasks. Probably the only thing I would like to add is a built-in way to create recurring tasks, but overall this is a great tool. The simplicity and flexibility is great!
Simple. But just what needed in order to keep you organized without putting too much time on maintaining a to do list. Easy to zoom into what you need to focus now and leave the rest out of the working table.
What a great app. Clean, fast design. Functionally near perfect. Sync with online app is fast and problem free. I'm using Workflowy to replace 3 different apps. I love this app, and can't believe I've gone so long without it.
Contact developer :
Download WorkFlowy from Play Store
Leave your feedback regarding WorkFlowy
Get more android apps/games/updates
Subscribe to our mailing list and get new android apps / games and updates to your email inbox.
Thank you for subscribing.
Something went wrong.