[Game] Would you sell your soul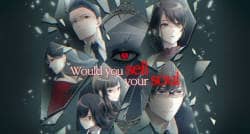 Would you sell your soul? interactive story games guilty parade Choice games.
This app will bring a unique and fun twist to choose your own story adventures. You'll love making choices in this interactive story game!
One choice can change everything!
"Please, bring me back to life!"
Even if I have to sell my own soul to the devil…
Story
After being betrayed by her lover, the main character die in a traffic accident.
And in front of her, a man who calls himself a devil appears.
"If you help me as an assistant, I'll bring your soul back to your body and you can be alive."
Can the heroine find success in her role as a devil's assistant and will the devil bring her back to life?
Features
Choose your story! Dive in and start making choices that affect the overall outcome!
Adventures start with you choosing your name and style to reflect your personality.
Your own story that you can easily play with just one touch.
Satisfying volume of scenario.
The contents of the story changes depending on your own choices
You can read it for free until the end.
Recommended for such people
People who like visual novels
People who like games with stories and scenarios, novel games, and adventure games
People who like stories such as manga, anime, drama, and movies
People who like serious stories such as suspense, horror, mystery, and revenge.
People who like spiritual things such as demons, souls, and destiny.
People who want to read something intense.
People who want to play Supernatural Adventure Horror Visual Novel Story Game.
People who want to read Short stories in English
People who like Interactive story game English
People who find to Story Game without internet
EN_Translation Help:Aisha
Turkish translation special thanks:Çağla Yavaş
We are looking for friends to make Visual Novel and Otome games together!
Is there anyone who can help us improve the quality of our game by lending a hand with translations?
Please contact us at the email address given below.
cs[at]comino.app
You may also like
Would you sell your soul user reviews :
only the first chapter is free. otherwise each chapter costs 7 diamonds for which you have to see commercials. for me, the bulletin board at the bottom is annoying
The game has potential to be something great in terms of story and action. Unfortunately, it is very very difficult to get gems in order to play, get new episodes and use certain customizable options.
This is amazing! At first I didn't like it. The beginning it looked quite standard, heroine seemed to be weak and uninteresting. Closer to the middle I thought it was ok, and I was getting engaged more and more into story. But the final twist was where I was really happy I installed this. So now, after completing all chapters, I can totally recommend this app. The story is worth it! Btw, getting enough gems is pretty easy.
So far really good! Just kinda wish there was a mini game to earn more diamonds, that way it might be easier to unlock more parts of the story. Awesome job though!! The character design is really good too!
I haven't completed the full game yet but it's pretty amazing so far. The only downside though, character items are a bit expensive. You don't use real money, which I am glad about. But you use in-game currency.
So far so good! It's a really interesting story and it's easy to get diamonds too. I'm looking forward to seeing what will happen later on. I also like that you can customizer characters to your own liking. Over all really good.
So far it's really fun to play, but I think that we should have a bit more diamonds to start with. And maybe the first few chapters free so we have enough diamonds to unlock the others.
The Art is super pretty and full of details!The story is just,Like words can't describe how it felt reading a story like that andits def rare to find a story with such quality and plot twist out there so ofc a 10/10
It is an amazing story plot. I it. Although the gem thing was annoying it helped to control screen time. So, I think it's a plus
This was a nice game. Good story line, perfect graphics and wow I love the parts where they speak a bit of old English.
It has a really intrest story and I also like how you can choose the appearance of the characters and is really easy to get diamonds.
I loved this, this was absolutely amazing I need a part 2 100%. I loved the plot and everything this was very interesting I hope this series continues in many parts.
Contact developer :
Download Would you sell your soul from Play Store
Leave your feedback regarding Would you sell your soul
Get more android apps/games/updates
Subscribe to our mailing list and get new android apps / games and updates to your email inbox.
Thank you for subscribing.
Something went wrong.