[Game] Yorozuya RPG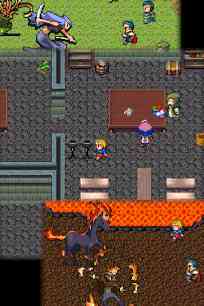 Yorozuya RPG : Let's find recipes on bookshelves, etc. and create various items.
Let's gather items that are falling in the field or dropped by monsters.
Let's running your own shop and accept requests of purchase.
In addition, Let's save the world.
It is possible to play all without charge, no internet connection required.
Note: Internet connection is necessary to send your data for ranking or net save etc.
Tips:
Let's get the money by selling items that is dropped by enemies.
Items that are falling on fields can be picked up again as time passes.
Let's learn recipes on bookshelves.
Let's talk to the old legendary merchant when in trouble.
Even if you use warp magic, your ship does not follow you. Please return to the place of the ship with warp magic.
Item's list: game.shiftup.net/afa/yoro/itms_en.html
Note: We recommend that you save to the net from time to time in case you have lost the local save data.
Special thanks
R-Do rpgdot3319.g1.xrea.com/ – Monster images
Twelve constellation fragments – Effect images
Shigeru – Icon of items
Escape escape.client.jp/index.html – Icon of elements
First Seed Material – Graphic materials
Rittor Music, others – sounds
Yorozuya RPG user reviews :
Just pure retro RPG fun! The scarce hints(english) make it challenging, but in a good way! People who are whining about the english language used here should pay some mind to the fact that it has been developed by a foreigner who perhaps isn't as fluent in English as you are! Instead of your futile complaints try to appreciate the developer's great effort in making this game. You people are acting as if you had paid $10 to the developer purchasing this game, did you??? Of course, you did'nt!
シフトアップネット

Thank you for your playing and reviewing.
I'm giving 5 stars for now. I've only played for about 10 minutes, but so far, I like it a lot! It is so much like old school games that I grew up playing & loved! The best part is that it is free, just have to look at some ads, so far & NOT intrusive at all, so far. I truly hope that it stays this way throughout the entire game. I don't mind ads to b honest, the developers have to make money & yeah, I'd rather watch ads than pay out real life cash to play a game.
シフトアップネット

Thank you very much for playing and reviewing.
Great RPG. I love the oldschool FF elements. I have only 1 suggestion … Please for the love of all RPG lovers … lower the level cap for changing classes 99 is far too unrealistic and add advanced classes possibly. Thanks
シフトアップネット

Thank you for playing and reviewing. I consider it.
Fun little game! I love the simplicity, how you have to think with only a few hints and how light it is for the phone (the MB to download). It's more of an adventure game than fighting, which is a plus for me. Love that it has a storyline too, kind of original even. Even the crappy English has its charm. Good job devs!
シフトアップネット

Thank you for playing and reviewing.
It's cute and it since it has 2 modes (easy and normal) I don't have to worry about dying so much!! But, could I suggest something? If you could add in pets you can find/catch (looking at it for fellow low income people) to follow you around. Whether they're just following you or if they give buffs I don't care. And maybe for real $$$ you could put in alternative skins for them. Suggestion aside, I will continue to love this game!
シフトアップネット

Thank you for your playing and review. I consider it.
This is actually very fun game. But i hope you add more details of the monster in the book. Like attacks, defence, magic and tolerant, weakness and lastly Add some background stories for spice it up. And do please, fix the dialogue. Not to forget, can you please add something that tells you the time because i don't even get it when will be tomorrow.. Thank you.
シフトアップネット

Thank you for your playing and review. I consider it.
Contact developer :
Download Yorozuya RPG from Play Store
Leave your feedback regarding Yorozuya RPG
Get more android apps/games/updates
Subscribe to our mailing list and get new android apps / games and updates to your email inbox.
Thank you for subscribing.
Something went wrong.