[Game] Zen Squares
 creative destruction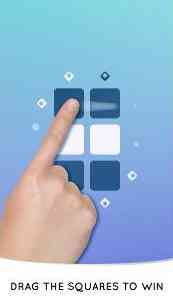 Zen Squares is the new minimalist game by the indie developers Infinity Games.
Based on simple rules and clever gameplay, Zen Squares challenges your logic skills with multiple board enigmas. Are you ready to unlock them all?
Analyze the board and drag the squares in a clever way to solve the enigma. The way you move a square will influence all the other squares present in the same row or column. Your goal is to create a connection with the squares that share the same color, while those squares also match the indication placed on the border of the board.
The minimalist features merged with logic enigmas provide a Zen experience. Indeed, Zen Squares is all about the experience:
No timers or stress features;
You can't lose;
Simple rules and intuitive gameplay;
Logic challenges for everyone.
Zen Squares is actually based on a popular Japanese game from the Edo Period. Did you know that at the time only 5% of the players were able to fully master this puzzle game?
Now it's your time to do it! Can you unlock all the enigmas and become a Zen Squares master?
Features:
Intuitive gameplay: drag a square and you will get it immediately.
Logic-based game with simple rules and minimalist elements.
Smooth difficulty curve; the more you play, the harder it gets!
Remove ads for a more immersive and Zen experience.
+200 clever enigmas to unlock!
Perfect for fans of indie games and minimalist puzzle games. By releasing Zen Squares, Infinity Games resumes the legacy built with games like Infinity Loop, Connection or Energy: Anti Stress Loops.
Infinity Games aims to provide the best game experience within its titles. We love showcasing new minimalist puzzle games and making people think while relaxing.
Do you like our work? Connect below:
Facebook: www.facebook.com/infinitygamespage
Instagram: 8infinitygames (www.instagram.com/8infinitygames/)
Zen Squares user reviews :
I suffer from extreme anxiety and don't work. This is the app I've been looking for! No pressure, just take your time and figure it out. BRAVO to the creators!! I'd love to see more game apps like it and would happily pay!!
It is definitely worth the $2. Get rid of the ads and enjoy! If you want a zen-like, stress free game, this is it. Don't be cheap. You will not be displeased.
Really nice. Love the graphics and all the sounds. I must admit, the amount of ads is a little annoying, but other than that, great game.
It's like a 2-d rubrics cube puzzle with one face: I liked the spatial reasoning involved, but they seem too easy; the play doesn't have to many elements to it. On top of that, the ads continuously after short games ruins the 'Zen' aspect of it. While there is an option to take away ads, it's not a game that I would purchase, right now, as is. Should have a tutorial that is accessible from menu. Take Care, With Love Through God and Jesus and The Holy Ghost,
Good for a few minutes of relaxation. I like to call these types of games "waiting room games" because there is no story involved and you can easily find a stopping point when you need to. A lot of ads, but that is to be expected for a free app.
Entertaining game. A little confusing at first but once you get going it's great. Nice game when you only have 5 or 10 minutes at a time. Definitely worth the download.
Simple. Excellent graphics. No stress. I am a fan.
Very interesting puzzle. It's like Rubik's cube but with 2 color only.
Really like the colors and the idea of the game appreciate your idea of this game
An amazing and different type of game.. very intriguing and challenging.
It is a good app. Can play whenever wanted. One of the best casual play games
A good experience so far but lacks background music
A fun and interesting game, but loses a couple of stars because: 1) a lengthy ad after every 2 levels. I have no objection to the occasional ad in free games, but that's just being greedy. 2) how many times do you need to ask for a review? Don't be so needy.
It's fun so far, I really liked InfinityLoop so this is definitely on the same level for me. I think this actually takes a bit more of your brain, but the simplicity of the interaction and style make it a very appealing mobile game that you can do a few levels and put it away or get stuck in for awhile. Also, skippable ads
Contact developer :
Video :
Download Zen Squares from Play Store
Leave your feedback regarding Zen Squares
Get more android apps/games/updates
Subscribe to our mailing list and get new android apps / games and updates to your email inbox.
Thank you for subscribing.
Something went wrong.