[App] Microsoft Edge Preview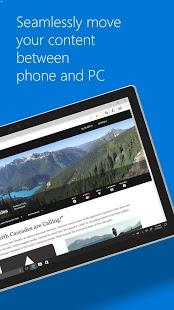 Microsoft Edge Preview : now available on Android, creates one continuous browsing experience for Windows 10 users across their devices.
Content and data sync seamlessly in the background, so users can browse across devices, without skipping a beat.
Familiar Microsoft Edge features like the Hub allow users to organize the web in a way that cuts through the clutter, making it easier to find, view and manage their content on-the-go.
Microsoft Edge is designed for Windows 10 users to browse the web how they need to, wherever they are, without disrupting their flow.
Continue on PC: Go anywhere and pick up where you left off by seamlessly moving content between your mobile device and PC (requires Windows 10 Fall Creator's Update).
Data Sync: Your favorites and reading list are synced across your devices, so no matter the device, your browser is always personalized to you.
Hub View: With your favorites, reading list, history and books all in one place, finding and managing your content is made simple.
Reading View: Reorganize the content on a webpage to make it easier to focus on what you're reading.
QR Code Reader: Easily read QR codes at the touch of a button. Microsoft Edge will pull up the reading and information right onto your screen.
Voice Search: You can now use your voice to search the web. Ask a question or speak a prompt to use the web in more natural, familiar ways.
InPrivate: When you browse with InPrivate mode, your browsing data (like your history, temporary internet files, and cookies) isn't saved on your PC once you're done.
We want to hear from you! Submit feedback in the app to tell us what you think!
User Reviews :
The best browser available! Very nice features (such as collections and the advanced reader mode) and design. The only downside would be that it's a little bit sluggish, not slow, but it doesn't feel responsive. That makes it a deal-breaker if you're on a cheap phone. I kindly wish the Edge team all the best for what's coming next, including optimisations for Edge Android!
Hi Silviu, thanks for your review! We are on the way to improving our work with the purpose of offering a better service, please stay tuned. If you have any other concerns, please feel free to drop the details at edge_ef@microsoft.com. Thanks! — Microsoft Edge Support
I use Edge on my laptop and I wanted to use on my phone as well, and I expected autofill and tabs will be synced. But unfortunately, I could not even find saved password section. Isn't it essential to have synced password and username data in every device? What is the point of using the same browser on computer and phone? I use the same Microsoft account and I expect all my data saved in my account and synced between devices and products. Current functionality of Edge just does not make sense.
Hi Kamal, sorry for the unpleasant experience! You can find the password section in the Account profile in the top left of homepage. If you have any other concerns, please feel free to drop the details at edge_ef@microsoft.com. Thanks! — Microsoft Edge Support
Probably the best browser . The best thing about it is that it helps you navigate not only backwards, but forward with the swipe of the screen. Google on Android does not have this feature. Once you go back, there is only one way of accessing the page you have left and that is going to your history in the settings. This obviously is a wastage of time. Edge is clearly more userfriendly.
Unbelievably better than Chrome, Google app, firefox, or Samsung internet. Its fluid and fast. The interface makes perfect sense. It was just updated with a slightly different menu change, too. The small change made is a perfect improvement. It makes it so that features that were locked in place in a side menu can now be moved around in a more convenient way for me. You won't regret getting used to this app.
If there is a possibility of notifications from specific web pages, it would be much better. If there is, it ain't working… After latest update it is not possible anymore to add web page to home screen (you can, but only main page, if you open deeper link, you cannot pin it. Before this update from January 2020 one could do it). Please repair.
Wow! The new look is simply worth dying for and edge now syncs well too with the new edge browser on pc. I also love how am able to customize my menu actions… Moving them around as I so please. And that's not all! You should definitely try out this new browser and get the experience for yourself. I promise you will not want to go back!
Microsoft Edge Preview developer :
Download Microsoft Edge Preview from Play Store
Leave your feedback regarding Microsoft Edge Preview
Get more android apps/games/updates
Subscribe to our mailing list and get new android apps / games and updates to your email inbox.
Thank you for subscribing.
Something went wrong.