[Game] Ninja Turtles Legends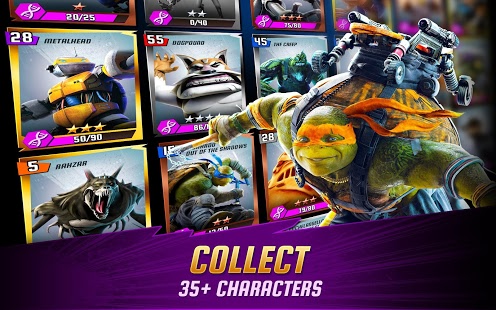 Ninja Turtles Legends : Bros vs Foes!
At every turn, the Teenage Mutant Ninja Turtles have thwarted Kraang Prime's plans to terraform the Earth into Dimension X.
What's an evil overlord to do? Hatch a nefarious new scheme, to create an army of Ultra Mutants! Everywhere, the Kraang have kidnapped mutants – including the Ninja Turtles – for their DNA!
With his brothers pulled through a Kraang Dimension X portal, Leonardo must recruit the Ninja Turtles' allies and foes alike before it's too late.
Hang on to your shells!
ORIGINAL NINJAS: Explore the Turtles universe with an All-New Original story. Battle your way through 7 chapters and over 70 stages to take on the baddest of bosses – Shredder, Kraang and more!
RESPECT THE SHELL: For a limited-time, play and experience an all-new chapter based on this summer's blockbuster, Teenage Mutant Ninja Turtles: Out of the Shadows! When their recon mission goes awry, the Turtles must take on the Foot Clan and favourite bad boys Bebop and Rocksteady! Fight to win and collect these exclusive characters!
TURTLE POWER: Help Leonardo as he takes on the Kraang army to save his brothers and fellow mutants. Play alongside Leonardo in a 5-on- 5 battle with your favorite TMNT characters.
MUTANT MAYHEM: Collect and level up over 30 TMNT characters! Train them to learn their super sweet moves and build your Turtle-rrific team! Don't forget to pack your freezer for Ice Cream Kitty!
SHRED ALERT: For the very first time, fight the Kraang as a Ninja Turtle friend… or FOE! Collect and play as Tiger Claw, Rocksteady, Bebop, and more. Create strategic teams and take on the Kraang!
FOOD FIGHT: Collect daily prizes and card packs to enhance your team!
WE RUN THIS TOWN: Fight against the Kraang in the Ninja Turtles' favorite locations from the TV show, including Dimension X, the sewers and the classic New York City rooftops!
Gentlemen, let's save the world!
Teenage Mutant Ninja Turtles: Legends collects non-personal user data (including aggregated data) and connects with 3rd party social media applications.
Please note, Teenage Mutant Ninja Turtles: Legends is completely free to play but offers some game items for purchase with real money. If you choose not to use this feature, you can disable in-app purchases in your device's settings.
For users residing in the EU, Teenage Mutant Ninja Turtles: Legends may include the use of persistent identifiers for game management purposes and installation of this app constitutes your permission to such usage of persistent identifiers for all users on your device.
Ninja Turtles Legends user reviews :
It's a really good game so many characters from the series but the one thing I really would suggest is updating some new maps like fugatoys space ship and the building from when they went to fight super shredder and the sewers. Oh and some new characters in the same update like Fugatoy, and the dark turtles when they went to fight super shredder and that purple dude that controls those bugs in the space series. But that's about it it's a good game. P.s please make this update.
Good game for nostalgia and very few adds. The character models capture the style really well and gameplay is pretty good. There are times where I got stuck because of not being at able to level up as frequently but I guess that's why side missions are there so I give it a 4 out of five rating.
It's really good  graphics are great the only thing that i hope gets fixed is the bugs. Very randomly I'll have to restart the app or the music will stop it's just a little glitchy. No this isn't a hate comment or anything.
I love this game install it right now the graphics are great and the story's are great there are so many different modes you can play and you never get bored because if you don't want to battle you can try and get more ninjas it is very realistic and I love it
Great functionality, and fun game for TMNT buffs. Would've been 5 stars if they didn't make the pizza slices so valuable to actual game playing/leveling up. First off the pizza slices cost too much comparibly to the amount of money awarded during gameplay. They want you to spend your real money for their money in order to buy more slices in order to progress further in the game. Either spend real money, or wait a day until the pizza slices stock back up.
Fun game but you will need to spend money to quickly get at a decent level. First, You will need energy, later mutagen and finally to evolve your characters; you will need to buy packs. The game can be played w/o spending but it will take weeks or months to get at a higher level. Cons: long and numerous updates, gets repetitive but new characters help. However, to acquire new characters you either spend money or acquire them in game but will take weeks to acquire. Best to play this game twice a day only.
Latest Update :
Various bug fixes and polishes.
Contact developer :
Video :
Leave your feedback regarding Ninja Turtles Legends
Get more android apps/games/updates
Subscribe to our mailing list and get new android apps / games and updates to your email inbox.
Thank you for subscribing.
Something went wrong.