[Game] Peter Rabbit Garden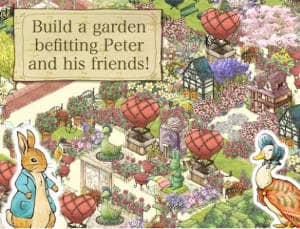 The one and only Peter Rabbit stars in his own garden simulation game on Google Play!
Place decorations in a garden populated by Peter Rabbit and his friends, and recreate a story book world!
STORY:
Join Peter Rabbit and his friends after Peter's narrow escape from Mr. McGreggor's garden and help them build their own garden so that they wont have to risk getting baked into a pie in order to fill their furry tummies.
Plant, harvest, and bring your freshest crops to the rabbit marketplace and sell or trade them for bunny money and other fantastic goods. Make new friends and invite them to your garden and also follow them to theirs!
Features over 30 characters from the original story. Collect them all!
SUPPORTED DEVICES:
OS 2.3.3 or later
Thank you for playing Peter Rabbit's Garden. If you like our game, please rate it so we can continue bringing you updates for free.
CUSTOMER SUPPORT:
Main Menu => Help => Customer Support
Your feedback on Peter Rabbit's Garden is most WELCOME!
You may also like
Peter Rabbit Garden user reviews :
Wonderful. Its almost perfect, but sweets are extremely hard to come by… Would give 5 stars if: 1. We could watch ads for coins (you'll make money off our views) 2. There was a coin to sweets conversion option (so we can earn sweets without going through other apps) Love the game, hope to see something happen reguarding these ideas!
This game is really sweet and I love the aesthetic and warming homely feel that it has. It's really a lovely game, I just wish there was more mini games in it and more ways too earn sweets without paying real money!! Please fix and I'll happily give full stars, thank you so much
It's OK but it's annoying that almost every item needed, you have to buy with sweets that are difficult to ern and takes ages to do so. Max time I spend is less than a minute on it because it takes ages for your crop to grow. To get free sweets is stupid because I completed two tasks and should have earned about 150 sweets and ive not been given them. Would be a good game if it was designed better. Other wise I'd say don't bother.
This game is so much fun. Beautiful, relaxing and sweet. I looked forward to playing it every day. That is, until I found out that after a certain point, nearly all the houses cost sweets. There would be no real way to advance in the game without spending lots of money. I could understand having decorations or special items cost sweets, but to have the main point of the game cost so much ruins it. I was truly heartbroken. Not a good game unless you are willing to pay.
Such a cute, cottage core, and aesthetic game! Very calming and exciting! I just downloaded the game but there are no errors so far. But I hope for better quality in the game but it's alright! I also hope there's more space for stuff :) But I just downloaded the game as of now so who knows! But it's hard to earn sweets so hope that it'll be easier to collect them. This game is perfect for people who like gardening and such. Thanks for this game!
I love this game so much it has given me so much joy during hard times. I love mr mcgregor mini game. I love the art and how the bunnies hop around. i only wish there were a way go get more sweets. thank you!!
I really liked this game until I switched phones… I followed the steps to migrate the game, but it just wouldn't load on my new phone. frustrated and disappointed.
I love the graphics. Its simply beautiful. I just have a few things keeping me from rating this a five star. • I placed the normal road in the wrong spot, i cant move them anymore. Its an eyesore I cant ignore. •It takes such a long time to earn sweets and they cost a lot in real money so game progress is super slow. •Plants that give better yield take a looong time to harvest. •Fences are not keeping everyone out of my garden. I love Ms Potters work, I want to thank the developers. Im happy to dowload this app and I wont delete it for its imperfections. I enjoy playing it. I hope you can make it better.
i loved it so much especially the graphics, i just wish the sweets are cheaper. the devs know people will like the game and some people will still try to buy expensive sweets. which is honestly such a waste of money for such simple stuffs. i think this app has the potential to become big like neko atsume, its just that people stop playing it because of slow progress and the pretty stuffs are expensive.
Contact developer :
Download Peter Rabbit Garden from Play Store
Leave your feedback regarding Peter Rabbit Garden
Get more android apps/games/updates
Subscribe to our mailing list and get new android apps / games and updates to your email inbox.
Thank you for subscribing.
Something went wrong.