[Game] The Lord of the Rings War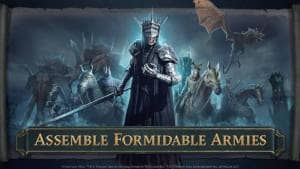 Epic tales of old, be it of love, friendship, or glory, are in days bygone.
A new War of the Ring is on the horizon, and the fate of Middle-earth now falls into your hands.
An irrepressible dark power has been growing and seeping through every inch of Middle-earth. From Minas Tirith to Mount Doom, each faction is desperate to seize control over the One Ring and take dominion over Middle-earth once and for all.
One Ring to Rule Them All.
The War of the Ring has reignited!
Assemble Formidable Armies
From spearmen, archers, and knights to marvellous creatures and dreadful beasts—all forces must be mustered before the battle is waged. Victory will be yours if your strategy is sound and your forces are mighty.
Form Your Warband
As a Steward of Middle-earth, you must step into a vast world and take control by developing your settlement, expanding your territory and founding your own Warband. Grand challenges await.
Live Your War of the Ring
The One Ring has resurfaced in the deserted castle of Dol Guldur. It bestows unrivaled power to dominate Middle-earth on its bearer, luring peoples from all factions into a great war.
Build A Fortified Settlement
Your settlement infrastructure dictates the efficacy of your strategies. Each building functions uniquely, and your power grows with the development of your settlement.
Expand Factional Territories
Throughout the season, your power enhances by building expeditionary forces, expanding land tiles, collecting valuable resources, and repelling the enemies. The experience and strength you gained during your conquest would help you get through any unexpected obstacles.
Explore Middle-earth's Wonders
From the lofty majesty of Minas Tirith to the brutish terror of Barad-dûr, experience a re-creation of Middle-earth that places you on the ground in the expansive world created by J.R.R. Tolkien.
Facebook Fan-page:
www.facebook.com/gaming/lotrrisetowar
Discord Community:
discord.gg/Na7rGAJM6a
YouTube Channel:
www.youtube.com/channel/UCkV855DPObfN8wtGedYJ33Q/videos
The Lord of the Rings War user reviews :
It all depends. The quality is great, ang mechanics are well thought out. It's better than majority of economic war games. The only thing that is a big turn off for me so far is… that, from what I've seen so far, very little happens in this game at all. You get a base to upgrade between other players from the same "realm". Another realm is far away. I don't see any war opportunities at all, and I don't see any wars at all. It's all about clicking few updates, opening boxes etc. Boring so far.
Sadly, it's one of those games that easily transforms into a "choir" where you have to log in every 2-3h to chech and do stuff. Once wars begin it can literally take half of your day to move armies and set grounds. It's also quite a pay to win game, since you'd have to wait years to get characters if you don't spend real money on it. Very nice as an idea, but it drains whatever life and money you have.
This game has a ton of really good features, it's a true multiplayer team game that's enjoyable to play. The only thing wrong is the absolutely massive pay wall. the seasons reset to prevent people from getting so far ahead you can't catch up. However you will hit a point where it will be all but impossible to level up your heros respect and that's where they gettcha. If you want to progress in a meaningful way you will have to spend money. No matter what their bot will say to this review.
The game has a lot of potential, but the advertisement is misleading about having control over close-up battles. In truth you can rarely predict the kind of troops u face. It's very complex for a mobile game, but very confusing due to poor guidance and unclear explanation. Even the more experienced players advise new players to watch various 30-40 minutes YouTube videos to understand what the h is goin on. On the other hand at the early stages the developers don't seem to be greedy with money.
Honestly great game. It sucked me in super deep. No 5 stars because there are always improvements that can be made. Like a option to filter in the fellowship by power and not help. And maybe some better battle animations. But a great game and I can't wait to keep playing (btw it's super addictive especially when you join a fellowship of active people)
The layout and gameplay is confusing, and even after bonuses from creating a new account I'm already time-gated in my barracks. And I have no idea how to strengthen my heroes' little armies. A warning to new/prospective: I was getting "Faction full" notices at my first attempt at play, essentially giving me two options out of ten in choosing my faction, but I eventually got the one I wanted on my second attempt so I don't know if this will be an ongoing issue.
After 7 days playing, I think it's a very cool game. Not a p2p, I spent only 2.49€, and I'm still in top 3 on rank list. Chat needs emojis for sure ;) And scouting need to be developed! The game gives many different options to start, and every fraction has their own specific t4, but you can combine with other t3 dark or light side troops. Graphic is pretty good. All together I'll hang on this for a while
It really is a cool game, and the graphics are awesome. But, just like with almost every online mobile game, it's pay to win. That and the commander's stamina problem bug me the most. I also came across an annoying problem with the "story mode", which doesn't let you skip the battle scenes if you want. Even using the x3 doesn't help that much. But besides that, the mechanics are cool and the characters and animations are cool. I do wish the battles were more interactive, though.
This is a massive game that takes time to master. If you are looking for a quick and easy game, this isn't it. The idea with this game is to help your faction control Middle-Earth and ultimately control the 1 ring. Middle-Earth is a big place divided in to regions, so taking control will take a long time. You must work alongside your fellow factions to make strategic moves, form alliances, start wars and build your settlements. This is not a quick game. It takes time.
Latest Update :
1. Experience and Interface Optimization
2. Fixed language and technical bugs.
Contact developer :
Video :
Download The Lord of the Rings War from Play Store
Leave your feedback regarding The Lord of the Rings War
If you like the content that we provide since 2012, put a smile on our face and give us a like or share this with your friends on any social platform. If you want to support this project, any crypto donation of $0.5, $1, $2, $3 is welcome!
You can find our crypto wallets on https://free-apps-android.com/buy-us-a-coffe/
Sponsored Links