[App] PowerGrasp file manager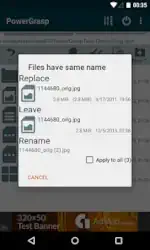 A sleek and convenient archiver and file manager with ZIP, RAR, 7z, and tar support.
Features:
Two independent pages
Unpacking ZIP, RAR, 7z, tar, and also tar.gz
Creating and editing ZIP, 7z, tar, and tar.gz
File manager with the usual functions like copy, paste, delete, share and so on
root operations
Drag and drop support
Nice looks together with material design
About permissions: prevention from sleeping is required to keep the device awake while doing something with the files (some people were complaining about it).
If you've found a bug or want to make a feature request, that's great! Head over to the site given below in the "Developer" section and add a comment to an existing issue or open a new one. You can also drop me an email.
If you report some bad archive which doesn't open in my application though it should (not corrupted or with some unsupported algorithm), don't forget to attach it to your issue or email. Otherwise, guesswork isn't really reliable, you know. If the archive is too large, upload it to a file exchange service and leave a URL.
Oh, and thanks for using my application! Hope you like it.
PowerGrasp file manageruser reviews :
It's pretty great.. I like how it is double panels which I can swipe between the two to transfer files… It made my life easier…
Seems like an ok app, but the 7zip compression was not strong.
lol I KNEW somethin was missing ..no SEARCH option. number cuz otherwise it's great.
One of the best file managers on Google Play Store.
The best app ever easy to use Thanks for this app – AljunemonerPlayz
Easy to use, my favorite file manager
Very much useful apps… Thank you so much..
Thanks for this this apps very Useful
Needs to be updated, cant move files around on my sd card with this app. And yes it can be done, i did it with googles own file manager. But otherwise i love this app when i need to deal with 7z files
Easy to use, very stable on my Hydro – never has crashed – and makes all file handling operations nearly fun. Highly recommended for compulsive downloaders with lots of SD card content to manage. I never thought I would be creating .zip archives on my phone as easily as on a regular computer, but PowerGrasp does it quite nicely.
Nice file manager, but there needs to be an icon next to the "Home" icon, that takes you immediately to the External SD Card. Surprised that got missed! But add it and I'll certainly give it the 5th star. But until then, I'll uninstall. Too much time and work to get there when I need to.
The main problem is that there's no method in Android which can reliably tell you what the SDCard folder is. You can change the home folder very easily, though. Just long-press the home button or you can go to the settings and set the home folder there.
Didn't expect much from this, but a surprisingly versatile file manager with the added drag and drop a huge bonus over other file managers. Well worth the donation to remove the ads, but love that there were never any donation-locked features.
You can edit archived files without having to unpack them. APK's too. Astro had this feature years ago, and I was thought I'd never see another FM offer it. Everything else about this FM is great. Best. My New Favorite. —- XDA
I'm about to release a new version where you won't even need SD Card Fixer if you have root. Not much consolation for the non-root users, of course, but there isn't much I can do about Google's restrictions.
ContaEven if programs associated with them, could you add an association editor to program & maybe even built-in 3D file viewers E.g. ply stl obj etc?, what about detail view, list, small icons view? With full control of font icon size. The side bars could be slide out with extra functions like compare folders with an option to turn off compare by date due to apks date are set by time downloaded not actual developed date, the compare would be handy if it picked newer or missing files from the opposite panels.ct developer :
3D files are not supported indeed, and it is very easy to make them supported. I will consider this in the new version. Can you send a full list of such files to my email? Details view is supposed to be the same as the list view. Small icons view is a good idea. Directory comparison is interesting, but you're the first to ask for it.
Contact develor :
Download PowerGrasp file manager from Play Store
Leave your feedback regarding PowerGrasp file manager
If you like the content that we provide since 2012, put a smile on our face and give us a like or share this with your friends on any social platform. If you want to support this project, any crypto donation of $0.5, $1, $2, $3 is welcome!
You can find our crypto wallets on https://free-apps-android.com/buy-us-a-coffe/
Sponsored Links