[App] Notepad – Notes and Checklists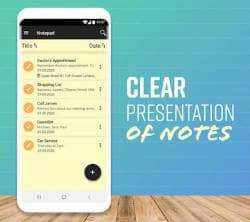 Notepad is an easy-to-use free notebook app for Android, optimized for after-call note-taking.
This clear and simple note taking app allows you to make quick notes, memos, and checklists to help organize your life with great ease.
NOTEPAD KEY FEATURES
Clearly presented notes which can be sorted by date or title. Quickly and easily edit, save and delete notes in the notebook at any time.
Easy checklist function where completed items in your notepad such as tasks, to do lists or shopping lists can be marked as 'done'.
Useful search function for those difficult-to-find notes in your notepad to save time.
Sort your notes in your notepad by date or title.
Backup & restore notes so that you don't lose any important information. You can backup your notebook directly to your phone or to Google Drive.
Location Reminders will alert you of important notes when you arrive at a specific place. You choose the location and add it to your note.
Quickly share notes from your notepad with others via email, SMS or various social media platforms including Facebook, Twitter, Instagram, WhatsApp, Messenger, Skype and LinkedIn.
Create notes quickly following phone calls with a handy quick link to Notepad after every call made or received.
Identify unknown callers with the advanced caller ID feature and see detailed call information – useful when making notes after phone calls!
Call information screen includes a text editor to write a note or checklist directly into your notebook on the same screen, using the call info for reference.
For your privacy and data protection we do not have access to any of your notes or store any of the information contained within them. Therefore, we recommend that you regularly use the useful backup feature on this notepad app to avoid the accidental loss of any important information.
Install Notepad today and organize your life with this easy-to-use notepad application and enjoy a hassle-free time. Never be stuck without a pen and paper again!
You may also like
Notes and Checklists user reviews :
Application must have. Simple use and the most important chronology. Rate with 5 star. Use it….
I love this app!! It is very easy to use. I can use it everywhere for anything from reminders, to do lists, quick notes when you are learning at meetings, conferences or viewing videos, etc…the different ways this app comes in handy is endless. It is My favorite grocery list maker. After I pick up each item, I simply "x" it off the list and resave.
This showed up as recommended in my news feed so I thought I'd give it a try. Was never really able to try it though because it goes through a 3-step setup every time I load the app, asking for access to phone calls, access to my contacts, and then dead-ends at enabling some quick action feature with no option not to enable it or proceed to use it. Re: Dev comment, users should be able to disable this rather intrusive "feature." Your app asks for the perms every time it's run unless allowed.
Sappalodapps Development

Hi again, The location and contacts permissions are purely for the caller ID feature to work. We cannot see any of your personal information and we take your data protection very seriously. You can, of course, refuse these permissions, but the feature will not be able to work correctly without them. Kind regards, Casper
Best app for making notes and keeping lists! Basic and easy to use. You don't have to save your work, it does so automatically. This is about the simplest notepad you can find. And best of all, it's FREE! Highly recommend!
Sappalodapps Development

Dear Toni​, Thank you very much for this nice review. Really glad to hear that you like our app and find it easy to use. Thank you for your feedback. Wish you a wonderful day.
Very easy to use. The design looks very clean and nice. Had been using the app for Language learning vocabulary and so far has been perfect.
Keeps my grocery lists, any other lists and important notes I dont want to loose. P.S. I learned how to send a message to my homemaker with my grocery list. This is the greatest. No interpreting my handwriting and if I forget something I can send an addons list.
Sappalodapps Development

Dear Sandy​, Thank you very much for the review and for the 5 stars. We appreciate your feedback and are glad that you took the time to give us this. We hope that we can continue with you being pleased with the app. Kind regards Morten
I think it is an awesome app it also gives you a checklist as well which is awesome definitely recommend you can put Emojis and everything yeah it's a free trial it doesn't have like anything you need to buy it's really good it doesn't have ads but it like has that thing that you can click on if you want to download it but you can press x on that so I think this is a really good app definitely recommend totally should try it
Fast and easy to use excellent app! As soon as I loaded the app I was able to add a note and haven't seen a single ad nice work
I like the app. I found it increases my productivity a lot and keeps me organized but I need more function. An ability to Highlight Key Terms would be really great! Out side of that. Exceptionally Clean!
Contact developer :
Download Notes and Checklists from Play Store
Leave your feedback regarding Notes and Checklists
Get more android apps/games/updates
Subscribe to our mailing list and get new android apps / games and updates to your email inbox.
Thank you for subscribing.
Something went wrong.