[Game] Hungry Hearts Diner Neo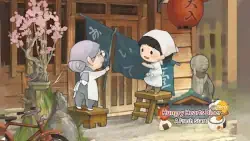 In Hungry Hearts Diner, be the boss of a small eatery in a quiet
corner of 1970's Tokyo. This casual restaurant management sim
comes jam-packed with story, and you'll have a chance to both
catch up with old friends and meet new faces.
Several years have passed since the events of the previous
Hungry Hearts, and Grandma has just moved back into her
old diner. Life's not all butterflies and apple pies though,
and she has her work cut out for her getting the place back
in tip-top shape. Running a diner by yourself isn't easy,
especially when you've got bills to pay!
…Luckily, Granny here has some help!
You, for one, but also hardworking Sue, her first ever hired hand.
The girl's inexperienced, and she drops more dishes than she dries,
but she's a lifesaver around the shop. Better yet, she's pleased
as peaches to head out into town and run deliveries for you!
But enough of that—you're not here to listen to an old woman
ramble. So, what'll it be? A nice, simple bowl of rice? Or how about
a pipin' hot beef croquette, fresh out of the fryer? This diner serves
just about every classic Japanese dish you can find at your average
local hash house, and the portions are generous to boot.
Stay a while, and Grandma's garrulous manner
will soon have you as chatty as her other regulars.
They're an odd bunch, and they all seem to have their
share of troubles. But after the third bowl of miso soup or so,
they'll open up and reveal their stories, both joyous and sad.
Strap in for an all new set of tales, with some surprising
twists and turns along the way. And remember, everyone's
got that one special meal they can just never forget.
Story
On a tiny side street in a nameless little neighborhood sits an
old Japanese diner. Things are quiet here; old-fashioned
you might say. But of course they are. It's Showa era Japan,
and the television is just starting to come into vogue.
Come on in, have a seat, and close your eyes.
Thunk thunk goes the steady beat of a knife chopping
veggies. Hisss; the sound of meat sizzling in a pan.
Getting hungry? Good, 'cause the food here's sure to
warm your belly and leave you feeling nice and full.
Besides, the kindly old granny who runs the place needs
all the business she can get. She just opened the diner's
doors the other day, and she's busy as a bee trying to stay
afloat. Managing a successful eatery's no easy task when
you're all by your loneso—huh?
Wait a sec, who's that helping her out in the kitchen?
Welcome to Hungry Hearts Diner!
It's a cozy place, a place where regular folk gather 'round
worn wooden tables for a bite—and maybe some friendly
conversation, too. Here, you'll find food to fill your belly
and stories that'll warm your heart.
Thanks for coming, and we hope you enjoy your meal!
So, let me guess. The question you're asking yourself right now
is "is this game for me"? Well, maybe it is.
Do you like casual/idle games?
Do you like games where you run a shop?
Are you looking for a nice, relaxing story?
Ever played any of our other games, like Oden Cart, Showa Candy Shop, or The Kids We Were? (If so, thanks a bunch!)
Are you hungry?*
*Warning: This game is not edible. Please don't try to eat your phone.
If you answered "Yes!!!!" to any of the above, well,
maybe this game's for you. Give it a download and a shot.
It's free, so it won't cost you a dime!
We very much hope it brings you a smile, and along the way,
perhaps even some tears as well.
English Translation:
Samuel J. Allen
npckc
Simplified Chinese Translation:
Wen Li
Indonesian Translation:
Nita Kusumaningrum
Kresna Luginawati
Localization Director:
Gavin Greene
Hungry Hearts Diner Neo user reviews :
Instant download. Granny's back, with help I fell in love with this series all over again. However, I found myself skipping cutscenes more often than I'd like. Also, the offline capability is subpar compared to its predecessors; it freezes up after a few minutes. Otherwise, it's nice. I hope you can fix that bug. Thanks for reading!
A fan of the series overall, the art and storyline are excellent as always, but…the ads are kinda ridiculous, not gonna lie. I don't mind the prompt to watch an ad for energy or customers, but being given the option for an ad, and then getting a forced ad if I don't immediately click on the TV is not only ridiculous, but it feels like a slap in the face. These forced ads are so frequent, that it's constantly breaking the immersion of the story, discrediting the beauty of the game overall.
addictive! Best game to release stress also can be play offline. I even bought the color tv. One thing I want to ask, is it possible to link this game with emails or Google play because I don't want to lose any progress I've made and the purchase that I've done. Also sometimes when i played offline, the game hang and I need to reopen few times. please fix it.
Contact developer :
Video :
Download Hungry Hearts Diner Neo from Play Store
Leave your feedback regarding Hungry Hearts Diner Neo
If you like the content that we provide since 2012, put a smile on our face and give us a like or share this with your friends on any social platform. If you want to support this project, any crypto donation of $0.5, $1, $2, $3 is welcome!
You can find our crypto wallets on https://free-apps-android.com/buy-us-a-coffe/
Sponsored Links