[Game] Imperial Destiny – Path of Gold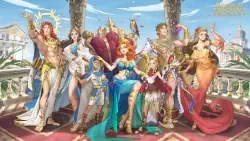 Introduction
Unlock additional exciting game modes, such as Grocery Shop, Golden Sails, Random Encounters and more content soon. Embark on your journey of enrichment!
Imperial Destiny, the very first animated empire tycoon mobile game, is here!
Legend has it that if you toss a silver coin into the sea and pray with all your heart, the waves will carry your voice to the depths of the sea. What response will you receive?
You were removed as prince after the reunification of the Roman Empire, and lost everything. You toss a coin into the sea and pray for revenge. A new era of prosperity has begun!
Game Features
Continue earning resources offline and get rich lying down!
Earning money has never been easier. Casual fun is just a tap away!
Recruit companions & manage various businesses
Scholars, farmers, artisans, merchants… recruit from all walks of life to manage your business empire.
Meet women & experience romance
Encounter exotic girls & experience intimate interactions.
Raise children & arrange marriages
Raise capable successors and arrange their marriages with friends.
Raid businesses to increase your daily income
Business is war! Seize the market and take competitors businesses away from them. It's that easy!
Raise & travel with pets
Raise cute but powerful pets, and travel around the world with these faithful companions.
Develop multiple businesses & achieve financial independence
Versify your holdings and complete trading missions to live a lavish lifestyle.
Rally allies & fight for glory
Call upon your guild allies to expand your business and forge a powerful empire together!
Embark on golden journeys of glory and revenge. Become a legend of commerce!
Not pie in the sky! Make your dreams reality in Imperial Destiny!
Contact Us
Like us on Facebook Fan page @ www.facebook.com/ImperialDestinyPOG/
Join our Discord @ discord.gg/ayeD5pW8BF
Email us @ imperialdestinyoffical[at]gmail.com
Privacy address:docs.google.com/document/d/1JU49xPNpyl1Ay5TgEx3WVzO46fR72Nd2h1hPK7R0vMQ/edit?usp=sharing
Imperial Destiny user reviews :
Pretty good actually. Better than expected. I've been playing for 7 days as of writing this. You get a lot of free useful items just by logging in & doing common tasks you'd normally do anyways. Visually, it's nice for the most part. 1 thing I don't like is when you buy wood from the auction exchange place. The cost keeps increasing and it's annoying, but that basically it. Just keep adding new events with great talents, beautis, and rewards.
Thank you very much for your 5-star review!!!
By being one of the top players i hope to provide information for all new players. Overall the game is good. A lot of features and content to keep you playing. As other mentioned there is a bit p2w but if you manage your resources efficiently from beginning, there will be possible for you to win events for sure. It's sad to see that the game focus a lot on the single player. The game needs to focus more on the guild to main players. A lot of empty servers, developers refuse to merge servers.
Hi LurzoR we want to thank you for your dedication and support to Imperial Destiny! We take our player feedback with appreciation and we will try our best to address the issue you mentioned. If you have more insight that you want to share with us, please don't hesitate to reach out to us at www.facebook.com/ImperialDestinyPOG.
WAY TO COMPLEX. Levels with sublevels with sub-sub levels and I could go on another 5-6 subs. That's why the game keeps buffering. You turned something that could've been good, into a spider web, that at one point, you don't even know how you got there and why you were doing that task for.
Dear Radu, thank you for sharing your thoughts with us. If you have any other questions or suggestions, please feel free to contact us on Facebook at www.facebook.com/ImperialDestinyPOG or join our Discord server at discord.gg/brJSJhZ4Qx.
He considered that his game has 2 problems: 1.-It requires better optimization, since at least on my cell phone the game sometimes gives lag, the screen freezes and the game closes. And it also consumes a lot of battery. 2.-This is an insignificant problem but I still wanted to mention it, the contrast with the male characters is very high, they are very, very ugly and some characters are a little deformed, compared to the female characters which are beautiful.
Thank you for playing Imperial Destiny, you feedback is duly noted. For the performance issue, if you could provide us with your account ID we are willing to help you. You can contact us directly at www.facebook.com/ImperialDestinyPOG.
Game can be a fun time killer, also the art design is great but it is very P2W. You can level up without paying but it's very grindy and you end up waiting for stamina to recharge. Sometimes it feel like there's too much going on and other times it doesn't feel like there's enough happening. My biggest gripe so far is that it kills my battery way too fast, also overheats my phone and ends up freezing (Samsung S22 Ultra).
Hi Gabriel thank you for your review, we are working hard on improving a lot of the issues you mentioned, and others we'll keep in mind when planning future content. For the battery issue, I've passed it on to our team, game optimisation has always been one of our dedicated goals.
Contact developer :
Video :
Download Imperial Destiny from Play Store
Leave your feedback regarding Imperial Destiny
If you like the content that we provide since 2012, put a smile on our face and give us a like or share this with your friends on any social platform. If you want to support this project, any crypto donation of $0.5, $1, $2, $3 is welcome!
You can find our crypto wallets on https://free-apps-android.com/buy-us-a-coffe/
Sponsored Links