[Game] Mini Racing Adventures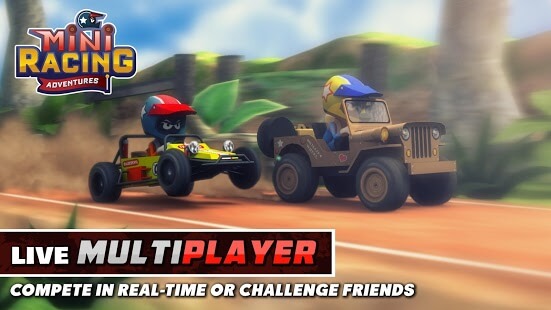 Introducing Mini Racing Adventures, possibly the best free to download realtime multiplayer, 3D endless side scrolling physics based racing adventure game ever created!
Meet Martin Nitro Minimo, or MnM for short. Now short in stature he may be but underneath that facade lies a great big heart with big dreams to fulfill. Help Martin in his quest to become the record holder as the greatest endurance racer of his time and overcome his shadowy rival Omini Speedario that is in relentless pursuit.
Mini Racing Adventures challenges you to unlock our collection of 19 unique vehicles each with their own feel, to travel across the farthest reaches of 8 adventurous stages. Race into action as you select your favorite Buggy cars, ATV, Trial Motor Bike, and even Truck to climb the highest hill, dirt tracks, snowy mountains, and other beautifully designed stages. Maximize your vehicles potential by unlocking 5 different upgrades. We wish we could see you at the finish line but the road never stops so you will have to create your own. Are you up for the challenge?
Features:
Online Realtime Multiplayer versus other MRA racers and even your friends
Offline Multiplayer against CPU or your Ghost!
Google Saved Games Cloud Save
Leaderboards & Achievements
Smooth and realistic physics (look at those suspension in action!).
Stunning 3D visuals and graphics
Lots of selectable vehicles ( Offroad Buggy, Baja Bug, Moto Bike, Truck, etc )
Upgradeable vehicle components
Control options
Social Media Sharing
Free to Play
Mini Racing Adventures game is a challenge for any speed freak, off road climbers, rock crawling and auto enthusiast, and even asphalt drag racer. No traffic lights, pick your own favourite cars that suit your driving style, fast your seatbelt, speed up and help Martin win those furious races!
Like and follow our Facebook & Twitter to get the latest news and updates. See what our plans are for the next update of Mini Racing Adventures. Don't forget to drop us your review and rating to help Martin find more rivals and fans. Happy Trails and Trials and remember to buckle up as it's going to be a bumpy ride!
Cloud Save Notes
Please make sure you save the progress manually using the cloud button in home screen. And please make sure you are online and logged in with google account. And make sure your google account Auto-Sync App Data is ON. Otherwise your data will not uploaded and may lost.
Multiplayer Notes
There is a problem to play multiplayer on ASUS devices and few other devices.
*For fast response, please send us bug report and any problem to info[at]minimostudio.com, report in User Review will be replied several days. There are some bugs and suggestions that we haven't fix yet, please be patient and keep us updated. Thanks for the support!
Also see our list
Mini Racing Adventures user reviews :
I really like this game. I have all of the tracks & a number of vehicles and always have fun when I play. Which is often. Only thing I'd do differently would be to add check-points so that when you crash & replay you don't have to start from the very beginning of the track. Btw, Minimo support is excellent!
Great game Great cartoon graphics. Smooth game play. Haven't had any glitches so far like a lot of other free games have.
Simply awesome!
This game is near perfect, the 2 suggestions I have are a digital distance from enemy meter, and a friend system with chat. Great job…
Thank you very much for the great review and suggestions Todd!  Maybe I can do the digital distance, but the chat system will be difficult for me to do
Graphics are good, however Hillclimb Racer has better vehicle sounds unique to each one while these are either a whirring/buzzing noise for cars and a sputtering/clicking noise for motorcycles. Also, track selection is weak. Route 66? Really? No dynamics to that level just hold down the gas until you run out of fuel. Could have taken the whole desert theme and turned it into a fun dune level. It's ok for a time killer, but I still prefer Hillclimb.
Hello Scott, we're sorry about your disappointment. Yeah we should add various sound for each vehicles. And yes it seems boring in Route 66, we just tried to vary the race for high speed cars. We will add a rock climbing track in next update. Thank you very much for your constructive feedback
Latest Update :
New Vehicles : Sinbad 6×6 & Mini Mo
New Track : Swaying Stream
Problem Report
Please send us an email at support[at]minimostudios.com to get a response for your problem.
Contact developer :
Video :
Download Mini Racing Adventures from Play Store
Leave your feedback regarding Mini Racing Adventures
Get more android apps/games/updates
Subscribe to our mailing list and get new android apps / games and updates to your email inbox.
Thank you for subscribing.
Something went wrong.