[App] Pinterest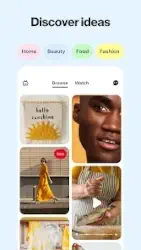 Pinterest is a place of endless possibilities.
You can:
Explore new ideas
Find new trends
Try new things
On Pinterest, find inspiration for whatever you're into. Explore billions of ideas to turn your dreams into reality: Finding recipes that make you the star at every BBQ? Getting organized without getting overwhelmed? Finding the perfect summer makeup tutorial? Creating a life you love?
It's Possible.
Why wait? Download today to discover endless possibilities
Pinterest user reviews
It's a really good app for most things,like inspiration boards or just using it to pass time, but lately I've had this really annoying problem where whenever I scroll through the videos suddenly I can't hear any of the audio. I tried fixing it by maybe using headphones but the only solution is closing and re-opening the app,and if it wasn't happening all the time I wouldn't comment on it. But it's once every 8-ish videos or so. This also started happening now,so I doubt it's my phone.
Recently updated the app and saw a whole new design, functions, etc. However, it seems like the function to switch from image to another is gone, you have to go through the trouble of going back and click another image. It is very inefficient to keep on going back and forth, please bring back the function to have easier access of the images.
Very good, I have used it to develop my style and other aspects of my life over the past 3 years, a brilliant tool that I encourage most to use to improve their experience in fields that they are interested in. The only thing that I ask right now is that they make it so that you can save one picture on a multi-picture post. I often find myself preferring one picture/video in these, as everybody's preference is different of course. Overall, a superbly creative app though!
Great for story boards. I just really wish that when I go to change the board to "compact" format, it would stay that way even when I come back next time. It always reverts back to "wide". I also wish my created pins showed up. A few of them don't show up on my profile but they show up in the boards I've added them to. Otherwise I like all the features. It helps a ton for visuals and creating a vibe for my books.
I really love this app and it's such a satisfying experience saving pins that you love and the app lately being full of images, ideas and videos of what you desire but I've had a problem recently and that is when I'm watching videos they would randomly not include any sound and I'm talking like several times, It has happened repeatedly and I'm sure it's not a problem from my side. I would really appreciate it if you fixed that. Otherwise, Pinterest, you rock!
Used to love this app but since February it's just sucked! They took away messages, which I used often to send and receive pins, I can't find any of my friends at all and if I do it says their account is private, which they aren't, and there's an ad every other pin! Not to mention how annoying it is to click on a pin in your home page, save it, and have the whole page refresh. Pinterest went way down hill in a short amount of time and it's really frustrating! Fix the problems you've created!
This app is absolutely amazing I've used this for almost a year, but I am facing 2 problems. 1. We do not have a history tab, suppose we watch a video and accidentally restart the app so you'll never be able to find that video, unless you saved it. Please add a history tab!! 2. This is the biggest issue I'm facing, since a while ago, I can't hear the audio of most of the videos and if I want to listen it I have to save it and then watch it. Please fix this glitch ASAP!!
It's 2023, looking back I think that Pinterest has improved. I don't see so many ads or re-directs. I would give it a whole 5 stars now. The only two improvementd I'd like is 1) make it possible to move items to a different category (it seems that once it's under a particular title it's stuck there) and 2) It seems a bit harsh that once you delete something, you can never get it back. I have deleted recipes because I was disappointed at first but changed my mind after a while.
I used to LOVE this app!! Now it's just infuriating. Half the "pins" on my feed are just ads. I used to get on here for ideas, inspiration & beautiful pics of things people have created & to give myself a break from the hectic, chaotic pace of life. I cherished my moments of dreaming & thinking creatively. Now I'm just bombarded by distracting, irritating & annoying ads constantly vying for my attention, resulting in the complete OPPOSITE experience I used to come to this app for. Bye!
Pinterest has it all, from puppy pictures and inspiring stories to appetizer recipes, craft instructions, and artistic masterpieces. I've used several recipes (w/ mixed results but some new favorites) and made many craft items, but mostly I find that, rather than scan the news before I get out of bed, I'm way better off if I review my Pinterest "doggies" collection. Then I can start the day in a great mood. I highly recommend – warning though – it can be addictive, but totally worth it.
Contact developer :
Download Pinterest from Play Store
Leave your feedback regarding Pinterest
If you like the content that we provide since 2012, put a smile on our face and give us a like or share this with your friends on any social platform. If you want to support this project, any crypto donation of $0.5, $1, $2, $3 is welcome!
You can find our crypto wallets on https://free-apps-android.com/buy-us-a-coffe/
Sponsored Links