[Game] The Lord of the Rings – Journeys in Middle-earth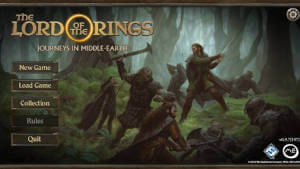 A companion app for the Journeys in Middle-earth board game from Fantasy Flight Games.
Embark on your own adventures in J.R.R. Tolkien's iconic world with The Lord of the Rings: Journeys in Middle-earth, a fully-cooperative board game for one to five players! During every game, heroes must band together on a perilous adventure to battle powerful foes, discover lost treasures, uncover forgotten lore, and customize their skills according to their role within their Fellowship.
This companion app dictates the setup of each encounter, tracks your party's inventory and skills, and resolves combat while you brave the looming forests, quiet clearings, and ancient halls of Middle-earth.
The Lord of the Rings user reviews :
4 missions in, I misclicked a button which lost me the mission and changed the story of my game for the rest of the canpaign. A simple "undo" button would go a long way. I understand why they wouldn't have it, but it's aggravating for misclicks like this.
There are still some bugs. Yesterday I played the DLC story from the expansion and some enemies didn't appeared on the map ou appeared out of it. Besides that the app is great.
Great game and as much as I enjoy it it drives me mad… no login makes it just stupìd, progress is not saved anywhere, you change your mobile you screwed, FFG take notes, players want to register and login on various devises. Period. Male it happen and this will change to 5*
Bro it is not opening it only gives only a black screen and loading assets is written on it that's it fix it Man!
App bugged out, all menus disappeared and all progress was lost.
Great game! You need the board game to play so don't give a bad review if you haven't actually played the game as intended. This game has a little learning curve but once you get it it's so good! This is the best board game I've ever played. I'm a big DND nerd and lotr nerd. I do have issues with canon and characters given to play but this is a review of the app companion not the actual game.
Awesome companion app for the board game!!! We're all having a blast with this. We use the app on Steam and find that very stable and usable. Tried once and had no issues on Android, but prefer having it on a big screen.
The game is fun. However the save feature is almost useless in the middle of a game, as there is no way to view where enemies and characters were or note character status for later. Even just a "notes" section would be great. a BIG issue with the app:there is no go back or cancel if you hit the wrong button. You NEED to be able to undo a button push. You also cannot review an initial placement of some elements. If you miss it, you can never check. Still fun, but the app needs some improvement.
I see no dev responses to bug reports in the reviews, so I doubt they read these, but they should. The game, itself, is really fun with a few house rules. Game balance for 4-5 players is insanely difficult, 2-3 is great. An "Undo" button is a critically missing feature. You really don't get your money's worth out of an $80 campaign with so few variety of monsters & heroes (but they're limited to Tolkien cannon), and replayability is meh with only one campaign. Need more voiceovers for immersion!
I loaded the app to my phone for game day, and it worked as described. However the screen is too small, and we made some rules mistakes. The ability to backup or undo actions in a single phase would be invaluable for misclicks or rules mistakes (eg, I moved the wrong enemy). I tried to transfer to my tablet instead of my phone, but there's no way to transfer a saved game, which is extremely disappointing as well.
App works fine, game is too hard for small groups. The gameplay flow works well, and has some nice design, it just needs balance. I'm not always going to have 5 players, but it seems like the game difficulty is rated for that. Successes seem to account for 1/3 of the cards in a deck, but usually one success is not enough to complete most skill tests, and often you don't draw any successes.
It won't let me progress to the story it kicks me out when I touch the map please fix it
Desperately needs an undo or back button. My group played and on our second game were encountering the boss. One player accidentally moved us to the shadow phase before two players got to take a turn, but since there was no way to go back the game progressed and we lost because one of the other players that had already gone had died. However if you complete the goal before the shadow phase you can still win, so the lack of a back button ruined the game for us.
Loved the game, the minis are awesome. FFG should put more effort into the storage inside the box. Ziplock bags are really lame for the pricetag. Anyways, let's talk about the app. It's really nice, it has ambient sounds and music, the art on ut is gorgeous and the game itself it's fun. I get that there is no undo button to avoid cheating, but still anyone can cheat anytime so it would make bo difference. We need a SCENARIO CREATOR NOW.
Last Update :
Fixed crashing issue in Poison Promise 'Meeting at the Crossroads' adventure
Contact developer :
Download The Lord of the Rings from Play Store
Leave your feedback regarding The Lord of the Rings
If you like the content that we provide since 2012, put a smile on our face and give us a like or share this with your friends on any social platform. If you want to support this project, any crypto donation of $0.5, $1, $2, $3 is welcome!
You can find our crypto wallets on https://free-apps-android.com/buy-us-a-coffe/
Sponsored Links