Wolf Game – The Wild Kingdom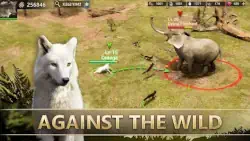 Team up with wolves from all over the world to fight with other wolf packs – to survive, explore, hunt, challenge, and revenge. As the Alpha of your packs, you will lead your wolves to defend your den and rise to the top of the food chain in the wild!
Game Features:
Assemble Powerful Wolves
The huge Timber wolf, mighty gray wolf ,beautiful arctic wolf ,mysterious Black Wolf , gather as many unique wolves as possible to form a great pack!
Lead Your Wolfpack
Control your wolf pack to move and battle with real-time strategy. Your alliances are under attack? Just send your wolf clans to help them, or raid the attacker's den as revenge. Don't forget that the wild map has various terrains that affect your march route.
Wolf Clan Alliance
There is strength in numbers. Join an Alliance in the world of wolves to seek like-minded allies. The unique Alliance territory feature allows you to construct alliance buildings, expand your territory, and make more profits together. Team up with wolves to PVP with other packs, conquer every regions!
Explore the Wild
Send out scouts, explore the wild world , discover border invasions, spot traces of prey, avoid hunters' tracking. So the Alpha and pack can survive the wilderness.
Build the Wolf Kingdom
Win the battle with strategy and conquer the entire wild world to create a wolf empire. Survive the cruel wildness. Become the alpha of the pack. Be the ruler of the wild!
Seamless World Map
All in-game actions occur on a single big map inhabited by players and NPCs, with no isolated bases or separate battle screens. The "infinite zoom" on mobile allows you to go through the world map and individual bases freely. Map features include natural obstructions such as rivers, mountains, and strategic passes that must be captured to gain access to adjacent areas.
Attention: Wolf Game: The Wild Kingdom is a free-to-play strategy game themed on animals, while it offers in-app purchases for some in-game items and functions.
A network connection is required to play this game.
Facebook:  www.facebook.com/WGKthewolf
Youtube: www.youtube.com/channel/UCWOSJPpWWBs2JwHmTp6tkNQ
Discord: discord.com/invite/CNq8BRcqmB
The Wild Kingdom user reviews :
I wish I could play it, but it remains stuck on a screen that says, "Network abnormal. Please tap the confirm button to reconnect. [5000]". When you press the "confirm" button, it just reloads the same pop up and confirm button endlessly. I've tried uninstalling and reinstalling, wifi/no wifi, exiting/reloading, etc., but I can't get past that screen. Will update when I can actually play!
Dear player, there was a login problem at an early time. Now the issue has been solved and you can recheck it. We are very sorry for the inconvenience. If you have any questions, feel free to tell us. Here is our contact information: E-mail address: WolfKingdom_CS[at]qiyi.com Discord Link:  discord.com/invite/CNq8BRcqmB
If you look up boring in the dictionary, this game is listed. On top of that the terribly small graphics look like they were programmed back in 2010. Fuzzy looking little icons of various animals run around the while you guide a single wolf named Alpha around the map. It made me wish i carried a magnifing glass to see the screen, even at full zoom-in. The story line is okay. Typical build/ upgrade your area to get stronger packs of wolves. Sorry devs. Not much good when you can barely see
Dear Chief. Our game will continue to introduce different ways to play! I hope you can try more and feel free to contact us if you have any suggestions. Looking forward to seeing you next time. contact details: Email: WolfKingdom_CS[at]qiyi.com discord community link:  discord.com/invite/CNq8BRcqmB
I couldn't even open the game. As soon as I installed I was informed that additional content needed to be downloaded, but the download never started. It sat at 0 percent for several minutes. I tried multiple times and it never updated, so I wasn't able to play. I was disappointed because the ads looked really interesting and I was looking forward to playing.
Dear player, we are deeply sorry for this inconvenience. Our team will make updates asap. If possible, please kindly send related error screenshots to WolfKingdom_CS[at]qiyi.com with your device information and country. We will try to optimize it asap. Thanks for your support and have a nice day
I was super excited about waiting for the game. I have played about 30 minutes of it. Love the story line. Graphics are good and gameplay is smooth. I only gave 4 stars as the game keeps cutting out. I'm hardly on and when I select a function, it just closes. I have made sure that I have enough space etc to play the game. So I'm not sure where the fault lies.
The game is nice. Good graphics, good storyline (so far). My only problem is that after I finished the prologue, my game just crashes. I can't even do anything because it just crashes as soon as I enter the game. Edit: Thank you for fixing it, appreciate it!!
Dear player, there was a login problem at the early time. Now the issue has been solved and you can recheck it. If you have any questions, feel free to tell us. Here is our contact information: E-mail address: WolfKingdom_CS[at]qiyi.com Discord Link:  discord.com/invite/CNq8BRcqmB
Contact Developer :
Video :
Download The Wild Kingdom from Play Store
Leave your feedback regarding The Wild Kingdom
If you like the content that we provide since 2012, put a smile on our face and give us a like or share this with your friends on any social platform. If you want to support this project, any crypto donation of $0.5, $1, $2, $3 is welcome!
You can find our crypto wallets on https://free-apps-android.com/buy-us-a-coffe/
Sponsored Links