[Game] World War 2 – Strategy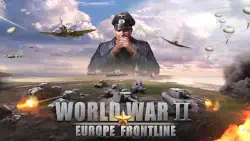 In this war games, you will play as an army commander.
You will command your troops to the frontline and witness the most brutal and realest face of the war.
WW II: Sandbox Strategy is a strategy war games that is set in World War II. The games simulates the real combat environment and brings back the realest warfare of this brutal war in human history. There are hundreds of famous commanders featured in the game. You will rebuild the different well-known units of merit. You can take advantage of the different traits of the commanders and units and utilize a variety of tactics and strategies to rewrite the ending of many famous historic campaigns.
You are to command in these classic campaigns, can you rewrite history? Join us and conquer the world in this strategy war game!
The war is coming. Show your unique art of war from the tip of your finger to bring out an impeccable world war. You can command any single army and match your own army groups at your will. You can also lead your allies to join the beach of Normandy or command the Axis forces to defend Atlantic Wall. Pick the nation you desire to join the second world war and decide the fate of the campaign in this World War II strategy game.
More than 100 famous generals of world war 2 figures such as Guderian, Manstein, Rommel, Button, Zhukov, MacArthur, Montgomery, Eisenhower, will be on the stage in turn. Take advantage of the generals, assess the risk,find out the enemy's weaknesses and defeat them to win the final victory of world war 2
Real simulation of World War 2, sandbox, strategy, tactics and war games! Army games time!
Make your own history with your strategy and tactics in turn based ww2 strategy games!
Experience real and rich terrain on the ww2 battlefield!
The right war strategy is the key to win the ultimate victory! 3D terrain brings richer strategy. Plan your army and conquer or destroy connecting bridges, bunkers and roadblocks, to get yourself a tactics advantage! Every tactics you make will determine the outcome of the ww2.
Total World War 2! Real historical battles are waiting for you to reinterpret.
78+ historical ww2 campaigns (3 difficulty levels) and 270 military tasks. Experience these real historical battles from the Axis and Allies in this ww2 strategy sandbox games.
Campaigns for Germany: battle of dunkirk, operation barbarossa, romel corps, siege of Tobruk, the battle for Britain.
Campaigns for the Allies: Battle of Britain, Invasion of Italy, Normandy Landings, D Day, Battle for France.
You will accept different tactics missions: capture the target, rescue friendly forces, stand out from the siege, hold on to your position, annihilate the enemy, etc.
Choose different sides and countries to gain different awards.
Variety of ww2 units of special functions such as air defense, airborne, and building.
German Tiger tank, Soviet Katyusha rocket, Spitfire Fighter, aircraft carriers, Battleships, flamethrower, submarine, command paratroopers, bomber squadrons and other special operations forces!
More units! More strategy!
More strategy games advantages:
More free rewards
WW2 turn based tactics war games
Destructible and fixable bridges
Radar technology to detect enemy forces
Wide range of army vehicles like trucks
Variety of battlefields and missions
3d game graphics and epic sounds
Continuous updates, more ww2 modes:
Conqueror model
Custom map
If you're looking for more world war 2 strategy games, and have any questions or suggestions, please follow us:
Facebook: www.facebook.com/JoyNowSG/
Instagram: www.instagram.com/joynowsggame/
World War 2 user reviews :
I like it a lot and has tons of potential. One simple thing was just so annoying: you cannot move your camera around unless you press a button that brings it to a unit you haven't yet ordered. The movement of troops is sometimes bigger than i can see in 1 screen so I need this feature to mive around freely. Another thing, how am i supposed to use a city if i can't move my camera to see it?
Thank you for your review. All suggestions will be considered and we will adjust the game according to your real needs.
Started well, then the freezing issues mentioned by another user. I have re-started the level 5 or 6 times and late on (Axis level 19) it just freezes again when I get to the same point. EDIT this issue has been resolved and I have enjoyed a lot of levels on all difficulty settings….great game and doesn't need a connection at all so can be played anywhere. Absorbing gameplay and hours of replayable fun…. really recommend it.
I love this game. It reminds me of the old board games I used to play. Sometimes it takes a little patience and a few tries to get past a level but it gets easier as you use the badges and money to build up your best troops. If you don't mind a game that requires some thinking on your part you'll enjoy it.
Hello, we fixed this bug, if you have more questions, you can contact us on Facebook or Discord
I want to put 5/5, but there's one reason why not: I've gotten 6 Avia units, 4 self-propelled artillery, 3 anti-aircraft guns and 1 heavy artillery + 3 battleships, but only 2 tanks: 1 light and 1 medium. Why I can't recruit heavy tanks? I opened the technology for panzer V and VI, used and recruited them a lot in missions and gained with them lots of troffees, but they don't want to appear in the end in the recruiting pool, why?! Played as Axis on normal and hard. How can I play without tanks?
Hello, thank you for your feedback. Regarding the heavy tank, it is temporarily unable to recruit, but the recruitment of this unit may be added as more levels are unlocked.
Never spent money playing this, I'm now on level 17 of Axis & level 18 on Allies. Keep on earning medals up to 1,200 by winning each games & playing ads, then convert it to 200,000 cash in SHOP section to easily upgrade the TECH & TROOP units' capabilities. Use ads effectively to repair damaged troops, & gain more medals & cash each day. Gain more cash by making the FIELD MISSION. Use Axis' HARD level 2 to finish it easily everyday. SPECIAL CAMPAIGN is hard but doable. Play smart soldiers.
Contact developer :
Video :
Download World War 2 from Play Store
Leave your feedback regarding World War 2
If you like the content that we provide since 2012, put a smile on our face and give us a like or share this with your friends on any social platform. If you want to support this project, any crypto donation of $0.5, $1, $2, $3 is welcome!
You can find our crypto wallets on https://free-apps-android.com/buy-us-a-coffe/
Sponsored Links