[Game] World War 2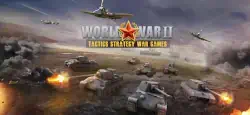 Lord Commander!
The war is about to begin, and the most powerful army of the Second World War is waiting for an outstanding War commander! Lead your army to join the important historical battles from 1941 to 1945, experience this classic war strategy games, and delve into the tactical sandbox simulator of world war 2!
Realistic simulation of world war 2, sandbox, strategy, tactics and war games! A comprehensive competition of the army, air force and navy.
Through the strategy games based on ww2, use your own strategies and tactics to create your own history!
In the turn-based WW2 strategy games, the situation of the entire battlefield will change dramatically. Reasonable use of the army navy and air force to occupy the important strongholds of your opponents is a question you need to think about all the time.
You need to continue to accumulate merits on the battlefield, from a soldier to a marshal.
Pay attention to the upgrade of military facilities in the headquarters and the research of technology, they will provide you with the necessary assistance in the war.
It is also very important to hire other generals to join your camp, and to give play to each general's expertise.
If you let General Zhukov command the armored forces or let General Speller command the air forces, they will be able to play their role to the fullest. Use our sandbox army strategy games to lead it and win the second world war!
Experience the real and rich terrain on the ww2 battlefield!
The correct war strategy is the key to winning the final victory! 3D terrain brings richer strategies. Plan your army and conquer or destroy connecting bridges, bunkers and roadblocks to gain tactical advantage! Every strategy you adopt will determine the outcome of ww2.
WW2 units with various special functions, such as air defense, airborne and buildings.
world rocket wars 3d German tiger tanks, Soviet Katyusha rockets, Spitfire fighters, aircraft carriers, battleships, flamethrowers, submarines, command paratroopers, bomber squadrons and other special operations forces!
More units! More strategies!
The legendary Soviet and German world war 2:
The Battle of Minsk, the Siege of Kiev, the Defense War of Leningrad, the Defense War of Moscow, the Mars Project and the Curonian War. And we will continue to update. Can you change the historical outcome of these wars?
Are you interested in the history of the Second World War? Share the turn-based ww2 games with your WW2 military fans and play this strategy games together! Enjoy this tactical sandbox games and help you exercise your strategic layout skills!
Special thanks to the people who helped us a lot in this version.
Welcome to subscribe! We will continue to provide you with important information about WW2 gamess!
Facebook:  www.facebook.com/World-War-2Strategy-Battle-103841412190212
Instagram: www.instagram.com/joynowsggames/
World War 2 user reviews :
Fun game with strategy in which troops you upgrade as well as on the battlefield. Some people are complaining about the weather mechanic, bit I think it provides some interesting variation and problem solving challenges. The "daily reward" and "decode gift" are broken though. Every time I play through midnight they don't show up and I have to uninstall and reinstall the game multiple times to fix it. Lost multiple hours of progress on one such occasion.
Hello, please do not uninstall the game, your previous data will be lost, you can try another network for this problem
Actually a pretty great game I've played a lot of games with this style of play and it's just click and move but this one is a challenge like only infantry troops can capture city's instead of tanks and the different troops between the USSR and Germany is pretty good. Overall 10/10 game
The game is awesome very fun to play. At times maybe difficult but that's the fun of it. I do wish that more planes like multipurpose ones and more tanks/artillery were in th game but other than that it's a great game
This game is fun but you need to upgrade tech and it takes a while to get money by replaying missions over and over. If you dont do that then your troops die very quickly in later missions.
GREAT Fun strategy turn based game. Success is based on tactics and strategy: movement, fire, and support. Automatic upgrades are helpful.. I have been playing this type of game for over 40 years and this ranks near the top!
Overall fun. Game glitches on missions 9 and 10, but got through after repeated tries. Ads are not oppressive. Game also glitches on scenario 11 and 12. Usually right away, after assigning generals and running the first turn for the Germans. If you let the AI run the 'blue' Germans, and want to watch it resolve, then move on to the AI Soviets, the game will hang up immediately after starting the Soviet response. In subsequent tries, if you immediately 'Skip' the 'Blue' Germans, the game will resolve the turn, and lead you to the 'results' screen, but you don't get to watch the action if you do this. Better than glitching and having to start over but not as much fun.
Dear Michael, thanks for your feedback and sorry about your unpleasant feeling. Could you please tell us more details about your problem? Which camps did you meet the problem? More infos could help us locate and solve it. Waiting for your reply.
Latest Update :
Commanders! Conquer& Win the World War 2!
New level
Allies Level 25-Kerchi Landing Operations
Others
1. The difficulty of some levels has been adjusted.
2. Added phased advertising rewards.
Contact developer :
Video :
Download World War 2 from Play Store
Leave your feedback regarding World War 2
If you like the content that we provide since 2012, put a smile on our face and give us a like or share this with your friends on any social platform. If you want to support this project, any crypto donation of $0.5, $1, $2, $3 is welcome!
You can find our crypto wallets on https://free-apps-android.com/buy-us-a-coffe/
Sponsored Links