[App] Chord Analyser (Chord Finder)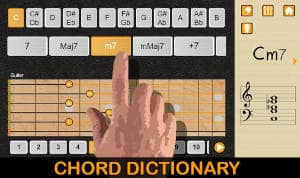 Chord Analyser is an interactive and reverse chord finder.
If you don't know a chord on a score, or if you are looking for the best notation for a composition, or if you are looking for an original position for a chord on the guitar (or on another stringed instrument), then Chord Analyzer is for you.
Chord Analyzer offers a bridge between stringed instruments (guitar, banjo, mandolin, ukulele, etc.), the piano and chord notation in American notation.
Press the keys of the piano or the frets of the guitar, and the application will recognize the chord and indicate its most appropriate notation. Also choose a chord from the dictionary to know all the positions that can be played on the guitar or banjo.
Thanks to a powerful algorithm, the application does not limit itself to known positions and offers many more suggestions than the classic chord dictionaries. Listen to them, play them, modify them directly on the application and make the best choice for your compositions or your interpretations!
In the full version, the application offers to extend this intelligent and interactive chord dictionary system to more exotic instruments (7-string guitar, Ukulele, mandolin, banjo, violin…) and above all… works with open tunings! Don't be afraid to re-tune your instruments because you won't be able to find the positions for all your chords quickly.
Also enjoy a piano to guitar interface to exchange efficiently between guitarists and pianists on original or complex chords.
Features :
Easy to use application
Over 2,500 recognized chords, from the most simple to the most complex
Chord detection for Piano, Guitar & Banjo in all positions and inversions
Complete Dictionnary for Piano, Guitar & Banjo
Algorithmically calculated chord positions for Guitar and Banjo
Sheet music transcription
"Smart" detection of the most appropriate chord notation
Real-time audio transcription of chords
Figured bass management
No ads
Available in full version :
Piano to Guitar interface
More instruments : 7 strings guitar, Ukulele, 5 Strings Banjo, Violin, Mandolin, etc.
Open tuning
Whether you are a beginner or a professional, Chord analyser] will allow you to better understand the notation of chords in American notation and to enrich your playing.
You may also like
Chord Analyser user reviews :
it doesn t work the play ,, button". when I select a chord it s doesn t sound when I press the play icon. beside that, it s a great app. very good, very useful
Pragmatic apps

Thank you very much for your comment. The new update coming soon should solve this volume issue. :-) You can choose to be on the beta version if you want to update today (at the bottom of the description) Thanks for your patience !
Great app. I've been looking for a long time for an app that let's me enter the notes (staff or keyboard) and then play that chord. I couldn't find any. Any app that played chords only played pre-defined chords. When I'm reading music theory books that show chords, I wanted an app that let me enter the notes and play the cord so I wouldn't have to go to my keyboard to play it. This helps a lot. One improvement would be if it allowed multiple chords to be entered, the played back so that progressions could be analyzed. It would help a lot when reading music theory.
After using the free version for several weeks I upgraded to the Full Version (because it's only fair). I like the app very much, however I struggled to figure out some of the apps capabilities, like changing to a different tuning (like DADGAD) A User Guide would be helpful. [Edited to 5 stars after figuring out some tricky features]
Pragmatic apps

Thank you for your comment. The capability you are talking about is the open tuning feature. The classical tuning of a guitar is EADGBE. But you are free to tune your strings on different notes. And thus, all chord positions will change. The app allows you to work with such tunings. Regards
I cannot begin to tell you how much I love this app. It has done me wonders. It's such a handy tool. *BUT* is there anything that can be done about the crashing? If I switch screens and go to a different app (say Google) & then switch back to the chord analyzer, the volume no longer works. I had an LG G6 & now I have a Galaxy S10. I have a very fast internet connection. If there was any way to fix this glitch I would give it a 5-star rating. I tolerate it because it's so incredibly useful.
Pragmatic apps

Thank you very much for your comment. The new update coming soon should solve this volume issue. :-) You can choose to be on the beta version if you want to update today (at the bottom of the description) Thanks for your patience.
Contact developer :
Download Chord Analyser from Play Store
Leave your feedback regarding Chord Analyser
Get more android apps/games/updates
Subscribe to our mailing list and get new android apps / games and updates to your email inbox.
Thank you for subscribing.
Something went wrong.