[Game] Cyber Dead – Super Squad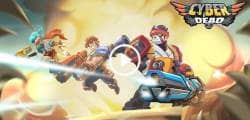 The dead arises, and mix with cyber
You mean Undead Cyborg?
Nah, It's Cyberdead's
Emergency, zombie squads – crazy machines are destroying humanity. Right now, we desperately need the help of super soldier to save the world. It's time to join an intense battle, finish the dangerous missions by picking up your weapon and fight back ZOMBIES !!!
Immersed in the endless fight of one of the new generation 2D action platformer game and become the best mental soldier. Cyber Dead is a combination of the metal slug genre, also known as the dwarf rambo and the 2D platformer game.
As you probably already know, platformer games are side scrolling shoot 'em up games. Contra is the most famous side scrolling shoot 'em up game.
After years of absence, this game has been revived with a new version called Cyber Dead on mobile platform. New story, diverse worlds, supreme arsenal, ferocious monsters and many amazing rewards in the arena promise to bring about new experience to attract players.
Mission: Use play button to run and gun pits gunman's against a large numbers of enemies and big bosses with extremely powerful weapons pick-ups. Try to upgrade moves to avoid contacting with the enemy or you will be damaged. Therefore, amazing run, jumps, and guns will lead you to win various levels, unlock new worlds and wipe out the zombies squad from humanity.
Gunmans, be aware of dangerous traps and hurdles in this 2D platformer game: become an ultimate action hero combining bombastic skills of defense and attack to save humans from the dead. They also have best upgraded metal slug weapons. Watch carefully as the enemies are fast and smart too. Try your best to avoid the hurdles and traps in this fast-paced 2D action shooting game to complete your intense missions.
What are you waiting for? Choose your super soldier, pick a modern weapon and fight those epic nasty bosses for this ultimate action game. Are you ready to join the squad military and become a bombastic super hero?
In Cyber Dead, you will experience:
The 2D retro run n gun gameplay
Build your own base
9 default heroes with different combat styles and mechanics: Bombastic Shooter, Snipers, Metal soldiers, Robots, Gunman, Bomberman, Ramboat…they're all yours.
Epic battle against 50+ types of enemy and 10 bosses.
PVP – online shooting games
150+ rounds until you take back the Earth.
70+ guns and many more to come in the next update.
True side scrolling platformer shooting game with modern gameplay and art.
HOW TO PLAY:
Use the movement buttons to control the super soldiers, run and gun zombies to pass the levels. Remember "Run fast, shoot faster"!
Tap jump button to avoid obstacles.
Use coin and gem to power up your metal squad.
Collect puzzle pieces to unlock new super soldiers. Metal squads will be extremely formidable.
Perform daily quests and events to unlock items in side scrolling action game.
It's your time to fight like a real super soldier!…. Enjoy the thrill of metal gun shooting in Cyber Dead action game.
FOLLOW us on:
Fanpage:  www.facebook.com/cyberdead.net
Facebook Group:  www.facebook.com/groups/481128062608118
Cyber Dead user reviews :
I really enjoy this game but there's an issue with some parts of the game that needs fixing. Like some bonus stage they don't coins anymore and also after playing you are given medals which is use to open like bonus, it's no longer working.
Angles Game Studio

We are glad that you enjoy the game. We will do our best to deliver constant updates for the game. Your experience is what we value the most. If you have any problems or recommendations, please contact us at our Fanpage:  www.facebook.com/cyberdead.net or Discord:  discord.gg/jepd38TVeh
It's a good game, but a bit annoying about the forceful ads after a stage level, it's already a good profit for you guys for having ads on rewards, but not after stage levels..
Angles Game Studio

We sincerely apologize for bringing you a bad in-game experience. We will fix this in the near future and send you the best gaming experience. For more information, please follow us at Fanpage:  www.facebook.com/cyberdead.net and Discord: discord.gg/jepd38TVeh
Game is good. But there is problem, when I sign in with Facebook it can't open. Stuck in loading screen. I have to reset to play again.
Angles Game Studio

Thanks for your patience. We are working on these bugs, and the patched update will be up as soon as possible. If you have any problems or recommendations, please contact us at our Fanpage:  www.facebook.com/cyberdead.net or Discord:  discord.gg/jepd38TVeh
I want the shooting joystick to have an option where the player won't aim automatically to enemies. Maybe even add another joystick for aiming w/o shooting with the previous one that has aiming and shooting as another option.
Angles Game Studio

Thank you for reaching out! We hope to bring you a better experience in the future, please send us a message via facebook at:  www.facebook.com/cyberdead.net to discuss further about the problems!
Contact developer :
Leave your feedback regarding Cyber Dead
Get more android apps/games/updates
Subscribe to our mailing list and get new android apps / games and updates to your email inbox.
Thank you for subscribing.
Something went wrong.