[App] MultiSneS16 – (multiplayer retro 16 bits emulator)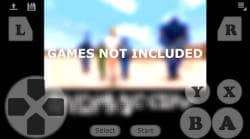 MultiSneS16 is a variant of Snes9x open source emulator that lets you play classic games with your friends via LAN network or Online (requires logging in using a Social Network account, no third-party apps needed).
This app supports hassle-free online multiplayer without any manual setup or opening network ports.
FEATURES:
Offline Single-player mode.
LAN & Wifi Direct & Online Multiplayer mode. It is consistent, has no de-syncing problems like traditional scheduled synchronization method. And it supports long distance (cross-countries) connections. However, the gameplay quality will depend on your network connection's speed.
Invite others to play Online using a Social Network account.
There are also online Public Servers created by users that can be joined by anyone.
Text chat when playing Multiplayer.
Supports saving & loading game' states, even when playing multiplayer (on host side only).
Supports cheats, even in multiplayer mode.
Supports both hardware controllers and virtual/on-screen/touch based controller.
Editable virtual buttons' layout.
Full screen display mode.
This emulator is powered by the open source Snes9x core.
NOTES:
Location permission is required for Wifi Direct multiplayer mode. Without it, 2nd player cannot find the 1st player who created the network game session.
The app doesn't come with any games. You have to copy roms to your device's sdcard. Their locations will be detected automatically by the app itself. Both .zip, .smc, .sfc, and .swc files are accepted.
When playing multiplayer, second player is not required to have the game roms in his/her devices, it is only required for the first player (i.e. the host).
To reduce lag during multiplayer, place your devices as close as possible to each other and to the Router/Access Point.
Alternatively, using Wifi Direct option if your device supports it.
The one hosting the game through Internet is required to have the minimum upload speed around 60 KB/s (512 Kbps).
If you encounter severe lags, sometimes a simple router or both players' device's wifi restart might help.
There are some routers that don't support direct Internet multiplayer hosting due to their Firewall settings. If it is the case, the app will attempt to use relay server to relay data between 2 players, though the bandwidth will be limited if relay server is used by too many people. If relay server still fails, you will probably see "Remote connection timeout or disconnected" message popped up on guest player side. You can try to switch roles, i.e. guest becomes host and vice versa. If we are lucky, the new host's router will allow the connection between two players.
This application is in no way endorsed by or affiliated with the original hardware creators.
THE APP IS CURRENTLY STILL IN EARLY PREVIEW STATE, THUS WE WOULD BE GRATEFUL IF YOU COULD HELP US REPORTING BUGS TO lehoangq[at]gmail.com. THANK YOU.
MultiSneS16 is a completely non-commercial app. No ads are included inside it.
SPECIAL THANKS
Thanks Ozzed for free 8 bit music.  ozzed.net
Screenshots are from the public domain homebrew game Hysteria.
You may also like
MultiSneS16 user reviews :
It's a great emulator, works fine and all. But the multiplayer is not really good. Multiplayer can be good on LAN but it's just super laggy on online play. My internet is good so my internet is not the problem. I would suggest you guys use rollback net code
It works great for about 5 mins. Then like 5 buttons start getting pushed at the same time and glitches my phone out…..
Best emulator but can you fix the audio when playing games . A sound like a crash or glitch in all games
Great online multi player emulator sadly if you join someone's game there's input lag I will rate five stars if bug is fixed
ok, i want to adress, i be lieve the lag i believe is caused from the chat feature. Ive noticed a few times. And when no chat, less lag. Just keep in mind when you send a message. And thats ok. I hope this never goes away. The way you can share with others is flawless… This experience made me shed a tear of how beautiful it has been.
Really nice app. Played a lot of games with friends, mostly fighting games. However audio does not seem to record with it, if you could look into adding support for android 10's internal audio recording would be great. I'm not exactly sure how it works, I was seeing that it's an API you can take advantage of or something when looking it up online but the app has to allow it for the screen recorder I use to pick it up it seems. I would assume that's the case with other recorders as well.
nice controls but saving a game is a huge pain. i dont want the quick save/load on the screen. i want easy access to slots and it would be nice to see a screenshot of the saves. please look at John emulators or Collection NES games for an idea of how to let us save the game. its really important for large snes games.
The emulator is great to play SNES games online with other players, but please improve the gameplay quality for guest (2P) and to let it use less data like other online apps and also, add a local multiplayer option so that it can play multiplayer on the same device, I tried connecting 2 controllers but it reads as the same player, please fix those problems, besides that its great.
Contact developer :
Download MultiSneS16 from Play Store
Leave your feedback regarding MultiSneS16
Get more android apps/games/updates
Subscribe to our mailing list and get new android apps / games and updates to your email inbox.
Thank you for subscribing.
Something went wrong.