[Game] Defense Zone 3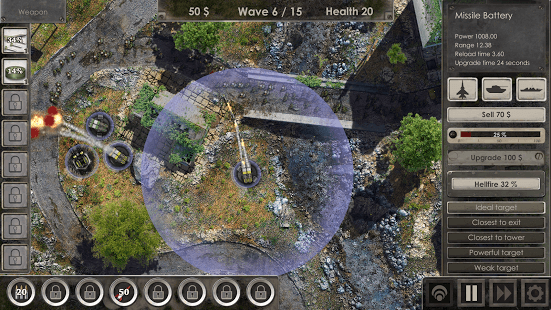 Defense Zone 3 : Welcome to the long-awaited sequel to the popular action/strategy game!
New weapons, landscapes, and options galore!
Every game session is now even more dynamic and amazing.
The core of the game is still the same: entire armies of enemies rush at your defenses, trying to destroy them by any means necessary. But now they're even more powerful and madder than ever.
You'll have access to older, time-tested turrets, as well as completely new types of weapons. It's up to you to decide how to spend your available budget. Should you build new towers or upgrade and fortify the ones you already have? Turrets vary in terms of their attack range, firing speed, and damage type. The only way to win is to combine them so that they complement and strengthen one another.
The flexible difficulty settings will allow every player to get as much enjoyment out of the game as possible. If you're an experienced commander, you'll love the merciless, intense battles where the countdown where even a fraction of a second is vital to success and everything hinges on your ability to choose and arrange your turrets wisely. If you're a new player, you'll easily be able to train and prepare yourself for serious battles.
Either way, the thoughtfully designed maps and wide range of available turrets will provide you with virtually endless tactical options. Thanks to the stunning, detailed landscapes, painstakingly drawn towers, and incredible special effect, you won't be able to take your eyes off the screen.
All aspects of the game have been meticulously balanced, including tower statistics, enemy strength, terrain characteristics, and special weapons. You'll never get bored by too-easy gameplay. Every level will challenge you. Are you ready to accept the challenge?
Features:
Seven levels, with new levels coming in future updates
Three difficulty levels
Eight kinds of turrets
Eight special abilities, from Air Strikes to Nuclear Bombs
Varied seasons and types of landscapes
Support for over 20 languages
You may also like
User Reviews :
Activate hellfire auto to increase your chances. And buy life every 10-15 min. Difficult game on easy mode.
Fun game! Finished only on "normal". Best tower defense app.
Difficulty increases so much from level 6/7 that it is impossible to complete even on easy. Paid for the add-free option but it is not enough. Further in-app purchases required to be able to progress.
ARTEM KOTOV

Hello Laszik Stefan. Change the tactics and you'll manage. Try to play the next level. You can open any level using a cheat code, you should press simultaneously the locked level with four fingers, and the level is unlocked.
Very weak game. I cant get even to level 3 with 20 health full. You cannot upgrade the weapins, nothing. I Played 24 hrs level 2,in any way possible. At the wave 6 comes a bunch of cars and soldiers and with all your weapons upgraded in the game, you just cant end this level with all your 20 health.
Hey I not see why it need to use darter yes I like stopping the Tan's and stuff but I can't see keeping on my phone as it to me simple but it also can't play if no dater.. You really need to download and have a look as I am a old man that has dater issue and I listen to radio before, but most game are like this one I did enjoy stopping them from getting past my area but me dater say I lots dater and my enjoyment was lost. :( Also I have said to other game's I like to play when low or no dater but feel it just me.. That has low dater plan..
This is not for the casual gamer. It gets difficult very quickly, and the levels are very long. You will have to do levels multiple times, cause you will lose if you're not set up correctly. It is a fun game, if you have the time to invest. Unfortunately, I do not like getting to the very last wave and getting crushed. It ruins the replay value for me. Make the levels shorter, so players don't play for over an hour, just to get killed at the very end and have to start over.
ARTEM KOTOV

Hello. The game has an autosave between each wave, run level, open the options and click on "Load Game".
Latest Update :
new level 26
added 16x game speed
added auto synchronization of progress between devices
added support for multiple accounts
Defense Zone 3 developer :
Video :
Download Defense Zone 3 from Play Store
Leave your feedback regarding Defense Zone 3
Get more android apps/games/updates
Subscribe to our mailing list and get new android apps / games and updates to your email inbox.
Thank you for subscribing.
Something went wrong.