[Game] Door Slammers 2 Drag Racing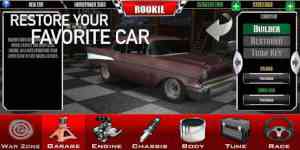 Heat up your tires with long smokey burnouts and when the green light drops launch full throttle with your wheels in the air!
Push your skills to the limit rapidly accelerating to over 200 mph all the while doing your best to keep from smoking the tires or blowing your engine on a tricky racing surface.
Pray your engine and chassis tuning are just right as you try to be the first to pilot across the finish line… but don't forget to pull the chute as you stand on the brakes before flying off the end of the track and into the sand traps!
Hone your reaction and ET as you strive for the perfect run in the bracket classes or drive on the edge of sanity in the heads up and grudge racing events.
Race online with your friends or around the world in live multiplayer action. Work your way through the rankings and try to get into the daily top 10.
AMAZING 3D GRAPHICS
Smokey Burnouts, Header Flames, Nitrous Purges, Wheels Up Launches, Functional Parachute, Gear Shifting, Custom Paint, Hood Scoop, Wings and Wheelie Bars.
HEAD TO HEAD MULTIPLAYER RACING
Bracket Racing, Heads Up and Grudge Racing On A Closed City Street Or Drag Strip.
ENGINE CUSTOMIZATION
Small Block, Big Block, Mountain Motor, Carburetor, Fuel Injection, Tunnel Ram, Turbo, Nitrous, Blower and Fire Breathing Fender Exit Exhaust.
CHASSIS CUSTOMIZATION
Hood Scoops, Custom Wheels, Paint, Lettering, Transmission, Wings, Brakes, Parachute, Wheelie Bars, Suspension.
Also check our best free racing games list
Door Slammers 2 user reviews :
This game has a lot of potential. Very nice selection of cars. I tried the blue grand national, of course I don't read instructions before playing games, I jump right into them because this allows me to get a true experience from start to finish. So in saying that I'm saying that from jump street it definitely caught my attention. The controls are what's holding it back. The physics, however I am also playing on a galaxy A12. Good phone but not the best for gaming.anyway 5 stars for the future
This is by far the best drag racing game for free and like others the gold issue. If I could trust google play to put the money in my account it would be no problem but I lost twenty five bucks just vanished. I wish we could watch videos for gold because I cant trust my money not being placed where I wanted it. Other then that you guys hit a homer with this I've been a drag fan for over thirty years .thanks guys
This game is overall amazing and i enjoy playing it everyday. Honestly there are only a few problems I have and they all have something to do with the Dragster. It is fine how it is for the most part as it would be cool to have a newer model and a few more custimization features. We need downswept/upswept headers, new scoop options, when we go to add the premium front wheels they are bigger than the whole dragster (a little exaggerated) but fix that and add side mount prochargers toallowforscoop
This game is awesome! I can't believe how much fun it is. Has slight issues like any game but overall just fun. The makers are definitely real drag racers based on the quality and setup of the bracket racing. I will recommend this to all my friends.
I've been playing Doorslammers 2 for nearly a year now and I can honestly say, after loading and trying just about all the other drag racing games, this is by far the best! If you want realism, you've got it. Right down to the last little tweak prior to taking your ride to eliminations, its as real as it gets. I've had a few issues in the past but their support team, cheifly Jeff don't miss a beat getting me back in the game. I'd give a 6 if I could.
Horsepower 1 Studios

Paul, thank you very much for taking the time to review us! We understand that wanting to upgrade you car with gold cost a little cash, but this is how we generate revenue to allow the game to continue. Without it, no game. Concerning support, we take this seriously and want every player to have an enjoyable experience. Thanks for the 5 star rating
This is one of the best drag racing games for mobile there is. I just wanted to state that a game should not make it were you have to buy gold. Maybe trade 20k cash for 50 gold? I think they need to fix this because some people are tired of having a maxed out car but can't get a supercharger, turbo, or nos. It's just not fun anymore because your either too fast and get a breakout or too slow because your opponent has a blower. Dev's please respond.
Horsepower 1 Studios

Cowboy, thank you for your review. With DS2 already being a free download, gold is how we generate revenue to keep the game alive. It takes a team to keep DS2 going and it is not free unfortunately. We are looking onto more ways that gold can be earned with the next update. Stay tuned. We appreciate you support and hope to earn more stars soon!
Contact developer :
Download Door Slammers 2 from Play Store
Leave your feedback regarding Door Slammers 2
Get more android apps/games/updates
Subscribe to our mailing list and get new android apps / games and updates to your email inbox.
Thank you for subscribing.
Something went wrong.