[Game] Fluvsies – A Fluff to Luv
 gacha life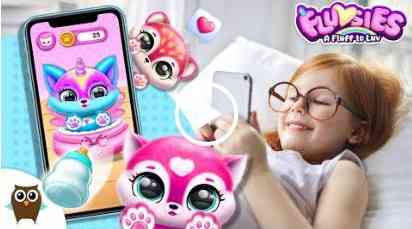 Welcome to the sweet and dreamy world of Fluvsies — extremely fuzzy and ultra cute creatures!
Take care of these little pets and collect them all! Fluvsies — much fluff, much luv!
Did you know that these cute pets hatch from eggs? Just put two Fluvsies into a magic merge machine, get a new egg and wait for it to hatch. Every little creature is a big surprise!
Make sure you are taking good care of your virtual pets — they are just like little kids! Feed your Fluvsies and keep them entertained: play with toys, DIY together and discover mini games!
There are 18 different Fluvsies to collect! Each little pet is unique, but all of them love magic, candy and playing with toys! Every boy and girl will find their fave!
Will you get Strawberry Puff or Candy Fluff? Can you hatch extra rare Rainbow Fairy Unikitty? Will you collect all the virtual pets?
Play Fluvsies, the cutest virtual pet game for kids, and find out!
About TutoTOONS Games for Kids
Crafted and play-tested with kids and toddlers, TutoTOONS games foster kids' creativity and help them learn while playing the games they love. Fun and educational TutoTOONS games strive to bring meaningful and safe mobile experience to millions of children worldwide.
Important Message to Parents
This app is free to download and play, but there may be certain in-game items that can be purchased for real money. By downloading this app you agree to TutoTOONS Privacy Policy and Terms of Use.
Discover More Fun with TutoTOONS!
Subscribe to our YouTube channel: www.youtube.com/c/tutotoonsofficial
Learn more about us: tutotoons.com
Read our blog: blog.tutotoons.com
Like us on Facebook: www.facebook.com/tutotoonsgames
Follow us on Instagram: www.instagram.com/tutotoons/
Fluvsies user reviews :
I love this app! Its so colorful and cute! It burns my eyes a little. Still, I love this app very much! They reminded me of my cousin's adopted cats in the philippines! This app is so magical I could easily explore unicorns! I still love this app even though it burned my eyes a little. I could easily feel their softness of their fur! I REALLY want to download more of this girly and fantasy apps like this for my collection!
This game is not so fun, but i only like those cute pet but why their food is to eat candy? When you want the egg to hatch faster, level1 you just had to watch 1ads, level 23467 or what uou had to watch 4 or 6 ads. I think if you want to hatch can you pls just watch 0 ads? For good. So this game i going to give 1 star for the cute little pets. Thanks for reading.
My granddaughter loves playing this but this makes the 2nd time that all her progress has been lost. She gets almost all the eggs hatched them they disappear and she has to start over. All the eggs disappear along with everything she has collected, she is 6 and loves the game.
TutoTOONS

We are terribly sorry for the inconvenience! Could you please tell if if the game completely restarted or only the eggs disappeared but other items remained?
Well this game is very cute and I love it but I don't like how they walk on two legs it makes me want to kick the wall I am very sorry I give this a nine out of ten or four out of five but I would not like to delete it I hope you can update it where they walk on four legs thank you for reading my review!
I love this game its my favorite I spend hours and hours playing this game its the cutest game ever but there is something I want to say to who made the game you know when we get like an egg when we press it then we press the add it only get away 20 minutes I want it at least to get away 30 minutes for example the egg will open after an hour when we press the add it get away 30 minutes okay please please please make this update please If you made this update I will give 5 stars
Contact developer :
Video :
https://youtube.com/watch?v=qHNqW8wjJmE
Download Fluvsies from Play Store
Leave your feedback regarding Fluvsies
Get more android apps/games/updates
Subscribe to our mailing list and get new android apps / games and updates to your email inbox.
Thank you for subscribing.
Something went wrong.