[Game] Goldfish Collection
 gacha life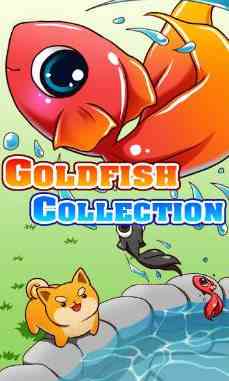 You will inherit a goldfish aquafarm.
Your task is to raise the goldfishes with the help of a watchdog. Let the gold fishes grow!
Exciting Goldfish breeding game!
Let's complete the goldfish picture book to scoop goldfish!
How to play
If food is given to a goldfish, the lovely goldfish will grow up.
Carry out tap and it saves at a stretch pleasantly.
Many new kinds are also born as the goldfish pigeons of this aquafarm.
Try to complete the picture album!
If the goldfish is neglected, wild cat will attack the goldfish.
So take care of the watchdog to drive away wild cat and guard the fishes.
Also think of building doghouse to get advantages!
Please note that user data (level, coin, etc.) will be initialized to default if you uninstall the application.
Goldfish Collection user reviews :
Simple idea. Fun for wasting time. It's not too hard to get coins (although getting silver and gold fish to upgrade your actual fish before selling them is slow). The concept was pretty easy to get after the tutorial and a little playing. I like that there's a free fish food option, and that fish eggs are free. English translation is good enough to get the concept, but not perfect by any means.
I think this game is definitely worth trying if you feel like you want to relax. One thing I really think should be added into the game is that you could breed fish of the same kind even if they are high quality. This could be useful for producing more fish eggs.
This is a fantastic game it's so fun and entertaining I have one slight problem though… I went to sleep last night and you need to care for the dog but I was asleep so I couldn't and it let the cat get to the fish today I woke up and was a little angry but other than that this game is truly amazing
My absolute favorite game, with the best part being the broken English translations. The descriptions of the fish make me laugh so hard. I always look forward to discovering new fish for this purpose alone. The ads aren't overwhelming at all and the game is very fair. Doesn't feel like a cash grab every 5 seconds, which I greatly appreciate. Thank you so much for your horrible translations, please don't ever improve them.
It's very nice! Although I do recommend a feature where you can keep the High Quality Goldfish as pets. I think it'd be a great feature for any pet lovers!
The game is cute and all but the english translation is pretty broken and even though I have notifications on in setting an everything it never notified me when the fish have hatched, please fix
This was a cute game that is fun to check up on every couple hours. My only problems with it are that there is not much to do when your goldfish are growing, and if you leave it for too long, (like overnight) they all die and you don't get any money. I haven't had this game for too long and there might be ways around it, but this is just my opinion so far.
Awesome thanks for the great time with the game it's been raining all day but the game makes it feel like I was at a pond fishing for goldfish.
I love this app! I totally recamend I didn't have any lag an fi didn't mind the adds to much and there isn't a lot of them either!
I like this game because the fish are so cute and you help them grow and show the dog tricks I give this game 5 stars .
This game is so cute and sweet! The only thing that could make it better, i think, is if you could make your own personal tank of goldfish.
So cute! I love all the silly designs for the fish. The translations are a bit iffy but it doesn't ruin the game at all. It's a nice game to visit now and then to see how your fish are getting on. I like it a lot!
I think it is very good. But I feel like it would have been better if the rate of the goldfish growing older is faster but overall, animation is good, and loading speed is fast
I LOVE THIS GAME!!!. The animation is so so so cute and kawaii. Still some bugs and glitches maybe because of my phone?idk. I Love this game So much! I played it a long time! I enjoyed playing it !!
Thought the game was cute and wanted to continue. But I did not receive in app purchase even tho the cash was deducted. Quite disappointing Edit. Finally received the purchase thanks.
A relaxing and fun game to pass the time, goldfosh grow up quickly so you arnt waiting a whole day for them to hatch and mature
it's fun and cute, I'm definitely enjoying it. however the English is very broken and there isn't much to do other than waiting. also you need to complete all the achievements to unlock the decorations for the special fish and one of them is to scare away stray cats but the entire time I have been playing I haven't seen an single stray cat anywhere.
It's a really cute game, and theres lots of fish to collect. It does take a bit for them to grow up, but it's not TOO bad. There are a lot of ads as well, but I dont have anything to do so I don't really care. Overall good collecting game. I would suggest more minigame things to pass the time while you wait, as well as more achievements to make money so you're not just staring at a screen waiting to get more by chance.
Contact developer :
Download Goldfish Collection from Play Store
Leave your feedback regarding Goldfish Collection
Get more android apps/games/updates
Subscribe to our mailing list and get new android apps / games and updates to your email inbox.
Thank you for subscribing.
Something went wrong.