[Game] Heroic Magic Duel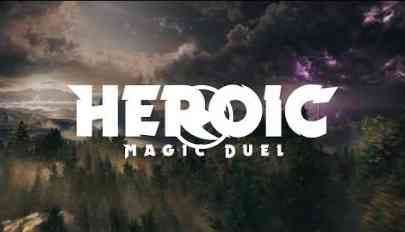 An intense strategy-driven PvP battle game for thrill-seekers and competitive types—the kind of people who roar "Bring it on!" in the face of a serious challenge.
Battle your way through Heroic Arenas. Master a variety of Heroes, each with their own unique skills and traits. Collect, upgrade and evolve powerful Spells and Minions, build a Deck to match your playstyle and climb your way up the Leaderboards as you crush one enemy Portal after another…. all the way to the Legendary Arena!
But don't forget to Guild up. Cos even the biggest Heroes can't raid the foul bosses on their own. Reap the rewards from PvE events to buff your Hero and bring destruction back to PvP. They won't know what hit 'em!
One last thing. Don't ever let the beautiful, fantasy graphics fool you. This isn't art. It's absolute mayhem. And what do we say to mayhem? You got it, BRING. IT. ON!
BRING ON THE FEATURES
STRATEGY-DRIVEN, REAL-TIME PVP BATTLES
Use your cards wisely. Combine a rush deck of low-cost Minions with Divine Shield, choose high-damage Minions and boost their damage with Fury or come up with your own unique strategy. It's up to you! Outplay your opponents in the intense 3-minute adrenaline rush we call Battle. Get ready to be hooked on the sound of enemy portals crashing down.
HUGE SELECTION OF HEROES WITH UNIQUE SPELLS
Each Hero comes with a set of unique Spells for you to master and evolve. From Meteor and Hammer of the Gods to Chilling Wind and Giant Growth, pick your favorite brand of destruction to wreak havoc as you clash with your enemies. Master your favorite Hero or, even better, master them all!
AN ARMY OF MINIONS
We've got the assassins… healers… tanks… a total of 50 mighty Minions, all yours to collect, upgrade and combine into a Deck of invincible magic.
GUILDS
Conquer together! Team up with friends to play "friendly" battles, chat, donate cards and level up faster.
COMPETITIONS AND LIVE EVENTS
Team up with guildmates to take on vicious magical beasts in special Boss Raid events. Earn unique rewards, level-up your Heroes, and go back to PvP stronger than ever.
LEAGUES & LEADERBOARDS
There's more than one way to prove you're Heroic! Climb the global, local and friends Leaderboards by winning battles AND dominate different Leagues by the amount of devastating damage you deal to your opponents. Every blow counts!
ARENA PROGRESSION
Fight your way through breathtaking Arenas unlocking new cards, features and epic rewards along the way. Prove you can make it to Legendary status.
Heroic – Magic Duel is available in English, German, Spanish, French, Italian, Russian, Turkish, Chinese (Traditional and Simplified), Japanese, Korean, Indonesian, Vietnamese, Thai, Brazilian Portuguese.
Join Heroes around the world on:
community.heroicgame.com/
discord.gg/29MNaZ
www.facebook.com/playheroic/
www.instagram.com/playheroic/
For any issues or suggestions regarding the game, simply contact us at nordeus.helpshift.com/a/heroic-magic-duel
Privacy Policy: nordeus.com/privacy-policy/
Terms of Service: nordeus.com/terms-of-service/
Also see our list
Heroic Magic Duel user reviews :
Excellent game. But a usual in these kind of games, tooooooo many troops, heroes and so on. Pretty difficult to choose an army. Cheers!
Good so far. I hope it is not a p2w system because this game has alot of foundation. Graphics , sound , alot of characters to unlock and upgrade. Just wish there was an offline mode. AND the idea of CANDLES as campaign coins to ignite OVER TIME to progress through story SUCKS ! Just as I was getting into it I had to wait for THE CANDLES to play. That is not needed. Don't ruin this awesome platform of a game.
Battles are sooo fun! There are a lot of underdog moments where I get back to my feet and win the game I was pretty sure was going bad for me (same can happen to my opponents, though). Graphics are amazing, too.
There are a few games similar to this on the market, but not of this caliber. The creatures are really well made, and abundant. The only thing i would suggest, is shortening the wait times on the chests.
Simply brilliant!! I love this game. Very well polished game. Great graphics, highly addictive, complex with depth and great gameplay!
Contact developer :
Video :
Download Heroic Magic Duel from Play Store
Leave your feedback regarding Heroic Magic Duel
Get more android apps/games/updates
Subscribe to our mailing list and get new android apps / games and updates to your email inbox.
Thank you for subscribing.
Something went wrong.