[Game] Lumenate Growth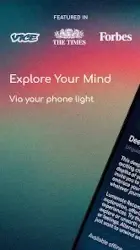 Embark on a transformative journey of self-discovery and increase relaxation with Lumenate.
Are you ready to relax, de-stress, and improve your relationship with sleep? Lumenate is here to guide you on an introspective and meditative journey into the depths of your subconscious. Using scientifically developed and research-backed stroboscopic light sequences from your phone's flashlight, Lumenate creates a powerful experience that neurologically guides you into an altered state of consciousness between that of deep meditation and classic psychedelics.
Experience the power of Lumenate:
Trusted and Research-Backed: Scientifically developed through hundreds of EEG brain scans.
Psychedelic Influence: Experience a semi-psychedelic, deeply meditative state within seconds, safely and effortlessly, with Lumenate's scientifically backed approach.
Strobe Light Sequences: Lumenate creates unique research-backed stroboscopic light sequences from your phone's flashlight to guide you on your journey.
Meditation: Lumenate takes you on a journey that transcends traditional meditation, providing a unique and transformative experience
Relaxation: Immerse yourself in a kaleidoscope of colors and patterns, effortlessly drifting into a state of deep relaxation and increased calm.
De-Stress: Let go of tension and anxiety as Lumenate guides you into a tranquil and peaceful state of mind.
Anxiety Relief: Find solace and relief from anxious and negative thoughts as you delve into the realms of your subconscious.
Introspection: Explore the depths of your thoughts and emotions, gaining valuable insights and self-awareness.
Sleep Better: Our specially curated sleep sessions neurologically guide you into the early stages of restful sleep.
Self-Discovery: Unlock the hidden treasures within your subconscious and embark on a path of self-discovery and personal growth.
Upgrade to Lumenate Plus for Enhanced Experiences:
Intention Setting and Integration: Transform your Lumenate experience into a powerful platform for self-reflection and personal growth.
Guided Sessions: Explore various themes, from goal achievement to finding true contentment or managing your time effectively. These are narrated sessions aimed at guiding you through specific personal growth topics.
Unguided Sessions: Set your own intention and explore your subconscious, letting your mind and body find some calm.
Sleep Enhancement – Actively guide your brain to the early stages of sleep onset by unlocking an entire sleep section.
Journal Section: Capture meaningful moments and insights in the dedicated journal section of Lumenate.
Purpose Composed Soundtracks and Musical Collaborations: Each session has specially curated music, enhancing your overall experience.
Regular Content Updates: Enjoy fresh and exciting new content regularly released to expand your Lumenate experiences.
Download Feature: Access your favorite sessions offline, ensuring uninterrupted journeys of self-discovery.
Note: Lumenate is designed for individuals aged 18 and above. If you or your family have a history of photosensitive epilepsy or juvenile myoclonic epilepsy, please refrain from using Lumenate. Please review our Medical Risk list before using Lumenate.
"The Lumenate light project is more than just a fun experience. It offers users an opportunity for personal growth and development. The success of the project is testament to the careful design, scientific background and evidence-based approach of the Lumenate inventors. I see this tool being an important element in the future of clinical psychedelic research and treatments. The inventors have my full endorsement" Dr Ben Sessa, Co-founder of Breaking Convention and Researcher at Bristol University and Imperial College.
Unlock the doors to self-discovery, relaxation, and personal growth. Download Lumenate now and embark on a transformative journey that awaits within your mind.
Lumenate Growth user reviews :
Nice idea…to use the back of the phone's camera light…interesting. It really does make for a different experience. I would like to suggest…come out with a hardware where you can place the phone in like a VR headset but ofcourse designed to house the phone to show its back light. Anyway, the female voice is nice. The music or sounds are very pleasant. I do wish however there where a lifetime purchase or a much lower subscription. Other than that, I love it and would recommend it.
Thank you so much for your review and your feedback it means a lot to us. I very much agree with the opportunity of hardware alongside the app and it's something we're actively looking at and the idea of lifetime purchase is in our product backlog though we don't yet have a timeline for it. Jay Co-Founder
first day using the app, over an hour's worth of sessions. certainly this will be well worth the yearly subscription (today, alone, was worth the cost). another user's critique of the journal is spot on.. accidentally swiped and lost an entry. why no confirmation pop-up? it was a 5 song playlist to a c.y.o. soundtrack session and can thankfully be easily recovered. but could imagine someone losing much more precious entries this way. a more robust journal (i.e. search, tags, etc.) would get 5 star
Hey Chad – thanks so much for this kind review and your detailed feedback. I've forwarded it our team and we're looking into this for you. If you'd like to follow up with some additional feedback please send us an email to support[at]lumenategrowth.com. Thanks again. – Caitlin
I don't think I have ever found a mobile dream machine where I can rehearse some of the later stages of secret practices. I have only used it a few times, but seems very good to learn how to effectively look beyond the geometric flashes and into visions without having to get to the state first. IMHO, the musical changes are too fast and tracks cliche. I tried using my own soundtrack, but it would be better if the app could sonify it or let me find what works for me. A biofeedback set please
Like the app. One major gripe is when reviewing journal entries, if you swipe right or left while finger is on a particular entry, it deletes the entry. I suggest replacing swipe/delete with press entry to select and then delete. I do wish sessions were longer and/or there was more selection. It would be great if they could create some sessions incorporating spoken word from spiritual philosophers. I would love a session that includes a lecture by Alan Watts.
Great for changing awareness level, and raising consciousnes while viewing the changing images and dislays. I found that I could trigger higher states by the way I reacted with my mind. Still, I think there is more to discover as I am more able to switch minds and find the mental gymnastics to hold a state I find myself kicked into by the program. Great app, I've never come across anything something as special as Lumenate. Very unique and powerful application.
Hey there, that's absolutely amazing to hear, thank you so much for leaving this review… Good luck with the exploration Aleks
Contact developer :
Video :
Download Lumenate Growth from Play Store
Leave your feedback regarding Lumenate Growth
If you like the content that we provide since 2012, put a smile on our face and give us a like or share this with your friends on any social platform. If you want to support this project, any crypto donation of $0.5, $1, $2, $3 is welcome!
You can find our crypto wallets on https://free-apps-android.com/buy-us-a-coffe/
Sponsored Links