[App] MalMath – Step by step solver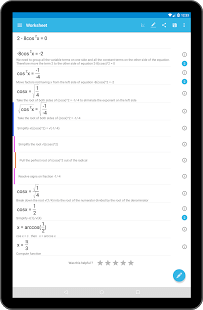 MalMath is a math problem solver with step by step description and graph view. It's free and works offline.
Solve:
Integrals
Derivatives
Limits
Trigonometry
Logarithms
Equations
Algebra
It helps students to understand the solving process and others who have problems on their homework. It is helpful for high school and college students, teachers and parents.
Key MalMath features:
Step by step description with detailed explanation for each step.
Easier to understand steps using highlights.
Graph analysis.
Generates math problems with several categories and difficulty levels.
Save or share solutions and graphs.
Currently available languages: English, German, Spanish, Italian, French, Turkish, Albanian, Croatian, Arabic, Portuguese, Azerbaijani, Russian.
You can find more about it at www.malmath.com/
MalMath user reviews :
This app is really useful and has a simple user-friendly layout Thank you for making this app edit: I bought the premium and tried using camera but the camera blurs out and I can't focus it on a question. I gave it a 3 star for now but if it is fixed I'll change to 5 star.
MalMath helped me, especially whenever I wanted to check my answers. Although sometimes, their solutions are extremely complicated. Still, the best free app in my opinion.
Amazing app and I love to use it every single day of my math subject it gives me much convenient and confidence with my answer cause its so effective.
This app is so much more important than my calculus textbooks it's just simply and instantly computing calculus topics. so nice
Absolutely nice Gives intuitive answers and not mechanical ones like wolfram Inupt and keyboard sucks big-time though
Helps a lot on my homeworks and studies. I've been trusting this since starter high school. Great app.
I love that it solves math problems in an easy understandable way
good. i recommend you to add sequence! thank
Love it…it shows you step by step like it says. THANK YOU
Fantastic problem solver and unique experience
it keeps saying that I need an update, But i have already updated it and also uninstalled/installed the app. It works good but its very problematic
I really like this because it solves it step by steps which gives me more knowledge of Maths
Super useful, specially for students like me
This is a very good app but the explanations are just all over the place and confusing
Really helpful. this app help me a lot during my study. Strongly recommended for everyone specially students
Excellent This is the app I have been looking for, for years… I don't want just the answers, I want what this app does, it shows you the steps, and highlights them so you have an understanding as to the magic that math holds… Very good!!! Great job..
Awesome but… I wish there was an option for a function f(x) or g(x). Also I use another application called mathway because it has more options for symbols and you can select how you want it to solve the problem, etc. BUT I do love this math solver application because it shows the steps on how to get the answer for free which I love because I like to know how to get the answer. Would give 5 stars in the future!
Cool So far, so good. I usually use photo math so I can see the steps, but some problems the app can't solve. This one has been a huge help
Contact developer :
Download MalMath from Play Store
Leave your feedback regarding MalMath
Get more android apps/games/updates
Subscribe to our mailing list and get new android apps / games and updates to your email inbox.
Thank you for subscribing.
Something went wrong.