[Game] MiniLife – Tournament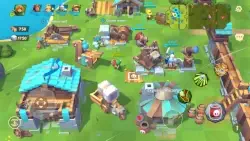 Build your village under a hail of gunpowder barrels and bombs.
Collect resources and defend against enemy sieges. Destroy enemy fortifications with combat llamas and mega mechs. MiniLife: Tournament is a cooperative game where only teamwork leads to victory!
Show what you got!
Find yourself on a real battlefield in MiniLife: Tournament. Strive to defeat the enemy team? Use the most daring tactics in dynamic 5v5 battles with other players.
Do you want to defend your allies and help them, or get to your enemies? Choose a hero to your liking and upgrade them.
Collect resources, fortify towers, and build structures.
Build your village under the onslaught of enemy equipment and a hail of gunpowder barrels and bombs.
Wreak havoc as you drive combat robots and siege llamas, lay traps, and bomb the enemy village.
This is where teamwork and a desire to succeed will lead you to victory!
Safety in numbers
Do you prefer to defend your teammates with a shield at your side? Or would you rather go behind enemy lines and wreak havoc? Choose your hero in the barracks and go into battle! In MiniLife, the one who can work together and think outside the box wins. Remember, adaptation is the key to victory.
No important decisions beforehand
Tired of initiating battle as a warrior? The knight doesn't understand he has to protect your archer? Got no clue why you had to pick a priestess if the rest of the team ignores your skills? No problem! Just change your hero in the barracks in the middle of the match and show the others how it's done.
Your home, your rules
Develop and expand your village with structures. A variety of buildings will make your strategy flexible and help you crush your enemies. Stone mines, lumber mills, barracks, explosives factories, siege machines — choose wisely.
All's fair
Enemies can be tricky, but you are trickier. Are your opponents too strong for a fair fight? Get your combat llama and terrify the enemy! Can't get past their defenses? Bomb their towers and gates! Is the match dragging on? It's time to awaken the mech!
Do it yourself
Why buy stuff when you can make it yourself? Collect resources and craft equipment, fortifications, combat llamas, catapults, and even megabombs!
MiniLife user reviews :
I really like the concept, i long for a moba – craft survival game. But… I don't like death animations, boring splat or explosion, i prefer the regular drop dead. I also hope you'll fix the server, because i got dc ed too often. I really love the gameplay, can be funny, adding more weapons (blacksmith) and structures will make it a lot better.
Hey there! Thanks a ton for the feedback, we really appreciate it! We're totally open to any feedback you wanna throw our way, so feel free to join our Discord server or reach out to us on social media. And, if you're still facing any issues, we suggest updating the game client. You can do that easily on the Google Play Market!
Too many issues 1. If you START on the left side town, u are 9/10 going to lose because the players on that side our guildless and just goes AFK. So you are down 1 or 2 players from the beginning. 2. Needs to have a report button to ban those AFKs 3. Can't redirect target. So if there's an enemy that has less target. I can't target that enemy…and instead will shoot at closest one, even though has more health…what kind logic is that!?
Hello! Thanks for your detailed review. We always welcome constructive feedback from our players. We'll try to pay close attention to the aspects that you have described. Hope you will enjoy our updates!
Love this game! I recommend it to all my friends but most of them are on Iphones. The game is a little titchy at times with button sensitivity, but all around super fun. Since the update however! None of my skins have been loading, and it is impossible to find a match. This game is worth the time, and I wish I could give it 5 stars. It just has a lot of issues that need to be addressed.
Hi, Jesse! Thanks for the feedback, it means a lot! If you still encounter problems, we recommend that you update the game client. You can do it in the Google Play Market. See you in the game and good luck with the tournament!
Great game but it's just too bare. I understand that it's a new game, but after about 4 matches you've experienced all the content they have to offer. They need new maps and characters badly, and also tweak the early game. The first team that unlocks the barracks usually wins, as they can bully the other team off the resources. I'll still be playing every now and then, but they need a big and serious update asap
Hi, Alec! Thanks a bunch for the feedback and for being a part of our project. MiniLife is rocking and rolling, so brace yourself for some epic adventures heading your way. Catch you later!
The game is really great and it has a really high potential. The player complains are pretty normal since the game just got released so it still has some bugs and game issues. But it's not so bad for a first release. Hopefully skins will be the only ones available in real money currency shops and it won't be a p2w game soon. Since it's an RTS game, I'm still looking for more complexity with map designs, objectives, comms/map pings, more types of buildings, hero voice lines and ranked mode
Hey there! Glad to hear you're having a good time with MiniLife! We always welcome any feedback you have, so feel free to join our Discord server or hit us up on social media. And keep an eye out for updates!
Contact developer :
Video :
Download MiniLife from Play Store
Leave your feedback regarding MiniLife
If you like the content that we provide since 2012, put a smile on our face and give us a like or share this with your friends on any social platform. If you want to support this project, any crypto donation of $0.5, $1, $2, $3 is welcome!
You can find our crypto wallets on https://free-apps-android.com/buy-us-a-coffe/
Sponsored Links