[Game] DevilzMu
 free android apps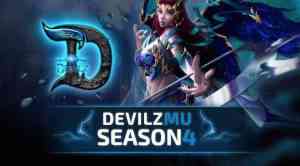 Straight from the depths of Dungeon, DevilzMu mobile has arrived!
Become a medieval warrior, make new friends, demonstrate all your skills, conquer the Arenas and leave your mark in our history!
Choose one of our six available classes: Dark Wizard, Dark Knight, Fairy Elf, Magic Gladiator, Dark Lord or Summoner and fight against thousands of players online in this unique fantasy world! Collect items, evolve your character and conquer continents. Join this exciting adventure through the world of DevilzMu today!
EVERYTHING ON THE PC, IS ALSO AVAILABLE ON MOBILE
All systems have been remade and adapted for mobile, you won't miss anything, such as: TRADE SYSTEM, GUILD, PARTY, PVP, EVENTS, and many more.
BALANCED GAMEPLAY
It's not because you're on the phone and your friend is on the computer that any of you will have a disadvantage. The mobile version is meant to be cross-platform balanced. In both PC and Mobile the only difference between victory and defeat will always be your HABILITY.
JOIN OUR EVENTS
Choose which kind of event you like the most or are lucky with, Blood Castle, Devil Square, Chaos Castle, Castle Siege, Crywolf Invasion and many others are all available here.
ENHANCEMENTS ARE COMING SOON
And it doesn't stop there! Soon we will have a special communication system, with new features available for you to play on your phone.
FOLLOW US ON SOCIAL MEDIA
Facebook: facebook.com/devilzmuoficial
Instagram: instagram.com/devilzmuofficial
YouTube: youtube.com/devilzmuoficial
Twitch: twitch.com/devilzmu
Twitter: twitter.com/devilzmuoficial
CONTACT US SUPPORT
Official Website: www.devilzmu.net
Support Email: support[at]devilzmu.net
Discord: devz.mu/discord
Forum: forum.devilzmu.net
DevilzMu user reviews :
More players are palying in mobile. You should improve the controls in mobile, especially the cursor in moving the charater. Make the 3rd quest spawn time faster and remove the 3rd quest in xshop. Players are abusing it, selling to other players in a lower price than in xshop.
4 star, everything is good except one thing. Its so laggy in some character's skill like DarkLord, when there are lots of player in one spot and skills are so laggy. Crywolf is also laggy. Make it happen, in Muaway, no matter how player in one spot and used skills at the same time, it never be so laggy.
Please put the potions button on the left hand and put english options on talking to npc quest or put English settings in general, add more server too many players on all spots
It's very nice and cool I love it but hope the lagging will fix the skills when it comes to Mg wizard summoner darklord when they use there skills very lagging but I give 5 star hope you fix next update Thankyou
Got bug in adding friend request,. Game was automatically disconnect if trying to add some player name at the friend list.,
can u please transfer the auto play button at a easy place to click it. also convert quest language into english. and lastly can you change the name of the game? to anything aside from the word "Devil"? it sounds & look so creepy
I can't add points, i reset over 62 and want to reach 100 resets but now I can't add my points and my points stock at 8k although I knew it was about 15k to 20k, I stock it because I want to distribute it's once in for all but now I can't add my points and my points stocked at 8k, please fix this bug. Thank you, having good time playing your game. As long as the issue was fixed I will rate it 5 star, but for now i will rate it 3s.
Good graphics, many events like devil square, chaos castle, blood castle, selupan, kundun, white wizard and balgass and the most important event the CASTLE SIEGE…then the hero's of MU is here like the dark wizard, dark Knight, magic Gladiator, fairy elf, summoner and the dark Lord…Good job to all the admin of this game…
Love it, adoro, adoro,adoro demais, só uma coisa para ficar perfeito na minha opinião: Quero que a música dos mapas dê loop, aí fica bom. I want the music from the game to loop, so its a masterpiece. Some mobs in kanturu 1 are not making death sounds, killing with Blade Knight . 5 stars from me
This game is awesome..no words to say .just fix a little problem about lag and picking of items its hustle though
The game is good but Your Devil's Square And blood castle are to much delay. Entering there. 1mins delay befor open
Contact developer :
Download DevilzMu from Play Store
Leave your feedback regarding DevilzMu
Get more android apps/games/updates
Subscribe to our mailing list and get new android apps / games and updates to your email inbox.
Thank you for subscribing.
Something went wrong.