[App] NetX – Network Discovery Tools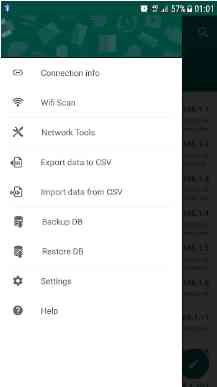 Network scan: discovers all devices connected at the network.
Displays most important information for each device connected, IP Address, MAC Address, Vendor, Bonjour Name, NetBIOS Name and Domain.
Wake On LAN (WOL): switch on a remote device from your phone or tablet when you are connected via wifi or with a mobile data connection.
Secure SHell (SSH): put a remote device in sleep mode or shutdown from your phone or tablet when you are connected via wifi or with a mobile data connection.
Displays the operative system version installed on the remote device. (In the remote device must be installed and started a SSH server)
Loads off-line all devices of a network previously detected.
Adds a new network or a new device manually in order to manage all functionality for a no detected device.
Shows information about the wifi connection (external IP, signal strength, download and upload speed, subnetmask, gateway, DNS).
Shows information about the mobile provider (external IP, signal strength, download and upload speed, CID, LAC, MCC, MNC).
Wifi scan: find nearby wifi and displays SSID, signal strength, channel, encryption.
Shows graphically the band width and the overlapping between channels of wifi networks.
Monitoring and diagnostics remote devices: shows CPU usage, RAM usage and displays the available memory inside the disks.
Monitoring access to network wifi. Receive notification when a new device or an unknown device connects to the network.
Ping functionality. It's possible to ping every device conneted and any hostname or IP Address.
Port scanner to scan the most common port used.
Themes available.
Available languages: English, Italian, German and Russian.
You may also like
NetX user reviews :
Well i'm trying to avoid using android network discovery as it doesn't list hidden networks. I'm trying to connect to a work hidden network that i have the password for but not the name. Your app detects but displays no name for the hidden network.
NetGEL

If you click on the network you can open the page where you can configure the network discover
Useful in administering a home LAN. Good presentation. Poorly documented. Does not reliably transfer network/device device details between installations on different devices despite use of the database and .csv backup files. Time must be spent in each installation correcting and tuning details. Likewise, it overwrites previously-entered device identifications with generics despite identical MACs when "refreshing" the network scan.
Best network management app I ever seen. The interface is smooth and easy to work with csv tool to setup and making reports. Thanks for this wonderful app!!
Easy to use with options you won't find in other network analyzers and it's free. Bare bones, simple, in fact its damn near idiot proof. Good job
Device names you assign keep changing and ping does not always work even though the device is turned on and pinged from another device
A very well designed, easy to use and practical app. I do recommend it!
Very good app for network engineers. No Ads liked.
Nice clean interface, no ads. A couple of things that would make it even better: the ability to sort by name, and get rid of the re-scan by swiping the screen down; too easy to set off a re-scan when you don't really mean (or want) to. But overall, a really nice and simple app.
The best network tool app available. I have tried most if not all the others and NetX is by far the better app. Download it you wont regret it.
great app! However, it really should have an option to turn it off completely/fully quit the app after usage. —- Changed to 5 stars after developer's comment.
NetGEL

You can set to 0 the network monitoring in the settings page to stop the background services
Sometimes the logfile goes ape n fills the drive, otherwise bug free and great design
NetGEL

Thanks for your feedback I'll solve this problem with the netx release
exactly what it is supposed to be doing
NetGEL

Thanks for your feedback
I looked at many apps to find a good network app and yours is far superior and more compact than any of the others. Geoffrey Hunt.
NetGEL

Thank you very much.
This is a good solid app. Out of several I've tried, this one has served me the best. Thanks
Thanks for your feedback. If I can help you write me.
Really good app
I love this app is one of the most apps I have!(thanks for your fast response )
Hi, thanks for your feedback.
Contact developer :
Source : Download NetX Network Tools  from Play Store
Leave your feedback regarding NetX Network Tools
Get more android apps/games/updates
Subscribe to our mailing list and get new android apps / games and updates to your email inbox.
Thank you for subscribing.
Something went wrong.