[App] PassWallet – Passbook + NFC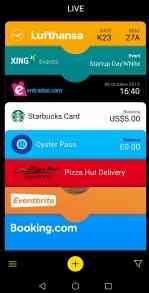 PassWallet : Collect all your Passbook / Apple Wallet (.pkpass files) tickets & coupons, from flight boarding, passes to coffee shop loyalty cards in one easy to use application.
Introduced in Apple's iOS 6, Passbook's PKPass file format will quickly become the de facto standard for mobile ticketing.
To import a Passbook pass, simply click on the link / attachment (as you would a PDF or image file) and select PassWallet. The Passbook pass is then stored in PassWallet.
Note, this application manages .pkpass files, and will not create passes from other links / webpages / document formats.
Backup of Passbook passes (and syncing between devices) possible via Dropbox or Google Drive.
Passbook passes can be redeemed via NFC using codeREADr (www.codereadr.com), Tap-Thru (https://spirals.co.jp) or other compatible readers.
PassWallet is now fully integrated with Renfe (www.renfe.com/) in Spain.
PassWallet works with Lufthansa (see atti.do/pw-lufthansa for details) and other airlines that offer .pkpass files as downloads / email attachments.
List of services in use with PassWallet here: www.facebook.com/notes/passwallet/passwallet-supported-sites/614638531917970
RENFE, entradas.com, airberlin, Lufthansa, Kinepolis, Cleartrip, WizzAir, ticketea, Swiss International Air Lines, Nettbuss, Resorts World Manila, Hesta, Binter Canarias, Ticketfly, Virgin Australia, Рамблер, Walnut Passes & Germanwings
Developer documentation to support push updates and integrate with Android apps can be found www.passwallet.net
FAQ:
Full FAQ can be found here: www.facebook.com/notes/passwallet/passwallet-faq/546965562018601
Q) What does "Scan code" do?
A) Apple introduced in iOS7 the concept of Passbook branded QR codes that contain the URL of a pass, allowing a user to quickly import a new pass. e.g. a coffee shop could have a QR code for a coupon for your next visit by the checkout. These are currently not widely available.
Q) A pkpass isn't offered on a website / confirmation email when using an Android device, but is when using iOS. Why?
A) Some companies currently block access to pkpass files for non-iOS users. If you could email the company in question (we think it'll hold more weight coming from their customers) and CC info@passwallet.net we'll do our best to follow it up.
Q) Will you be supporting Samsung Wallet?
A) We will look into Samsung Wallet should it start being offered to consumers via websites, emails, etc.
Q) I click on a link to my ticket and PassWallet isn't on the list of apps. Why?
A) Is the link referring to a .pkpass file? If the list of apps are all web browsers (Chrome, Firefox, etc.) or PDF viewers (Adobe Reader, Amazon Kindle, etc.) you've probably got a ticket in the form of a web page or PDF.
Q) I'm seeing problems with PassWallet. What do I do?
A) While we strive to test PassWallet on a good cross-section of devices, we are currently compatible with 3,469 different Android devices, each running multiple versions of Android OS, with different network operator customizations. If every app developer tested on ALL of these, there'd be less than a hundred apps in Google Play! Please email info@passwallet.net with the details of the problem, including as much info as you can (device details, what you were doing, what else was running, etc.) and we'll look into it.
Passbook" & "iOS" are registered trademarks of Apple Inc.
"Samsung Wallet" is a registered trademark of Samsung Electronics Co. Ltd.
PassWallet user reviews:
Bought the full version. But did not import boarding pass. I'm trying to scan the boarding pass from QR code from either screenshot or from camera, but it did not recognize it find anything. First of all, thank you for your quick response. It definitely worth much more than anything. I believe the problem is that it doesn't scan the hard drive. It finished immediately.
Quicket GmbH

Hi Onder Yardas, The issue with barcode-scanner fixed in v. 2.00.34. You can install it now as a beta-tester or tomorrow on a regular base, as a production version.
Developer helpful. Couldn't understand what the buttons did but they helped me.
Quicket GmbH

Hello Gary, Can you please elaborate on Which button(s) is actually puzzling to you? There is a (?) icon in the Upper right corner of the screens – tap it and it describes the "buttons". Before you start using the app every screen displays a tutor with explanations. Thank you
Not sure what people are seeing, but the original 1.0 version and this version are ad free on my Galaxy S3. Maybe it is because I don't download passes from sites that have ads in the pass or because I make my own passes for Passbook (same extension for the file for both ios and Android 4.x I also have an iPhone 5 to play around with and the Android version is fairly close to the ios version. Will update my review further when I am able to fully compare both ios and android versions for all types of Passes
It needs to be ad free! And currently the design isn't too bad but it needs to make it similar to iOS or follow the standards of android!!!
Video:
Download PassWallet from Play Store
Leave your feedback regarding PassWallet
If you like the content that we provide since 2012, put a smile on our face and give us a like or share this with your friends on any social platform. If you want to support this project, any crypto donation of $0.5, $1, $2, $3 is welcome!
You can find our crypto wallets on https://free-apps-android.com/buy-us-a-coffe/
Sponsored Links